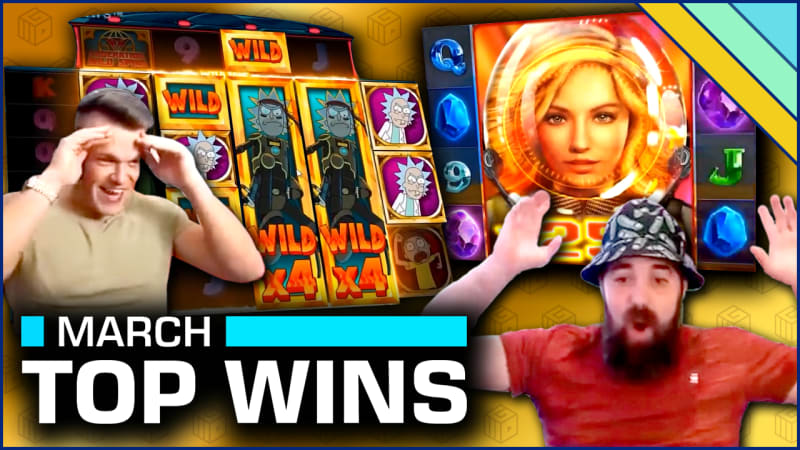 Top 10 Wins March 2020
It's time to take our monthly look back at the biggest and best action we got to see online in the month of March. There are some fantastic wins here including big scores from some of your favourite streamers including Jamjarboy, Spintwix, and Craig Slots, as well as a good selection posted from some of CasinoGrounds every growing forum membership. Buckle up and enjoy the ride!
10. Jamjarboy playing Punk Rocker (Nolimit City) 3,220x
The first clip features CasinoGround's very own Jamjarboy playing Nolimit City's Punk Rocker at LeoVegas. We join the action as Jamjarboy triggers the game's best feature, 'Civil War Spins'. This free spins round has 4 'Jumping' wilds which move around the screen each spin and which can also trigger a multitude of reel modifying features including win multipliers, extra spins, and xWays reels.
Starting with 8 spins Jamjarboy has a promising start and after 5 spins he has a win of over 100x in the bag as well as having added a few extra spins. It is his 6th spin, however, where the real money is made. Whilst reading his messages and interacting with his fans Jamjarboy almost misses the fact that one of his jumping wilds has attracted a 25x win multiplier (the biggest possible). Having turned back to his screen moments before the reels stopped his excitement mounts. The spin turned out great, with Molotov cocktail bottles strewn across the board (including an xWays reel with 6 bottles), all connected with wilds. The resulting win was a massive €2,960, prompting a delighted, "Holy sht, what the f*k was that?!" from JJB. A few more medium sized wins before the spins concluded meant that Jamjarboy earned a handsome €3,220 (3,220x) from the bonus round.
9. SkottyTV playing Rise of Maya (NetEnt) 5,047x
SkottyTV is an entertaining up and coming German streamer SkottyTV. Unfortunately, German not being my mother-tongue I can't translate much, but as most of the joy in watching Skotty's stream comes from his physical reactions (and dubious attire), that's not really so important.
What I can tell you is that after triggering 15 free spins on NetEnt's Rise of Maya playing at Mr Green casino, Slotty manages not once, but TWICE, to land expanding wilds on every reel. Covering the entire board in wilds pays 2,500x a time, and when the spins came to an end, a rather emotional SkottyTV is left sitting on the floor (he fell off his chair celebrating the first win), clinging onto his teddy bear and staring in awe at his €4,037 (5,047x) win.
Spintwix playing Rick & Morty Megaways (Blueprint Gaming), 6,198x
Clip number three features a huge win on Blueprint's latest Megaways slot based on the popular cartoon Rick & Morty. Playing at €2.60 a spin Spintwix triggers one of the best features, 'Federation Spins' with 20 spins.
As with many Megaways games, Rick & Morty comes with a horizontal top reel above the middle 4 reels. During Federation Spins whichever symbol lands above a reel is highlighted and if any of those symbols land on the reel underneath they all transform to wilds. If a wild lands on the horizontal reel then the entire row underneath it turns wild. Furthermore, that full length wild has a win multiplier attached equal to the number of symbols there were on the reel. It is the combination of these features which results in Spintwix's big win.
Having made around 100x or so from his first 18 spins, Spintwix's second last spin goes insane as Rick symbols (the highest paying of all, awarding 50x the stake for full line) litter the board. One Rick symbol lands on reel 1, another on reel 2, three on reel 3 (including 2 wilds), a full reel with a 4x multiplier on reel 4, another 4x wild multiplier on reel 5, and 2 on reel 6. This single runout pays Spintwix €15,600 for a 6,000x win.
Just to cap things off nicely before the end of this spin he manages to land a few full lines of Morty, the second highest paying symbol for another nearly 100x win. When the spins eventually come to an end an ecstatic Spintwix is €16,115 richer – that's 6,198x his bet!
7. Dankfinger playing Laser Fruit (Red Tiger) – 6,301x
Our next big win comes courtesy of CasinoGrounds forum member, Dankfinger. I'll warn you in advance that this is quite a difficult piece of video to watch due to the shaky hand-held nature of the recording during which Dankfinger is constantly moving his phone around. When this was brought up on the forum, he put his questionable camera skills down to the fact that he was "pretty high and thought maybe all the symbols wouldn't show vertically"!
We join the action with Dankfinger already on a win thousands of times his bet size of 1 Danish Krona (€0.134) During the free spins we see, Dankfinger had expanded the reels to their maximum capacity which offers an extraordinary 60,466,176 ways to win. Having already earned 2,400 kr, a few blank spins go by before he lands a huge peach win for 3,888 kr. His final tally of 6,300.50 kr (€843) equated to 6,301x his initial stake.
6. Craig Slots playing The Final Countdown (Big Time Gaming) – 6,388x
Next up is popular UK streamer Craig Slots playing Big Time Gaming's volatile favourite, The Final Countdown at €2 a spin. Having made his way through to the final stage of the Countdown spins free spins round, Craig Slots is in the enviable position of still having 5 spins left, all guaranteed to produce huge wins with a 256x win multiplier occupying all 4 middle reels of this 6 reel game.
The first spin earns him a huge €3,635 when a 50x purple diamond lands on the first reel. Spin number 2 brings in a full line of blue diamonds on reel 1 and one on reel 6 for a €3,072 win. The third spin is the biggest of them all as both a blue and purple diamond land on reel 1 for a €3,738 score. The final spin brings in a smallish win (for this feature at least) of €870 for a total haul of €12,776.40 (6,388x). Nice chap that he is, Craig then announced that he'd be giving away £300 to his fans and duly thanked Big Time Gaming for paying for his next trip to Las Vegas!
5. Mae_tz playing Piggy Riches Megaways (Red Tiger/NetEnt) – 6.449x
This is the second clip of our compilation to feature one of our forum members, and once again the win has been filmed by a hand-held device, although one has to assume the Mae_tz was a little less, ahem, impaired, than Dankfinger, as the recording is pretty decent. Having said that, he didn't have to hold it for very long as this is a very short but very sweet piece of video.
Playing the Red Tiger/NetEnt collaboration, Piggy Riches Megaways at €4 a spin, Maetz starts his recording having triggered the progressive jackpot feature available at some casinos. The wheel spins with just three possible jackpots up for grabs; the hourly, the daily, and the mega jackpots. While the spin almost always results in the hourly jackpot, Maetz manages to land the second highest Daily Jackpot for a huge €25,794, worth 6,449x his original stake.
4.Straight_Up2 playing Pillars of Asgard (NextGen Gaming) – 7,430x
Yet another forum member takes position number 4 on March's list of big winners. It's another hand-held recording and we don't get to see the majority of the action, joining on free spin number 46 out of 50. By this time Straight_Up2 has already won over €1,600 from his €0.50 stake. Mind you, he has already done all the hard work and expanded every reel and row to their maximum size to give 1,000,000 way to win. As a result, the spins we see account for more than half of the total win. We get to see wins of €630, €408, €184, and €811 which combine with his previous free spins winnings to make a total cash win of €3,715 – equal to 7,430x his bet size.
3. Paulpastrelio playing Dead or Alive 2 (NetEnt) – 20,157x
Inevitably as we head towards the biggest wins of all we find ourselves worshipping once again at the feet of NetEnt's uber volatile classic, Dead or Alive 2. Forum member Paulpastrelio managed to catch the tail-end of his superb win and upload it to our site. Playing at just €0.18 a spin and near the end of his Last Chance Saloon free spins round, Paul has a board littered with wilds and multiplier wilds. He has two 2x multiplier wilds on reels 1 and 5, a single wild on reel 4, and three 3x wild multipliers on reels 2 and 3. At the close of the round the total win from just 18c adds up to €3,628.20, worth 20,157 his stake.
2. Aynamax playing Lil' Devil (Big Time Gaming) – 23,569x
If it's not Dead or Alive 2 occupying the top slots these days, then the other candidate is nearly always Big Time Gaming's huge paying Lil' Devil. Polish twitch streamer Aynamax is playing here at £0.20 a spin when he triggers free spins and opts for the more volatile Be My Angel spins.
Anyone who has seen these big win compilations before will know the drill by now; both the purple heart and a random symbol are chosen to turn wild upon landing and wilds land on reels 2-5 of this 6-reel slot. Fill any reel with wilds for extra spins and reels 3 and 4 change to 4x win multipliers when they are filled with wilds. These two reels then add another 2x multiplier for each of the next 4 spins until they rest as 12x wild win multiplying reels for what's left of the round. He took his time but with just one more spin remaining, Aynamax fills two of the reels with wilds (including the valuable reel 4) and adds more spins and prospects to the round.
The wins start to increase with every spin as reel 4 makes its way up to the maximum 12x wild multiplier and on spin number 10 reel 3 fills to add another 4x wild reel. Reel 3 reaches the maximum 12x multiplier with 3 spins remaining, each of which has reels 3, 4, and 5 fully wild and will a combined 144x win multiplier. The resulting win from Aynamax's free spins round comes in at £4,713.88 – a whopping 23,569x his bet size.
1. Papa Lazarou playing Lil' Devil (Big Time Gaming) – 59,557x
Once again, the slot is Big Time Gaming's Lil' Devil being played at £0.20 a spin, and this time we have UK forum member Papa Lazarou for posting his hand-held recording of this truly insane win.
When we join the action Papa Lazarou already has a 10x wild reel on reel 3 and reel 5 is also fully wild. In the background we hear Papa Lazarou saying, "It's gonna kick off now mate, honestly, this is gonna go f**ckin' mental". Well he isn't wrong there because on the very next spin reel 4 fills with wilds and starts its journey to becoming a 12x wild. A rather underestimating Papa Lazarou reacts with plenty of joyous cursing an exclaiming "This is definitely going to be a thousand quid (£1,000)".
The newly filled reel means there are 7 more spins to go, and on the 5th of those very lucrative spins the final reel (reel 2) finally fills with wilds to add yet another 4 free spins with the win multiplier already at 144x. With each of the final 6 spins averaging well over £1,000 Papa Lazarou completes his bonus round both ecstatic and a tidy £11,911.40 richer. His parting words of "That's the greatest thing I've ever seen" make this 59,557x win even sweeter!
Share with friends on
Email