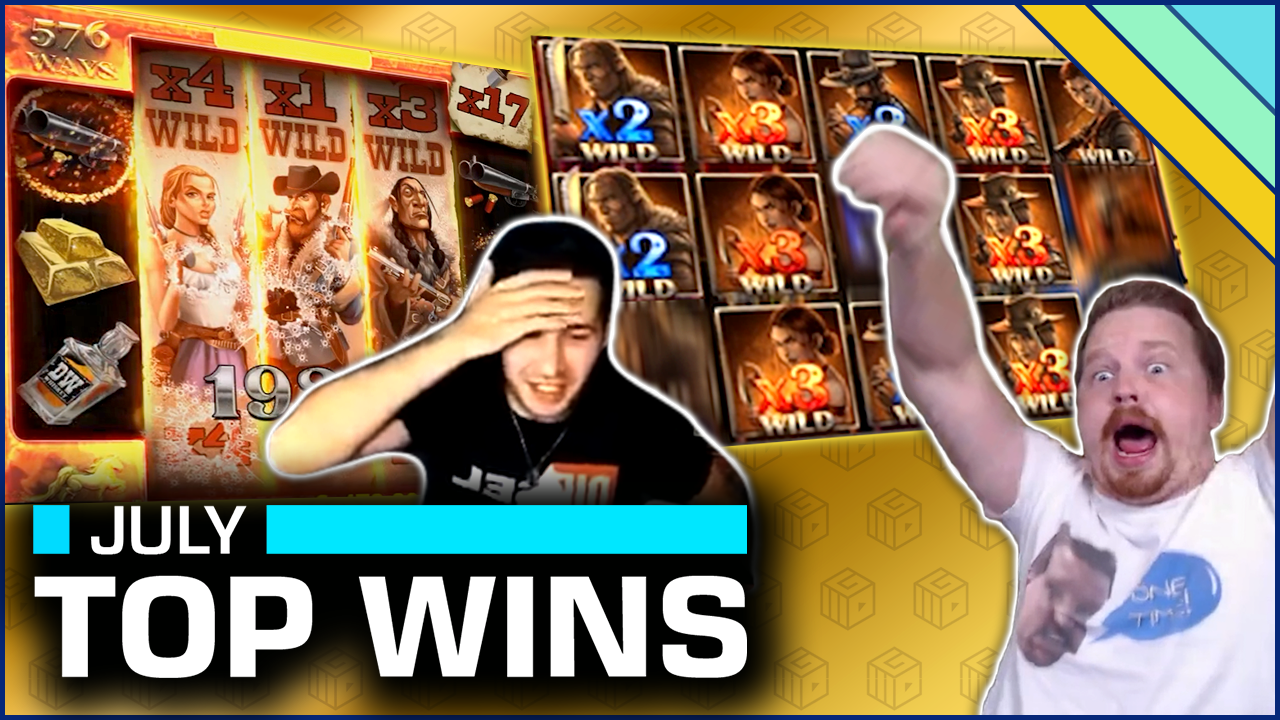 Top Wins July 2020
Top 10 Wins of July
This month we have some massive wins for you to enjoy, including another maximum win on Dead or Alive 2 – something well worth tuning in for. As well as the inevitable clips from Dead or Alive 2 and Lil' Devil, we also have a couple of big wins from Nolimit City's Deadwood as well as great wins from the always popular Money Train and Jammin' Jars slots for you to enjoy.
LetsGiveItASpin playing Deadwood (Nolimit City) – 4,704x Win
First up we join CasinoGrounds head honcho, LetsGiveItASpin, playing Nolimit City's smash-hit Wild West themed slot, Deadwood at LeoVegas for €6 a pain. We join the action as LGIAS triggers the bonus round and takes 8 Gunslinger Spins. During Gunslinger spins, each wild which lands adds 1x to the win multiplier for every step up or down the reels it requires to fill the entire reel. The first few spins earn almost €500 after a decent win with Aces on a 9x multiplier, but it is the second last spin which makes this win huge. Wilds land on all 3 of the middle reels, and when expanded the total win multiplier is up to 17x. Two premium symbols (bottles and shotguns) land either side of the wilds on reels 1 and 5 giving 64 full win lines of both symbols with a 17x multiplier. These two huge line wins, added to other, smaller wins, make this spin worth a hefty €27,740. Judging by Kim's reaction, this is considerably more than he was expecting as he jumps out of his chair in disbelief. In total, he won €28,222.80 (4,704x) from 8 free spins.
Orzabot playing Book of Lords (Amatic) – 5,037x Win
Our next clip comes from one of the regular contributors to our forum, Orzabot, who enjoyed a huge win at Amunra Casino, playing Book of Lords at €0.50 a spin. Book of Lords, as its name suggests, is one of very many Book of Ra clones. As such, the only way to hit the max win is to trigger free spins and then have the game's highest paying symbol randomly picked as a special expanding symbol. Then one of these symbols has to land on every one of the 5 reels, whereupon they will all expand to full cover the 5x3 reel set. That's exactly what happens on Orzabot's 4th spin, earning him a win worth 5,000x his bet (€2,500). When the free spins end his total win is €2,518.25, equal to 5,037x his original bet size.
HungarianGambler playing Donuts (Big Time Gaming) – 7,098x Win
Another forum member is responsible for the next big win of the compilation, and there is quite a backstory to the win. For those who might be interested you can check out HungarianGambler's forum post here.
The win plays out at PokerStars Casino on Big Time Gaming's highly volatile slot, Donuts, where HungarianGambler is playing for $2 a spin. Having already worked his way up to a multiplier of 78x in the free spins round, HG is waiting (and repeatedly asking) for just one connection, one big win, to go along with his massive win multiplier. The win rolls in on his penultimate spin as the purple donut on reel 1 is joined by a wild on reel 2, 3 purple donuts on reel 3, and both a wild and a purple donut on reel 4. Our excited winner's hand-held camera skills had been a little shaky from the start, and after this win rolls in it goes absolutely haywire – as does HungarianGambler himself. His reaction is quite something! Then again, with that single win netting him over $14,000, you can't really blame him. His total free spins win added up to $14,196, or 7,098x the bet size.
Boulder playing Jammin' Jars (Push Gaming) – 7,126x Win
It would appear that a lot of our forums most regular contributors had a good month in July, as Boulder makes his 4th appearance in one of our Month's Wins compilations – and it is his biggest yet.
Playing Push Gaming's classic Jammin' Jars at Casumo at €1 a spin, we join proceedings at the start of a free spins bonus round. The first 4 out of 6 spins pass with little in the way of good fortune. Things change, however, on spin 5, when the 4 jars gradually build up their multipliers and bring in some decent 2-3 figure wins. By the end of the spin, Boulder's winnings have risen from just €10 to over €900. It is the 6th and final spin, though, where things really go nuts.
At the start of the final spin the 4 wild jars have win multipliers of 9x, 12x, 13x, and 14x. They are also all relatively close together – but they are about to get even closer. The first really big win occurs when 3 jars, now with 12x, 15x, and 16x multipliers connect with 4 plums for a €1,728 win. This is followed, a few drops later, by 2 bunches of grapes combining with 14x, 17x, and 18x jars for a €1,071 win. An absolutely enormous win is just missed when 6 strawberries combine with a 16x and 23x jars for a €920 score. Had the 22x jar been one position further up, it would have been a 20,000x win. Alongside these 4-figure wins, the bonus round also brought with it quite a few 3-figure wins. In total, the bonus round won Boulder €7,125.60 for a 7,126x win.
Play4Win playing Lil' Devil (Big Time Gaming) – 7,153x Win
Next up is Romanian twitch streamer, Play4Win, enjoying success at Big Time Gaming's big paying Lil' Devil. Playing at €5 a spin, Play4Win collects 40 hearts and opts for 7 Be My Angel spins. As he triggered the bonus with 40 hearts, he not only gets one random symbol (in this case 9) to turn into sticky wilds, but also the top paying heart symbols also become sticky wilds upon landing. As ever with Be My Angel spins, the idea is to fill reels 3 and 4 with wilds whereupon the entire reel increases as a wild multiplier by 2x a spin until they reach 12x. The two reels also multiply their multipliers, giving a max win multiplier of 144x. Needless to say, Play4Win manages to do just that. He also filled reel 2 with wilds, and with each reel filled he earned 4 more free spins. So, in total he played 19 free spins, many of them with big multipliers. His biggest single wins were of course his last 3 spins when the win multipliers where at their peak (120x, 144x and 144x) which brought wins of €7,440, €10,944, and €9,216. In total, Play4Win earned a whopping €35,763, a win worth 7,153x his original bet.
Atike playing Deadwood (NoLimit City) – 9,733x Win
It's back to Nolimit City's Deadwood for our next big win. This time it is Atike at the controls, playing for €0.20 a spin. Once again it is a big multiplier win during a round of Gunslinger Spins which brings home the bacon. Once again, the win comes from full lines of premium symbols, but this time the winning line is of the game's highest value Gold symbol, and the multiplier is up at 31x with all 3 middle reels wild. The resulting win of €1,865 is worth over 9,000x. In fact, Atike's total bonus round win of €1,946.60 is equal to 9,733x the original bet.
Vrqnn playing Money Train (NoLimit City) – 9,879x Win
It's another Wild West slot up next, this time its Relax Gaming's Money Train being played by forum member Vrqnn. We join play late on in the feature round, and the win is already up to 2,838x, mostly from a permanent collector symbol which is dragging in big wins of close to 400x with every spin. Spins are replenished to 3 each time a new multiplier lands, and they continue to land. As such, the amount going to the persistent collector increases with each new multiplier symbol. In the end, 25 of the maximum possible symbol spaces are filled with win multipliers, the permanent collector paid out 9,490x, and the total win ended up at €9,879 (9,879x)
Kayos11 playing Lil' Devil (Big Time Gaming) – 11,244x Win
It's back to Big Time Gaming's Lil' Devil now for more of the same from UK forum member, Kayos11. Although the hand-held camerawork leaves a lot to be desired, you can't help but, feel happy for Kayos11, such is his enthusiasm and hilarious, expletive filled commentary! As you'd expect from a win of this size, Kayos11 filled reels 3 and 4 with wilds and worked them both up to 12x multiplier wild reels for some 144x win action. As he happily lets his (presumably) girlfriend know "I told ya Keeley, the grind is real, the f**kin' grind is real" Playing at £0.50 a spin, Kayos11's final win worked out at £5,622 – that's 11,244x the original bet.
Onlinelooser playing Dead or Alive 2 (NetEnt) – 38,318x Win
Next, we have a big win from Italian forum member Onlinelooser playing NetEnt's Dead or Alive 2. This is Onlinelooser's second appearance in one of these monthly compilations in 3 months, meaning he's obvious not as much of a loser as he'd have us believe. In this clip he is playing for €0.90 a spin when he triggers free spins and opts for the highest volatility High Noon Saloon spin.
It only takes him half of his 12 spins to not only land a sticky wild on every reel (thus earning an additional 5 spins), but he's already turned the second reel into a 3x wild multiplier. Within a couple more spins reels 1 and 4 both have two times 2x wild multipliers and, more importantly, a fully wild win line is completed, guaranteeing that each of his last 9 spins will be worth thousands of euros rather than just hundreds. Another wild on reel 5 secures two more 2x wild multipliers, and from here on in every win is over €4,000. When the dust finally settles, Onlinelooser had turned his €0.90 stake in a mighty €34,486 for a win worth 38,318x his stake.
Zeich97 playing Dead or Alive 2 (NetEnt) – 111,111x Win
This epic win on Dead or Alive 2 is only the second time we've seen the maximum win multiplier of 111,111x reached. Once again it happened at the lowest stakes (€0.09 a spin) for a €10,000 win. The win came courtesy of new forum member Zeich97, who posted the win on 18th July, along with footage of almost the entire bonus round. Zeich97 completed a wild on every reel, including a wild line, with 7 spins remaining – meaning that when the additional spins were added, he had 12 full free spins with a wild line, guaranteeing each spin would be massive. Not only that, but reel two was already a fully wild 3x multiplier. Before too long reel 4 was also a fully wild 3x multiplier and with several spins left, reels 1 and three both had two, 2x wild multipliers. The round played out about perfectly as although the win hit the max 111,111x and had to stop, it only did so only on the very last spin and the €10,000 haul was almost exactly what the win should have paid.
Bonus Clip
For the second successive month, our bonus clip comes from a win at Evolution Gaming's live online game, Crazy Time. Once again, the win also comes from a bonus round of Pachenko, where a counter is dropped down into a gameboard and hits obstacles on the way down which determine its eventual path before it eventually comes to rest in one of the game's 16 placeholders. This clip was submitted in early July by forum member jandy_rackson. The player in question had bet $20 which he is now looking to parlay into something much bigger. His wish is granted when the counter comes to rest in the placeholder with the biggest possible win of 1,000x, instantly turning that $20 into $20,000. Warning: Anyone with delicate ears ought to turn down the volume on this one!
Share with friends on
Email