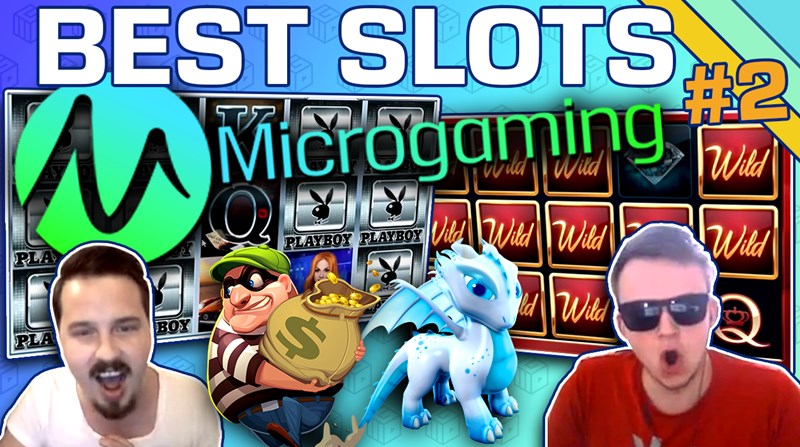 Microgaming Top Slots #2 2019
Welcome back to part two of our video compilation series looking back at some of the best streamed or recorded wins featuring games exclusively from gaming giant, Microgaming.
Microgaming are not only the biggest provider of online slots, but they have also been one of the most innovative providers. This week's compilation pays homage to one of Microgaming's most successful innovations, the 243 ways-to-win mechanic. Rather than having a specific number of paylines comprising interconnected symbols within one space vertically, horizontally, or diagonally of one another, the '243' mechanic counts all identical symbols from adjacent reels from the left to right starting at the leftmost reel. This means plenty more wins and plenty more action. This mechanic has also inspired many of slot innovations including the hugely popular Megaways™ system from Big Time Gaming.
This compilation replays some big wins from nine such slots with streamers including CasinoGrounds favourites Huneasd, LetsGiveItASpin, and SlotSpinner as well as a collection of other well known (and not so well known) slotsmiths. Enjoy!
1. Huneasd: Game of Thrones – 1,497x win
First up is CasinoGrounds streamer Huneasd playing 2014's Game of Thrones, based on the epic HBO TV series. Microgaming actually released two versions of this game at the same time, one with 15 paylines, and one with a 243 ways-to-win mechanic. Of course it is the second version in play here when Huneasd lands 3 scatters to trigger the bonus round playing at €4.80 a spin. He chooses the second most volatile "House Lannister" free spins where 10 spins with a 4x win multiplier. Lannister spins also has the Lannister Sigil (the second most valuable regular symbol) in stacks of 4 across all reels. Huneasd has a decent start with a €235 win on his third spin but it is the 7th spin which causes our streamer to jump from his seat in celebration. Reels 2, 3, and 5 are all filled with Lannisters, reel 4 contains 2 wilds, and a single Lannister on reel 1 links enough sigils and wilds for a €6,912 win. In total Huneasd takes away €7,186.88 from his free spins, a win of 1,497x the bet size.
2. MrVisah: Pretty Kitty – 486x win
Pretty Kitty, released in 2016, is another 243 ways-to-win slot from Microgaming's armoury. We join MrVisah who is playing at €0.90 a spin shortly before he lands an outrageous base-game win. Pretty Kitty has an 'Expanding Symbols' feature in the base game which activates whenever a fully stacked reel of high-value symbols lands on reel 1. In the event of such a fully stacked reel dropping, other high value symbols on the board will expand to cover the reel they landed on. On this occasions MrVisah lands a full reel of cats on reel 1 while the same symbol lands at least once on every reel. Of course this results in a full board of high paying cat symbols and a 486x win of €437.40. Not bad when you consider the absolute top win is 933x the bet size.
3. Miikapekka: Bust the Bank – 902x win
Popular Finnish streamer Miikapekka is up next, playing 2013's Bust the Bank at €3 a spin.
Miika's big win comes from a scatter triggered free spins round. Free spins in Bust the Bank come with fully stacked wilds on reels 1 & 5. The first two spins are where the money is made here as Miikapekka lands full lines of high paying robber symbols on both spins. The fully stacked wilds increase the number of win lines exponentially and both spins result in wins of €1,350. Miika's total free spins win of €2,706 equates to a win of 902x his bet size.
4. Rex Borgersen: Mystic Dreams – 326x win
Borgersen takes on Microgaming's May 2013 release, Mystic Gaming. Playing for $7.50 a spin Rex triggers 10 free spins by landing three scatter symbols (well, in fact he lands 1 scatter and two wilds as Mystic Dreams is a rare slot in which the wild even substitutes for the scatter symbol!). As well as securing him the free spins, the game's wild symbol also contributes greatly to Rex's eventual big win. During the free spins round wilds landing on reels 2, 3, or 4 which contribute to a win add win multipliers of 2x, 3x, and 4x respectively. On his 6th spin, Rex makes a full payline of wolves, one of the four high paying symbols. He is aided in this effort with wilds on reels 2 and 4. As wild multipliers also multiplier with each other Rex's win is given and 8x multiplier, resulting in a win of $2,300 (287.5x the stake). In total his 10 free spins award $2,445 (326x win).
5. LetsGiveItASpin – Dragonz – 375x win
2016's Dragonz is a cute looking 2016 slot from Microgaming starring some cartoon dragons. This gentle looking slot packs quite a punch, however, with a highly volatile nature and wins of up to 3,600x possible. We join CG's chief streamer, LetsGiveItASpin playing at 32kr (€3) a spin just as he lands three scatters and activates 'Frost's Free Spins with Frosty Wilds', essentially 10 free spins where all wilds which land remain sticky until they contribute to a win. Things look pretty dire for LGIAS down to the very last spin, when he finally hits a big win when 4 wilds held over from the previous spin combine with more wilds to create some big dragonz wins totalling 11,664 kr. After having made no secret of his displeasure at the slot's performance up to this time, LetsGiveItASpin apologises, saying, "I'm sorry for everything Frosty" as the win counter races upwards. This big spin makes LGIAS's finally free spins score 11,984 kr (€1,124), or 375x the bet size.
6. CasinoKiller97: Happy Holidays – 554x win
Next up is CasinoKiller97 who enjoys a festive win on Microgaming's Christmas 2015 slot release, Happy Holidays playing at €4.80 a spin. Although this is a 243 ways-to-win slot, the big spins here are all played out on a board with 1,024 ways-to-win as the board increases from a 5×3 to a 5×4 reel set when the free spins bonus is activated. Furthermore, during free spins every snowman which appears transforms into one of the high-value symbols, often creating big winning paylines. That's exactly what happens here to CasinoKiller97 as Snowmen assist him on 8 out of his 10 free spins as he racks up €2,657 (554x) in winnings.
7. SimSpinSlots: The Finer Reels of Life – 4,255x win
SimSpinSlots shows us how it's done on the 2013 Microgaming classic, The Finer Reels of Life. Playing at just €0.90 a spin SimSpinSlots triggers 15 Wine and Cheese spins with the Wild Wine feature. During these free spins whenever a Wild Wine symbol lands on the 3rd reel it turns a random number of other symbols into wilds. SimSpinSlots fortunes take a distinct upward turn on his 8th free spin when a Wild Wine symbol on reel 3 transforms all but three of the symbols into wilds. The first three reels are entirely wild with 1 wild on reel 4 and 2 on reel 5. What's more one of the remaining symbols is the game's highest paying symbol, the diamond. This single spin results in a win of €3,758.40. The total bonus round winnings of €3,829.20 represents a win of 4,225x the bet size.
8. Slotspinner: Playboy – 1,896x win
We round things up with one of our streaming favourites, Slotspinner, playing another 2013 classic from Microgaming, Playboy, at €1.80 a spin. Often it will take streamers some serious dedication (and deposits) to land that big win, but on this occasion Slotspinner gets luck on his very first bonus of the session, having only deposited €250. What's more, he almost predicts a big win when he activates the 'Sofia' bonus (15 free spins with running wilds). med/high. Running wilds (avail from 8th trigger) favourite bonus of every slot 3402 loads of wilds saying that this particular bonus is "one of my favourite bonuses out of every bonus on every slot". With each spin that passes another wild is added to each reel. It is the 9th spin which makes Slotspinner's day when Playboy Wild's fill reels 1, 2, and 5 with another 2 wilds on reel 4. The sight of all those wilds causes Slotspinner to jump out of his seat and charge around his room yelling whilst a win of €3,402 spins up on screen. His total bonus round win of €3,412.80 equates to 1,896x his bet size. Not bad for a first bonus!
Share with friends on
Email