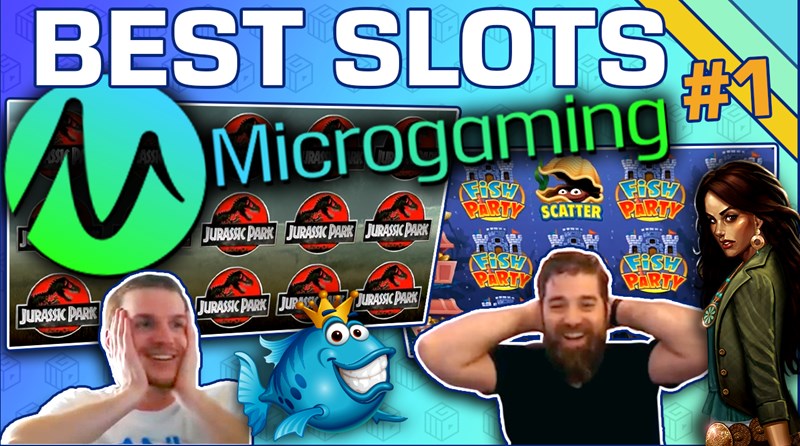 Top Microgaming Slots #1 2019
Anybody who has enjoyed dabbling in online slots over the years will recognise the longevity and sheer output of Microgaming. In operation since 1994, Microgaming is the biggest online software provider of them all with close to 1,000 slot and table games in hundreds of casinos worldwide.
Microgaming can also lay claim to having produced the biggest jackpots in the history of online gaming. Their progressive jackpots have made multimillionaires galore, with the current record win standing at close to €19m from a €0.75 bet on their classic slot Mega Moolah in September 2018.
Anyway, without any further ado let's all enjoy some big wins courtesy of a bunch of streamers and some of Microgaming's best slots.
Clip 1: Slotstreamers – Fish Party (1,758x)
Our first clip comes from one of Microgaming's 2014 video slot releases, the aquatic themed 'Fish Party' from a 15kr (€1.50) a spin session played in June 2018 by Slotstreamers. We join the guys as they trigger the free spins bonus round. Things are looking good right off the bat as they fully retrigger the bonus round on just the second spin. The big win comes soon after when one of the high paying symbols (treasure chest) appears twice on reel 1 while almost the entire rest of the board fills with wilds resulting in a 25,200kr (€2,368) win. The final tally from the bonus round reaches 26,372kr (€2,475) or to put it another way, 1,758x their bet size.
Clip 2: OmegaSlots – Immortal Romance (1,170x)
Although it was released way back in 2011, an eternity in the online slots world, Immortal Romance still feels as fresh and fabulous as the day it landed. Our second clip sees OmegaSlots landing a huge win from the randomly activated base game feature 'Wild Desire'. Wild Desire turns between 1 and 5 reels fully wild. The suspense builds as one by one reel after reel turns wild leaving on reel 4 to spin regular symbols in. The only pity here is that reel 4 lands three of the lower value symbols, Jack, Queen, and King. Nevertheless with all the wilds OmegaSlots €1.20 spin turns into a €1,404 (1,170x) win.
Clip 3: Huggehugg – Highlander (516x)
CasinoGrounds streamer Huggehugg is up next playing Highlander, Microgaming's 2017 slot based on the hit movie and TV series. Playing at 16kr (€1.50) a spin Huggehugg triggers 10 free spins with Quickening Wilds. During free spins the appearance of lightning heralds the onset of Quickening Wilds which appear randomly on the reels. Each time Quickening Wilds appear they increase in numbers. Things don't go great for the majority of the bonus round, and with just 2 spins left the young streamer is questioning the integrity of the game, exclaiming "I just don't trust the game". However, with the Quickening Wilds now in abundance, the final two spins restore his faith. The second last spin earns him 1,152kr and the last spins in a whopping 6,024kr. The final win ends up at 8,262kr (€775), or 516x the bet size.
Clip 4: Rexxor420 – Book of Oz (568x)
Book of Oz, released at the end of last year is Microgaming's take on Book of Ra, the Novomatic classic, the most cloned slot of all time. Some clones are better than others, especially those who add a little something to the mix, and it is Book of Oz's 'little something' which leads to Rexxor420's big win here. Book of Oz allows the player to respin any reel as many times as they like for a price. The closer they are to a big win the higher the price to respin the reel. While this can prove expensive if you don't hit your symbols Rexxor420 plays it perfectly here. Playing at €2 a spin Rexxor risks €57 to spin one reel where he hopes to hit a third scatter/wild. Lady Luck is on Rexxor's side and not only does the third scatter/wild drop, but it also completes a full line of the highest paying symbol for a massive 500x base game spin. The three scatters also trigger free spins and Rexxor420's eventual win adds up to €1,136 for a 568x score.
Clip 5: Spintwix – Six Acrobats (836x)
Popular streamer Spintwix is up next playing a free spins round at €4.50 a spin on the 2017 release, Six Acrobats. On his final spin out of 25 Spintwix needs a good win to rescue a poor session. The spin seems to go on for ever prompting a cry of "come on" from the frustrated streamer. His frustration soon turns to jubilation, however, when a full line of the game's most valuable symbol lands straight across the middle of the screen. During free spins all wins are subject to a 5x multiplier as standard, but this win also includes a 5x multiplier wild so a total win multiplier of 25x resulted in a massive €3,762.50 (836x) score
Clip 6: Slotspinner – Avalon 2 (1,044x)
It's time for CasinoGrounds favourite, Slotspinner, to make his mark on our list playing the classic Microgaming's 2014 sequel, Avalon 2 at €0.60 a spin. All it takes is one incredibly fortuitous spin and a hell of a lot of wilds. The games regular wild lands fully stacked on reels 1 and 5, and partially stacked on reel 4 while the Lady of the Lake expanding wild covers reel 3. As well as a King and a Jack on reel 2, there is also a high paying character symbol. With 243 ways to pay and so many wilds, the resulting win of €626.40 represents a win of 1,044x the bet size. A very young looking Slotspinner (this win is now over 3 years old!!) is certainly happy, exclaiming, "I've never had a good win on this!" before jumping out of his chair to celebrate
Clip 7: AllwaysBroke – Terminator 2 (1,112x)
AllwaysBroke is up next with another 2014 slot, Terminator 2. Not only has AllwaysBroke triggered free spins, but he's also been awarded the "Hot Mode" which can seriously enhance the wins. The Hot Mode is on fire here, and playing at €2.10 a spin, he picks up some huge combos including wins of €762, €714, and €682. His success prompts AllwaysBroke to call out to his wife, "Hey honey, we finally did it!" and "I'm going to buy a boat now." His total win of €2,335 equates to a 1,112x win – huge for this medium variance slot.
Clip 8: NickSlots – Break da Bank Again (1,419x)
Another CasinoGrounds favourite stars in our 8th clip, with a dubiously bearded NickSlots from 2016 playing Microgaming's 2008 classic 'Break da Bank Again'. It has not been a good session for Nick up to this point and he is down to just over £6 in his account and playing at £2.70 a spin when he finally triggers the free spins round. Upon triggering the bonus an exasperated Nick claims, "it's taken soooo long, I must've played over a thousand spins!" before anticipating, "It's gunna be sh*t!" Happily he is immediately proven wrong on his very first spin when a full line of the valuable check symbol lands with a 5x wild multiplier. As freespins automatically have a 5x win multiplier applied to all wins, so in combo with the 5x wild multiplier Nick's win has a 25x multiplier. It seems Nick is unaware of this as he is in the midst of celebrating what he thought was a £750 score when the win balance keeps on going. Eventually someone in the chatbox alerts him to the actual size of his win. A bemused Nick replies, "It's WHAT?" as he lands what was at the time his biggest ever win of £3,750. In total he nets £3,831 from the free spins round, worth 1,419x his initial bet size.
Clip 9: MangoSlots – Jurassic Park (6.494x)
Our final big win comes from yet another 2014 slot from Microgaming, Jurassic Park. And once again it all comes from a single spin, with MangoSlots playing for just 3kr (€0.28) a spin. We join the action towards the tail end of a not particularly successful free spins round. With only the final spin remaining, MangoSlots had only banked 41.5kr from the bonus round. His luck certainly changed on that very last spin, however, when the entire board fills with wild the game's highest paying symbol, the Jurassic Park logo. With 243 ways to pay this results in an almighty win of 19,440kr (6,480x) and a total bonus win of 19,481.50kr (€1,828) worth 6,494x the bet size!
Share with friends on
Email