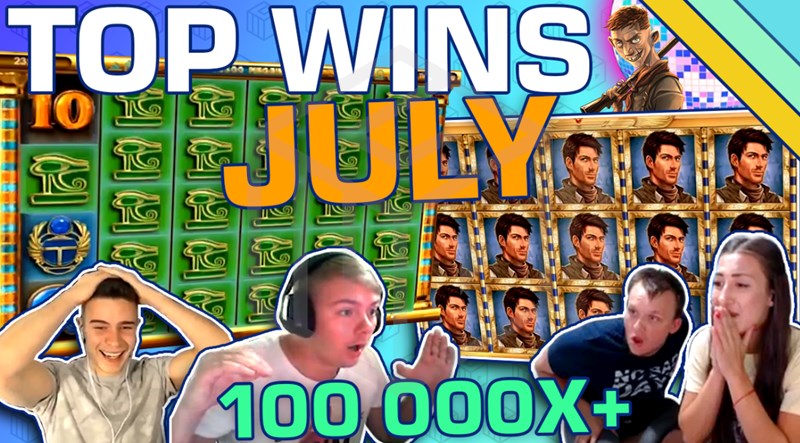 Welcome to our latest 'Top Wins' compilation for the month of July. We have got some incredible clips for you today! July was a pretty hot summer month for everyone, and you'll see in this video compilation that some a fair amount of that heat made its way down to the online slots where things were really sizzling!
7. Desity & Slotspinner – Jammin' Jars (Push Gaming) – 4,997x
Regular CG readers might remember this clip from our Jammin' Jars compilation a couple of weeks ago. If not, read on…
This bonus round looks like being a complete dud for Desity, as halfway through she has only won €0.70 despite playing at a €2 stake. Things don't get much better as the round continues and as she starts the final spin Desity has only accumulated €29.50. The bonus round suddenly gets much more interesting at the start of the final spin, however, when three jars finally come together with multipliers of x4, x4, and x5. The first decent win of €160 gives Desity some hope, and she excitedly alerts CG favourite, Slotspinner, who is playing on the other side of the room, to her potentially exciting situation. He turns around with an "Oh my God, what the f**k!" as the first win he witnesses comes in at €750. A selection of small three figure wins come next before an oranges win with multipliers of x9, x9, and x10 reaches €1,215. The next win, however, puts the rest to shame as the x10, x10, x11 multipliers combine with a strawberry (the top paying fruit) combo for a staggering €6,600 win. Cue more cursing, dancing and exclamations of disbelief (primarily from Slotspinner), as the total win climbs to €9,993.50 (4,997x) before finally drawing to a close.
6. AyeZee – Book of Dead (Play 'n GO) – 5,000x
Upping the ante a little in both stakes and ROI we have popular Twitch streamer AyeZee spinning the reels on Play 'n GO's most popular slot, Book of Dead. Playing at €5 a spin AyeZee is not having the best of days, down €400 on the session when he finally gets some free spins. Desperate for a bit of good fortune AyeZee prays for a good bonus round just before his random expanding symbol is revealed to be the game's top paying symbol, Rich Wilde. More often than not this isn't particularly good news as the best paying symbol appears far less frequently than lower paying symbols – but if a row of Rich Wilde's comes into view then its party-time! AyeZee does a little more praying, offering up "for the love of 25,000 euros, please" to the slot gods. It would appear (that on this occasion at least) they were listening, and on his 4th spin a Rich Wilde appears on each reel. As this is also his expanding symbol each reel suddenly fills with the top paying symbol before paying out the jackpot of 5,000x the bet size. A disbelieving AyeZee is suddenly €25,000 richer!
5. MitaaSpins – Queen of Riches (Big Time Gaming) – 5,469x
A short but sweet one here from one of our newest streamers here at CasinoGrounds, MitaaSpins, who is playing Big Time Gaming's Queen of Riches for just €0.40 a spin. Being a Megaways™ slot there is always a chance that a huge base game spin might just roll in. That is exactly what happens here when a single eye of horus symbol on reel 1 is joined by 5 full reels of 5 eye of horus symbols. Eye of Horus is one of the higher paying symbols in this game and with 3,125 ways to win Mitaaspins turns his €0.40 stake into a tasty €2,187.50 (5,469x) win
4. Allinbob9211 – Genie Jackpots Megaways™ (Blueprint Gaming) 7,572x
We're straight into another Megaways™ slot for our 4th biggest win of July, although this time it's Blueprint Gaming's Genie Jackpots which provides the entertainment. We join Allinbob9211, who's playing at just £0.20 a spin, as he lands a scatter on all 6 reels to earn 20 free spins with Mystery Wishes (Mystery Wishes are random added to the reels and revealing a random symbol at the end of the spin). For a 20p game Allinbob9211 does reasonably well, and with one spin remaining he has earned £74.42 (373x) – but it's his final spin when things go off the scale. Mystery Wishes symbols, filling all but one of the symbols in the first three reels with another on the 4th, 2 more on the 5th and 3 more on the 6th reel. With 3,840 Megaways this creates a win of £1,440. In total Allinbob9211's free spins round earned him £1,514,42 for a 7,572x win.
3. Juusbaaa – Jammin' Jars (Push Gaming)
The third biggest win of our July compilation comes from our very own Juusbaaa. It's another Jammin' Jars win, this time played at €1 a spin. Things go good for Juusbaaa from the very start of his free spins round as he earns over €465 on his very first spin. With the jar values increasing and with 3 in close proximity his second spin is even better, adding a further €1,500 to his bankroll. By the third free spin things are getting crazy. One apple win alone with 13x, 13x, and 14x multipliers adds over €1,500, and by the end of spin another €3,500 has been added to an insane bonus round. Spin four brings forth another €2,700 in wins as the multipliers on the big three jars reach the 25x mark and Juus cannot contain his joyful bursts of laughter. The final spin is the only disappointment of the entire bonus round but Juusbaaa quite rightly isn't too concerned as his €1 stake has earned him €8,207.70 (8,208x).
2. Gambini101 – Dead or Alive 2 (NetEnt) – 90,369x
The top two wins in July both took place on NetEnt's genius slot, Dead or Alive 2, and both are simply colossal! The first stars gamer Gambini101 and is actually the one and only of our clips which is recorded on a hand-held device from a quick-thinking player who knew they were on for something special. Gambini101 is playing at $0.36 CAD (€0.25) a spin and is already well into his maximum volatility free spins round with 7 spins left. He has already earned almost 1,000x with $328 in the bank. More importantly, however, he has earned a wild on reels 1-4 and has a full reel of multipliers on the final reel, each with a 3x win multiplier. The very first spin we see brings more wilds on reels 1 and 2 and a $700 win. Reel 4 gets its second wild on the next spin for a $1500 score. Gambini really hits pay dirt on the next spin when a second wild on reel 3 fills the bottom row with wild symbols. This abundance of multiplier wilds leads to wins of around $6,000 for each of the last 4 spins. The total free spins win comes in at a huge $32,532.88 (€22,235.40) for a preposterous 90,369x win
7) Jucepi91 – Dead or Alive 2 (NetEnt) 100,641x
Any slot player would be over the moon with a €9,000 win, but imagine how Jucepi91 felt when he earned €9,057.73 from just a €0.09 bet? Jucepi91's win is already at €3,300 when we join the action and he has a wild on reel1 with two 2x wilds on reels 2, 3, and 4, and the magical three 3x wilds on reel 5. The next 5 free spins all earn Jucepi91 between €700 and €1,000. The penultimate spin brings a third wild to the second reel, helping the very last spin to a €1,500 win and a total win of €9,057.73 – a staggering 100,641x the bet size!
Share with friends on
Email