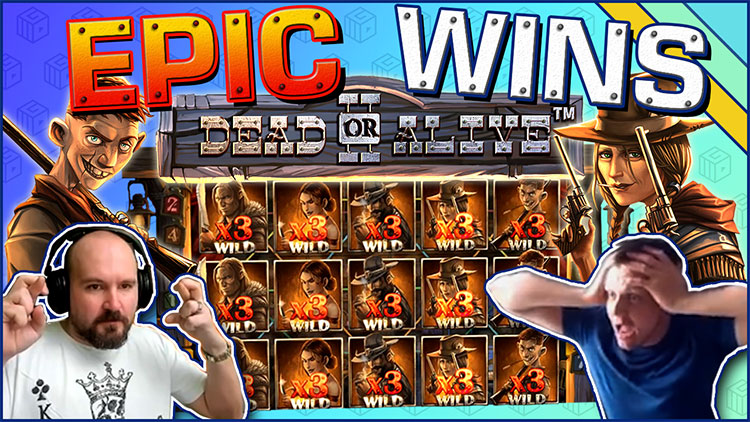 Top Dead or Alive 2 Wins
The hype surrounding DOA2 seems to have been justified as the game seems to have met with universal acclaim from reviewers, streamers, and grinders alike. It's still less than a month since it was released (24th April 2019), yet there have already been many memorable moments on stream, and many more off stream. We hope you enjoy this little compilation of the biggest recorded wins we've come across over the last few weeks – and WOW there are some monsters in here. Enjoy!
Clip 1 – Jarttu84 – 2,500x win
Jarttu84 is one of the biggest slot streamers on twitch with more than 42k followers. In this clip the Finnish legend is playing for a tasty €9 a spin at LeoVegas when he lands the biggest single baseline spin possible. In the original Dead or Alive landing a full payline of scatter symbols not only resulted in 20 free spins but also a huge 2500x stake win. Jarrtu84 lands the 5 scatter line in this spin and he has a moment of anticipation as he questions out loud, "Is it the same?" It's clear that Jarrtu84 hasn't read our review or viewed our exclusive behind the scenes VLOG's charting the making of DOA2 because if he had he would have known that the sequel retains the huge prize. As it becomes apparent that the cash was rolling in Jarttu becomes suitably animated. The 2.5kx win resulted in a massive €22,500 win.
Clip 2 – Rexxor420 – 12,516x win
Rexxor420 wasn't recording prior to starting his free spin round but having already won more than 1500x his €0.18 stake before choosing his spins he thankfully opted to record the rest for posterity. With wilds all over the board Rexxor420 correctly chose the most volatile free spin option, "High Noon Saloon" for 12 spins with sticky wilds with multipliers. We join the action at the end of the round where Rexxor has luckily earned an additional 5 free spins for landing at least one wild on every reel. There are already 2 reels with two 2x multiplier wilds on the reels and as such the first two extra spins earn him a combined 3,000x win. The third spin awards another wild, filling reel two with 3x multipliers. The last three spins earn Rexxor over 8,000x the bet size. In total Rexxor420 earned €2,252.92 from his €0.18 stake, representing a 12,516x stake win.
Clip 3 – Slotspinner- 2,523x Win
Casinogrounds hero Slotspinner is next up with a huge win from a round of free spins. Playing for €3.60 a spin things don't go well for Slotspinner and with just 2 spins left it looks like he's going to walk away with a very mediocre win. However, with just one more spin remaining 3 timely wilds result in 5 extra free spins with one reel contain 2 reels with 2x multipliers. During the 5 spins 2 more reels add wilds to become 2x reels and the wins get bigger and bigger. The final spin, however, is the Daddy as a wild line is completed. With the multipliers in play this win alone tops €5,000 for his €3.60 stake. In total Slotspinner bagged a €9,081 spin for a 2,523x stake win.
Clip 4: JuhuDiePie – 4,819x Win
Playing at €0.18 a spin we join the action with 5 High Noon Saloon spins and a board with wilds on every reel including reels 2 and 5 which both have 2 wilds with 2x multipliers. There is also a complete wild line in play for all five spins. The resulting 5 spins results in a €867.36 win, representing a massive 4,819x the initial 18c bet.
Clip 5 – Macha29 – 5,975x Win
This quick thinking piece of hand-held recording from Macha29 allows us all to enjoy another huge DOA2 win. Unfortunately we don't see much of the action but we can see that playing at just €0.90 a spin and in High Noon Saloon there are multiplier wilds aplenty. There is at least one wild on every reel with a reel of 3x multipliers on reel 4 and a couple of 2x multipliers on reel 5. The free spins round ended with a $5,377.50 win, or a 5,975x the bet haul for Macha29.
Clip 6 – OmegaSlots – 7,788x Win
OmegaSlots was playing for £0.45 a spin when he triggered free spins and chose the super high variance High Noon Saloon option. This was a bold move considering he started with zero wilds on the board. However, lady luck was shining on the German player as he gradually builds up the wilds resulting in wilds on every reel, a full payline of wilds, and the three middle reels all with a couple of 2x wilds. By the end of the round OmegaSlots has earned over £3,500 for a 7,788x win.
Clip 7 – Bassebula – 7,293x Win
In this clip we find Bassebula halfway through a free spin round playing the 2nd most volatile option, Old Saloon. The stake is SEK18 per spin (€1.70). When we join the fray the middle row is already full of wilds as well as 2 wilds on the first row and one on the bottom row. The next spin adds two more wilds on the bottom row, while the following spin adds 2 more to the top row. By this time there are only 3 spaces on the gameboard which don't contain a wild! Add to this the fact that all wins in Old Saloon pay 2x the win and you know we're looking at a decent win here!
In total Bassebula takes home SEK131,280 (€12,194) for a 7,293x win.
Clip 8 – JimboCasino – 15,154x Win
Another bit of quick thinking here from English streamer JimboCasino. It turns out this session wasn't even being streamed as Jimbo settled down to play a little whilst also watching the soccer on TV. However, when he earned 5 extra spins at High Noon Saloon on a board stacked with wilds he decided to start recording. Playing at £0.90 a spin JimboCasino has already won over £2,500 before we join the action. He also has 2x multipliers on reels 1 and 2 as well as a full reel of 3x multipliers on reel 4 and a single wild on the remaining 2 reels. Cue a wealth of mega wins resulting in a £13,639.50 payday – a 15,154x win.
Clip 9 – ImAnomaly – 24,142x Win
Here we catch 5 High Noon Saloon free spins played at £0.45 a spin with over £550 in winnings already in the bank. ImAnomaly has a sweet set-up with wilds on every reel, a fully wild payline and two 2x wilds the three middle reels. With 3 spins remaining the final reel also gains a second wild making a 4th row with two 2x multipliers. By the completion of the free spins ImAnomaly is looking at an enormous £10,863, representing a 24,142x win.
Clip 10 – Ragingponys – 44,692x Win
Ragingponys may only be playing for DKK0.9 (€0.12) a spin, and the recording quality is questionable to say the least (something our cheeky video editors pick up on of course), but this is a clip worth watching. When we join play there are already wilds on every reel with two 2x multipliers on reels 2 and 4 and a full reel of 3x multipliers on reel 5. In fact the top and bottom rows both have 4 multipliers throughout ad with 7 spins remaining more wilds fill both reels 2 and 4 with 3x wilds. Mega win carnage ensues with a resultant win of DKK40222 (€5,386) which equates to a whopping 44,692x win!!
BONUS CLIP – Mafiaboy – 53,250x Win
Although we don't get to see the action, and what we do see is some wobbly images from a hand held device of some sort – boy is it something to look at!!
This is the biggest recorded win so far on DOA2 and it came from a player going by the handle 'Mafiaboy'. Playing for $4.50 (Canadian dollars) per spin Mafiaboy is playing at High Noon Saloon and in addition to multiple wild lines he also has two 2x multipliers on the first 4 reels and a full reel of 3x multiplier on the last reel. The total win is a staggering $239,000 (€158,550) and represents a majestic 53,250x the stake haul!!
Share with friends on
Email