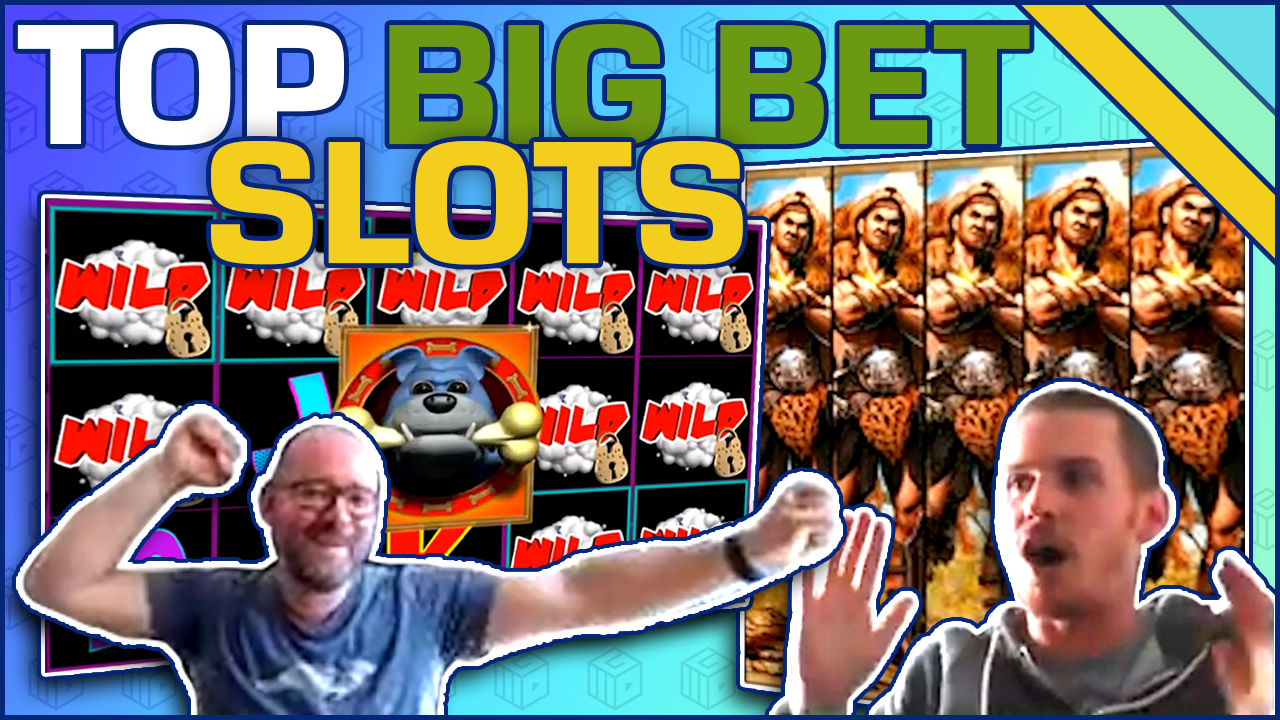 Big Bets. Big Wins. Check out our newest compilation video of streamers upping their stakes on big bet slots and scoring pretty decent wins.
Unfortunately, it seems that Big Bet slots are a dying breed. But why? Maybe it has something to do with the feature buy slots taking the lead, or simply because people like to play newer games.
Whatever the case, this compilation video shows 6 different streamers playing the big bet slots and landing themselves handsome payouts.
What you'll see in the compilation clip:
SuperSmask: 300 SEK Big Bet on Mighty Black Knight
DavidLabowsky: €30 Big Bet on Hercules High & Mighty
DCT: €20 Big Bet on Dr. Jekyll Goes Wild
LetsGiveItASpin: 300 SEK Big Bet on Monopoly Big Event
Miipekka: €50 big bet on The Legend of the Pharaos
NickSlots: €20 big bet on Barkin' Mad by Barcrest
SuperSmask's Clip
SuperSmask does a 300 SEK (€30) big bet on Mighty Black Knight. A 100 paylines, 5 reel Barcrest / SG Gaming big bet slot with an RTP of between 94-98%, with the higher end of the scale when doing the big bets.
Moments later, that gamble paid well in the form of a 6.716 SEK big win (€670).
DavidLabowsky's Clip
DavidLabowsky does a €30 big bet on Hercules High & Mighty. Also a 100 paylines and 5 reels Barcrest / SG Interactive game. The RTP follows the same model as Mighty Black Knight, with 94% RTP on bets below €2, 96% for bets above €2, and 98% in Big Bet mode.
It's very hard to not get excited when you see DavidLabowsky's full-screen wild win. It's just epic and lands him a sweet €1.000 win.
DCT's Clip
DCT does a €20 bet on Dr. Jekyll Goes Wild. A Barcrest slot machine that has been around for a time in land-based casinos before making its debut as an online slot.
The game has 5×3 reels and just 10 paylines and has an RTP of 98.20% once you enter the Big Bet Mode.
That's exactly what DCT does. Nearly 5 minutes later, that gamble paid off in the form of €691, a 34.55x return on his "investment".
LetsGiveItASpin's Clip
LGIAS does a 300 SEK (€30) on Monopoly Big Event. Also, a Barcrest game with 5×3 reels and 20 paylines as well as a Big Bet Mode released back in 2015.
This game carries a whopping RTP of 99% when placing big bets, something LetsGiveItASpin does while his "partner in crime" CasinoReggie sits by his side as they head towards the legendary "cashoutland" (El Dorado, city of gold, or Swe-ding?).
Ding ding, a Big Bet of €30 turned in to the sound of 31.600 SEK win (€3.160)!
Miipekka's Clip
Miipekka does a €50 on The Legend of the Pharaohs. This too is a Barcrest / SG Interactive slot with a Big Bet Mode that comes with a 98.10% RTP.
Whatever kind of magic he pulled of when gambling those €50, it turned out well, ensuring a 63.9x return for the total of an awesome €3.195 win!
NickSlots's Clip
NickSlots does a €30 on Barkin' Mad. The last 5×3, 10 paylines Barcrest slot with a Big Bet Mode in this compilation of big bet slot clips.
With an RTP between 94% and 96%, the higher RTP comes with the bigger bets, which is exactly what NickSlots decides to do when he was down his last £30.70, leaving him with only 70 Pence.
He was not expecting that £984 win, which results in a hilarious reaction at the end when he realizes that the imminent RIP turned Big Win and landed him a 32.8x return on the gamble.
Share with friends on
Email