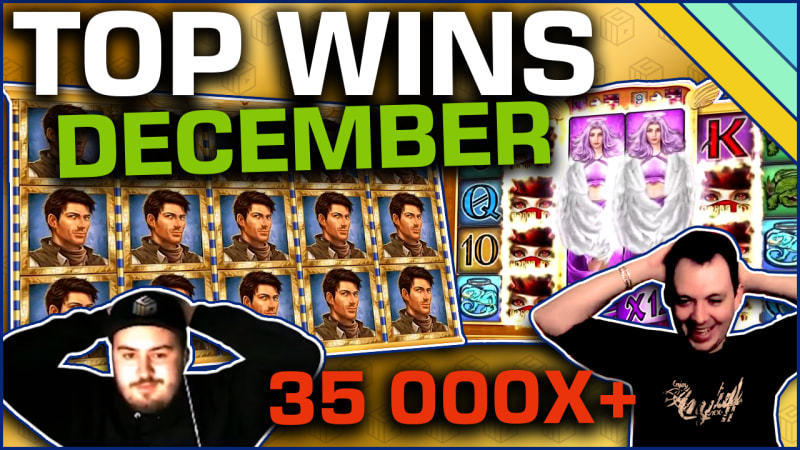 9. Gamble_gangsta – Book of Dead (Play 'n GO) 5,032x Win at LeoVegas
Our first clip comes from one of the most popular online slots of all time, Play 'n GO's much-loved Book of Ra clone, Book of Dead. Spinning the reels at €1 a go is one of CasinoGrounds most recent additions to our streaming roster, German player, Gamble_gangsta.
Inevitably the big win comes from a free spins round. Gamble_gangsta's face drops when he sees Rich Wilde, the game's most valuable symbol, randomly chosen as his special expanding symbol for the duration of the bonus round. His initial disappointment was probably down to the smaller chance he had of securing many wins with such a rare symbol. This disappointment turns to joy soon after as on his 7th spin a Rich Wilde symbol appears on every reel. Once the Rich Wilde symbols had expanded to fill the board a huge jackpot win of 5,000x was winging its way to Hamburg. In total Gamble_gangsta won €5,032 from 10 free spins, a nice 5,032x his initial bet size.
8. Shanetsgtv – Dead or Alive 2 (NetEnt) 6,674x Win
In our no.8 spot is another recent German addition to the CG family, Shanetsgtv playing NetEnt's epic high variance slot, Dead or Alive 2 at €0.90 a spin. Opting for the risky (although potentially highly rewarding) High Noon Saloon free spins, it takes Shanetsgtv 10 of his 12 initial free spins to reach his initial goal of landing a wild on each reel. This not only increases his chances of landing a decent win but also, crucially, gives him 5 additional free spins in which to do it.
The first 3 of his 7 remaining free spins only add a combined €60 to the pot. His 5th spin, however, is where the big money starts rolling in as he completes a fully wild line. In addition to that, by this point he has two 2x wild multipliers on all of the first 3 reels. This means that his next 3 spins average wins of around 1,400x a piece, taking his free spins wins up to €3,869 prior to his final spin. On the very last win a 3rd wild multiplier lands on reel 1 and transforms all 3 wilds on that reel to 3x multipliers. The final spin adds over 2,100x to his total, bringing it up to a final win of €6,006 for a 6,674x score.
7. Anonymous – 300 Shields Extreme (NextGen) 7,736x Win
Our next clip comes from a session played from €0.25 a spin on NextGen's 300 Shields Extreme by an anonymous player. As is the way with most huge wins from 300 Shields Extreme, the player had reached the hallowed ground of the 300x win multiplier. With those final 5 spins captured on a hand-held device we hear the lucky player sounding practically delirious (orgasmic even!) when his 2nd 300x spin brings in wilds on the first 3 reels which position themselves perfectly for him to land 2 full lines of Viking Ships, one of the highest paying symbols on the board. Normally paying 10x the stake for a full line, both lines now pay out a staggering 3,000x each. When the remainder of the spins are completed the win totals €1,834 for a massive 7,336x payout.
6. bloodshot_huck – Jammin' Jars (Push Gaming) – 8,614x Win
The next win comes from twitch streamer bloodshot_huck playing Push Gaming's 2018 classic Jammin' Jars at £0.20 a spin. Unfortunately for us, the vast majority of the first of his 6 free spins is not captured in this clip. This is something of a shame as it was clearly incredibly profitable as by the end of this one spin, he has accumulated £661, that's over 3,300x the bet size. Not only that but he already has 4 jars in play with multipliers of 1x, 9x, 13x, and 16x. While his second spin is poor, spin 3 earns him another £66 (300x), spin 4 adds a further 86x, and spin 5 another 200x. It is the final spin, however, which creates the most wealth, including individual wins of €115, €186 and €462 as well as plenty over €50 for a single spin win of €937. The total win of €1,723 equates to 8,614x the bet size.
5. Bobbi – Legacy of Ra Megaways™ (Blueprint Gaming) 9,017x Win
Coming in at number 5 for December 2019 is forum member 'Bobbi' who posted this hand-held clip from an enormous win playing on Blueprint Gaming's Legacy of Ra Megaways™ for €1 a spin. Bobbi only started recording when a colossal single free spin win of 9,000x rolled in. The Blueprint slot uses the 'expanding symbol' feature you find in other 'Book of Ra' based slots. On this occasion a full screen of Sphinx's with 3,800 Megaways™ brought in this €9,000 win. The remainder of the free spins only added another €17, meaning his total bonus round win of €9,017 or 9,017x the original bet size.
4. Fruity Slots – Dead or Alive 2 (NetEnt) 11,273x Win
Time for the first entry this month from a Dead or Alive 2 winner as Fruity Slots goes wild after landing a wild line and then taking a wild ride on one of the most volatile slots on the planet. It took Fruity Slots 9 spins to finally land a wild on every reel, and he did so by completing and up and down fully wild line. Also, by this time he already had two times 2x wild multipliers on reels 2 and 5 to go along with his wild line.
This spin, along with the next two average around £1,200 each, not bad for a stake of just £1.80. Seemingly not content with his guaranteed £1,200 spins, Fruity Slots begs for more wilds, chanting, "We just want more wilds", and what would you know, the very next spin brings a second wild to reel 4. This has the effect of doubling his spin value to around £2,500. After two of those bad boy spins things kick up another notch when reel 2 lands a 3rd wild to turn all 3 symbols on that reel into 3x wild multipliers. This results in a final 3 free spins which combine to add almost £12,000 to Fruity Slots already healthy win balance. When the dust settles, he has landed a colossal win of £20,292, equivalent to 11,273x his initial bet size.
3. Takethehit – L'il Devil (Big Time Gaming) 15,074x Win
Casinogrounds half Danish – half Dutch twitch streamer, Takethehit is up next as he does the business on Big Time Gaming's volatile beast, L'il Devil. Unfortunately, we only get to see the last spin of what was very clearly a huge 'My Angel' free spins round. You can see just how Takethehit has managed to work a €1.00 spin into a win of over €15,000, however, when you see that reels 3 and 4 are both fully wild, each with a 12x win multiplier. This means all wins are being multiplied by 144x. When the count-up is complete after the final spin Takethehit has cleared €15,074 – that's 15,074x the bet size.
2. Freetime2031 – Dead or Alive 2 (NetEnt) 28,612x Win
It's back to DOA2 where forum member Freetime2031 was kind enough to share with us the business end of a huge round at High Noon Saloon played at €1.80 a spin on his mobile phone. Freetime2031 already has close to €2k in the bank when we arrive with 6 more spins still showing on the screen. Not only that but he also has two times 2x wild multipliers on reels 1, 2, and 5, as well as a fully wild top row. The first spin we see more than doubles his winnings to just under €4,500, and the second doubles his total again to over €9,100 when a Sheriff badge combines with a load of wilds for a full line of the top paying symbol. It's back to a 'mediocre' spin of €2,500 next spin, before things go even more crazy than they had been when a second wild on reel 4 creates another wild line and adds 2x multipliers for a single spin just shy of €10,000. The final four spins all follow suit, each adding just under €10,000 for a final winning total of €51,502, or 28,612x the bet size.
1. The Bandit – L'il Devil (Big Time Gaming)
Well, for once it isn't Dead or Alive 2 on top of the pile, as we go back once again to Big Time Gaming's L'il Devil where popular YouTube slot player The Bandit recorded a monster win.
Playing at just £0.80 a spin The Bandit triggers 7 My Angel spins with the best and the worst symbols chosen as special symbols to transform into sticky wilds on reels 2-5 of this 6-reel game. Needless to say, the wilds come thick and fast and within no time special reels 3 and 4 have filled with wilds and quickly progress to both becoming 12x multipliers, multiplying the final 5 spins by 144x (well, actually the final 9 spins as reel 2 fills with wilds on the very next spin, giving The Bandit a further 4 free spins). The biggest single free spin, however, came shortly before both reels became 12x wild multipliers when a purple heart landed on reel one with tons of wilds across reels 2 and 5 with 12x and 10x wild multiplier reels on 3 and 4. This single win brought in almost £4,500. I won't bore you by listing the nature of every subsequent win, but they included spins of £4,331, £3870, £3,600, £3,456, and £3,041. Luckily you can watch the entire win from before the very first free spin in our compilation and see for yourself The Bandit's reactions to his £28,004.64 win worth 35,006x his initial stake.
Share with friends on
Email