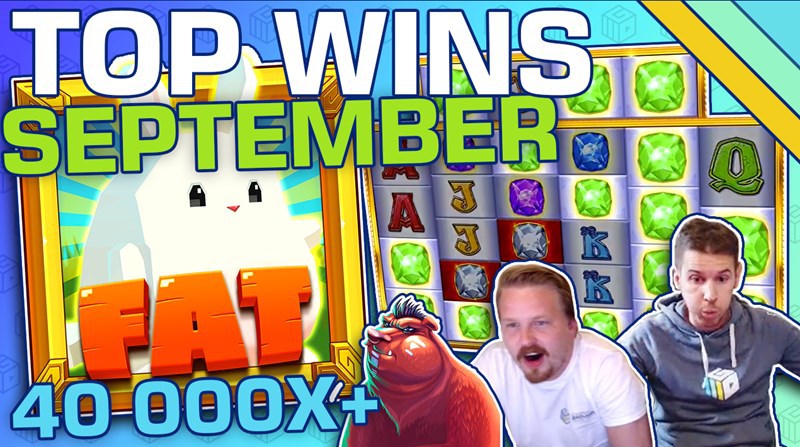 With September at a close, its time to take our monthly look back at the biggest streamed or recorded online slot wins. There are some mammoth scores to enjoy in this month's round-up starring some of your favourite CasinoGrounds streamers. A fair few of our loyal forum members have also made this list after sharing their outrageously good fortune with us. Thanks guys!
8. Nickslots – Rainbow Riches Megaways by Barcrest (2,583x win)
We kick things off with an enormous payday for one of CasinoGrounds most beloved streamers, Nickslots. Playing Barcrest's July 2019 release, Rainbow Riches Megaways at a hefty £10 a spin, Nick triggers 12 free spins. Probably due to the fact that he is playing at the higher end of his gaming range, Nick seems particularly keen to avoid too many dead spins, uttering "Don't give me dead spins now, no. No, no, no, no, no, no!" as the first few spins come and go without troubling the scorers. With 8 spins played, however, lady luck smiles on our Northern hero as a ton of green diamonds (one of the game's highest paying symbols) land. However, with one reel missing it looks like Nickslots ambitions of a big win may have been thwarted. However, a couple of reaction wins eventually result in the all-important missing reel finally being blessed with a green diamond.
The resulting single spin win, helped by a 10x win multiplier comes in at a staggering £24,251. Nickslots final win for this bonus round ended up at £25,828 – 2,583x his original bet size.
7. LetsGiveItASpin – Fat Rabbit by Push Gaming (2,857x win)
Given that the max single spin win on Push Gaming's Fat Rabbit is just 1,000x you have probably already worked out that LetsGiveItASpin managed that and then some to end up with such a huge win. Fat Rabbit's free spins round relies on the player landing more and more wild carrots. Each time the carrots reach the top of the carrot-meter, more spins are added and the ever-present rabbit wild gets bigger and bigger. Reach the final level and that chubby bunny covers the entire gameboard and issues a 1,000x win. No prizes for guessing that this is exactly what Kim managed to do here with not 1 but 2 free spins remaining. A word of warning; make sure to turn down your volume when those final carrots land as LGIAS and his two companions celebrations are, to put it mildly, a little on the loud side! Playing at €7.50 a spin, Kim's free spins winning total ends up at €21,427.50, equating to 2,857x his bet size.
6. Slotplayer – Danger High Voltage by Big Time Gaming (13,209x win)
Playing at £1 a spin, CG's Slotplayer triggers the bonus options on Big Time Gaming's 2017 blockbuster slot, Danger High Voltage. The UK based Dutch streamer picks the slightly less volatile (although still VERY volatile) 15 High Voltage spins. This really looks like a losing round as Slotplayer adds just £0.50 to his winnings from the first 12 spins. Spin number 13, however, changes everything. After landing 3 skulls on the first two reels (the highest paying symbol, worth 25x the bet size for any 6 adjacent skulls), the third reel adds a 44x win multiplier, the 4th brings a skull, the 5th 3 skulls, and the final reel 2 skulls! Believe it or not this single spin is worth 13,209x the stake, or £13,208.80 in real money. Earning £13,238.10 from his £1 bonus round you'll never convince Slotplayer that the number 13 is unlucky ever again!
5. Kirveskarva – Dead or Alive 2 by NetEnt (15,076x win)
At number 5 it's time for the first of our Dead or Alive 2 clips. This really has proven to be THE go-to slot for huge wins. The first is courtesy of Kirveskarva who managed to record the tail end of his High Noon Saloon spins played on his mobile phone. Playing at just €0.09 a spin, Kirveskarva shows a completely wild top row with rows 1, 3, and 5, all with two 2x multipliers. The total win from this bonus ended up at €1,356,85 or 15,076x the bet size!
4. TopSymbolKate – Queen of Riches by Big Time Gaming (19,563x win)
Some of you might already be familiar with this clip as we recently featured it in a news article after it was confirmed as the August winner of Big Time Gaming's Tesla Draw competition. Canadian forum member TopSymbolKate was playing at just $0.20 a spin when a huge win rolled in on Queen of Riches. The Megaways slot randomly triggered the 'Reel Clone' feature which can clone any number of reels, and on this occasion, it cloned all 6 reels with the maximum 7 symbols per reel. The bottom 5 rows all contained Kings, resulting in a mammoth win of $3,912.55, equal to 19,563x the stake. We all wish TopSymbolKate the best of luck in November's draw where she will line up against the other 4 winners to see who wins the Tesla Model 3!
3. Vaffel1 – Primal Megaways™ by Blueprint Gaming (21,731x win)
This clip comes from another helpful forum member who managed to capture a huge win on his laptop from a handheld recording device. Playing Blueprint's Primal Megaways at 20kr (€1.86) a spin Vaffel1 lands a huge win on his 5th free spin when lands 4 of the highest paying symbol (mammoth which pays 50x for any 6 adjacent symbols) on reel 1, another on reel 5, and wild multipliers on every other reel. In this game, the reel multiplier values multiply together, so with wilds of 3x, 4x, 3x, and 3x, the win is multiplied by 108 resulting in a single spin win of 434,952kr (€40,372). Unfortunately, we don't get to see how much was added from the remainder of the free spins, but this win alone was worth 21,731x Vaffel1's bet size!
2. ErtiErtze – Dead or Alive 2 by NetEnt (41,300x win)
Our second DOA2 entry comes from yet another forum member ErtiErtze, who claimed this ginormous win playing NetEnt's super high volatility slot. Playing in Georgian Lira at the equivalent of €0.14 a spin, we again only catch the last few spins at High Noon Saloon with a recording from a handheld device. ErtiErtze makes a killing on every spin we witness with 2/3 of the board filled with 2x win multipliers (2 on each reel). This lucky slotsmith ends up taking home €5,782 from his €0.14 spin, a win of 41,300x the bet size!
1. Levi – Dead or Alive 2 by NetEnt (41,973x win)
Just pipping EtriErtze for the number 1 spot this month is forum member Levi who managed to capture the last few High Noon Saloon spins played on his mobile phone. We join the action just as Levi has earned 5 extra spins, presumably for landing a wild line on his final regular spin. When the spins start he already has a wild on reel 1, three 3x wilds on reel 2, two 2x wilds on reels 3 and 4, and a single wild on reel 5. With 3 spins remaining the 5th reel adds an extra wild meaning that both wilds on the final reel now also hold 2x win multipliers, almost doubling the size of those last 2 spins. Playing at £0.18 a spin, Levi's eventual win tally amounts to a whopping £7,555.16, worth 42,973x his initial stake.
Share with friends on
Email