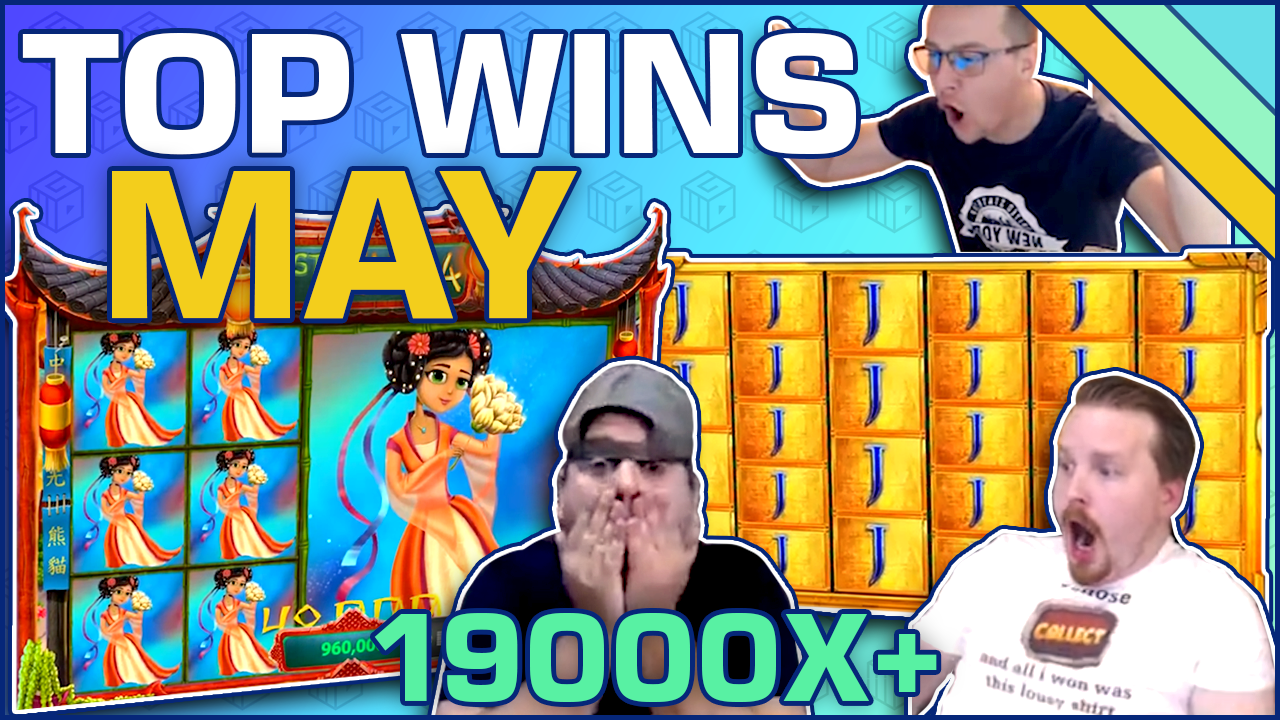 With June now well underway it's time to take a look back at the biggest wins in May from streamers, members and slots fans from around the globe. We've taken a trawl through our archives and come up with our top 8 wins from the Merry Month of May. Enjoy!
Clip 1: Deluxe Casino Bonus – Taste of China (BF Games) 1,312x win
Our first clip comes from a brand new slot from BF Games, Taste of China. Streaming for Deluxe Casino Bonus our Hungarian based player is wagering 800HUF (€2.48) a spin when he triggers 12 free games. After 4 dead spins, our player reacts with suitable enthusiasm as he sees the entire game board fill with one of the 4 premium symbols for a 1,200x win. He gathers a few smaller wins from the remaining free games to end with a seven-figure score (in HUF of course). The total win from the bonus round was 1,049,600 HUF (€3,256), representing a 1,312x the stake haul.
Clip 2: Lifehack – 300 Shields (NextGen Gaming) – 3,378x win
We don't get to see an awful lot of the bonus round in this clip as it was obviously hastily recorded on a handheld device when it became apparent to player Lifehack that something big was going down. Nevertheless, we're very glad he was as quick on the draw as he was or else we would have missed out on this beauty!
Lifehack is already well into the lucrative Battle Feature from the NextGen classic '300 Shields' when we join the action. Having already collected enough shields to be playing with a 25x win multiplier, Lifehack raises his shield count even further on his last spin to move up to a 300x win multiplier with an additional 5 spins. Playing at 2.50dkk (€0.33) per spin Lifehack can't contain his glee when his five additional spins add over 7,100dkk to the more than 1,200dkk the bonus round had already awarded him. After the completion of this battle feature, Lifehack had won 2,869x from the final free spins and a huge 3,378x his stakes for the entire feature – a €1,115 win from just a €0.33 bet! Lifehack leaves us in no doubt of his intentions after this big win, jubilantly exclaiming, "Vacation, here I come!"
Clip 3: Nicola – Final Countdown (Big Time Gaming) 4,382x win
Big Time Gaming's Final Countdown is proving to be quite the slot when it comes to big wins, and our third clip is the first of two inclusions in today's list for this highly volatile slot. After triggering the bonus round and choosing the more volatile Countdown spins, our player, Nicola, quickly ascends through the levels by landing plenty of final countdown symbols. She rushes through the 4x and 27x moving multiplier squares before hitting the big time on her 9th spin and moving up to the static 256x win multiplier with a full five free spins remaining. Each of the 5 wins is worth many hundreds of times her £0.60 stake, with the biggest ones worth well over 1,000x. In total Nicola wins £2,629 from the free spins, a staggering 4,382x the bet size.
Clip 4: Slotmad – Legacy of Ra Megaways™ (Blueprint) 5,136x win
In this clip, taken from Legacy of Ra Megaways™, we see one of the Slotmad streamers using the 'buy a bonus' option and paying 100x his £1 stake in exchange for 10 free spins. Our scouse streamer doesn't seem too enamoured when the low-value J symbol is randomly picked as his 'special symbol'. However, he doesn't remain vexed for too long as on his very first free spin a J lands on every one of the 6 reels, while the reels expose enough symbols to give him 10,000 Megaways win lines. The special symbols, just like in the original Book of Ra all extend to fully cover the reels resulting in a huge 5,000x win from a single spin. With the addition of a few minor wins from the rest of his free spins, our intrepid streamer ends up with a £5,136 (5,136x) scoop from his £100 investment.
Clip 5: Anvaris2507 – Final Countdown (Big Time Gaming) 5,281x win
Our second appearance from BTG's Final Countdown is much of the same, although this time we only join the action after streamer Anvaris2507 has already reached the top level of the bonus round, playing with the middle 4 reels of this 6 reel slot all wild for a 256x multiplier each spin. Playing at just €0.20 a spin, Anvaris2507 nevertheless manages to turn his Countdown free spins into a €1,056 (5,281x) win.
Clip 6: Fruity Slots (burberry1) – Primal Megaways™ (Blueprint Gaming) 7,414x win
Here we join Jamie (burberry1) from the Fruity Slots streaming team playing Blueprint Gaming's highly volatile Primal Megaways slot at £3 a spin. We join Jamie after he's already entered 6 spins into a bonus round and has just picked up an additional 5 free spins leaving him with another 19 to play. Some mediocre wins rack up until spin number 20 when Jamie lands a monster of a win. Landing 2 reels each with 2 of the highest paying symbols (mammoths) with wild multipliers on the other 4 reels it takes some time to sink in that a huge win was coming into land. When revealed the wilds multiplier the win by x2, x2, x3, and x2 resulting in a MegaWays mega win of £21,729 – that's over 7,200x for a single free spin. By the end of the round (and after earning a further 15 free spins), Jamie left with £22,241 from a £3 bet, a staggering 7,414x stake win.
Clip 7: Brian Koppen – Primal Megaways™ (Blueprint Gaming) 12,841x win
Its back-to-back big wins on Primal Megaways™ this month as Brian Koppen manages to press record on his mobile device just as this outrageously big win as being counted up. We can even forgive Brian for his slightly shoddy camerawork – after all, if we hit a +12,000x win I think our hands might be a little shaky too. Brian catches as the cashometer rises up and up from his €0.80 bet, resulting in a single free spin win of €10,240. It would appear that Brian managed to land wild multipliers on the last 5 reels, meaning that he was awarded for multiplier full line wins for Kings, Queens, and Tigers. Not only that but the multipliers he landed were worth 4x, 4x, 2x, 4x, and 4x meaning that all wins were multiplier by 512x. His total free spins win of €10,273 was worth a very, very nice 12,841x his bet size.
Clip 8 – BigWinPictures – Dead or Alive 2 (NetEnt) 19,633x win
The biggest win in our May collection comes from one of CG's favourite slots, NetEnt's follow-up classic, Dead or Alive 2. BigWinPictures triggers the bonus round and opts to try his luck on the highly, highly volatile free spins round, High Noon Saloon. This bonus round has been known to leave players weeping with empty pockets – but it most likely left BigWinPictures weeping with joy after this win.
There's only one way to describe this free spins round – utter chaos. The wilds start landing just 2 spins in and slowly but surely build up. With 4 spins of the 12 remaining BigWinPictures completes the task of landing at least one wild on each reel to earn an extra 5 free spins. By the end of the free spins, our streamer has two 2x wilds on 4 of the five reels and a 1x wild on the other reel. The final 9 spins are all monsters and his final win totals €17,670 from a €0.90 spin – that represents an enormous 19,633x the stake.
Bonus Clip: LetsGiveItASpin – Super Sic Bo
This may confuse a few of you unfamiliar with Evolution Gaming's live/online version of Super Sic Bo. If this is the case then it's well worth taking a look at our beginner's guide which you can find here.
In this clip, LGIAS manages to land not one, but two lots of trips for over 160,000kr in wins. Kim has never been one to not let his emotions get the better of him, and this clip is worth watching for Kim and Reggie's reactions alone!
Share with friends on
Email