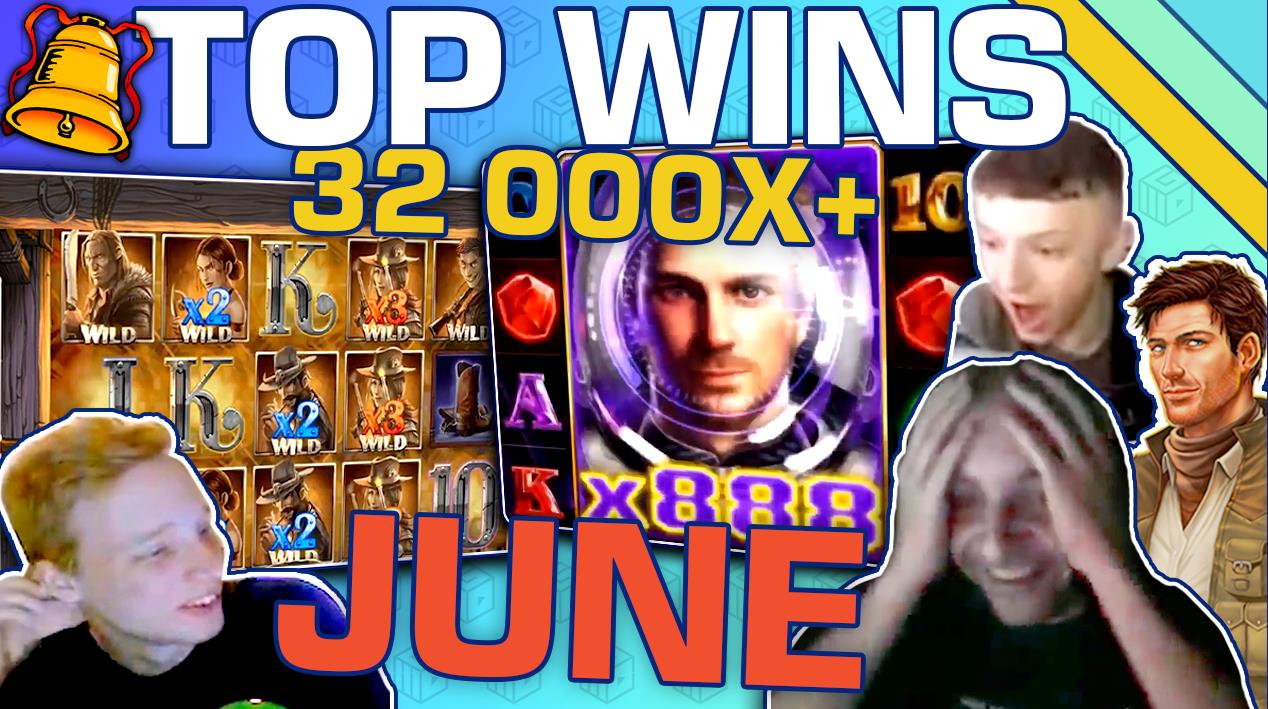 As June makes way for July and summer is finally upon us, this week we take a look back at some of the most scorching streamed or recorded wins we had the privilege to witness last month. As you'll discover, June was a hell of a month for players of a certain high variance Wild West sequel slot…
Number 10: TopGamerSweden – Danger High Voltage (Big Time Gaming)
Our first clip sees CasinoGrounds streamers TopGamerSweden taking to one of their favourite slots, Big Time Gaming's classic high variance beast, Danger High Voltage. We join the action at the start of a round of High Voltage Free Spins where TopGamerSweden is playing kr5 (€0.47) a spin. During the bonus round our streamer manages to connect with the High Voltage Wild on several occasions with a couple of 44x wins with 9's and 10's and a HUGE 55x win which connected with a bunch of Bells for a kr8277 (€778) score. In total TopGamerSweden took the free spins for kr9047.50 (€850.50), representing a 1,810x win.
Number 9: Omega – The Final Countdown (Big Time Gaming)
The Final Countdown is another highly volatile beast from Big Time Gaming – often referred to as 'Danger High Voltage 2' due to the similar nature of the two slots. Playing at €0.80 a spin, German streamer OmegaSlots triggers the bonus round and chooses the Heading For Venus Free Spins. With 13 of the 15 free spins gone, the bonus round winnings are sitting at a disappointing €25 before spin no. 14 changes everything. The dream scenario while playing Heading For Venus Free Spins is for a velocity wild to appear and randomly expand to cover the middle four reels with a giant 888x win multiplier. That dream came true on spin no.14, and with a red gem either side of the giant wild this single win topped €3,000. OmegaSlots total bonus round win ended up at €3,080.44, a huge 3,851x the initial bet size.
Number 8: Marius1900 – Book of Dead (Play 'n GO)
This may not be the smoothest of recordings, with some fairly shaky camerawork going on from Marius1900 on a hand held device – but we're sure glad he made the effort nonetheless. Spinning the reels of Play 'n GO's mega popular Book of Dead slot at €0.80 a spin, Marius1990 decided to record once he had triggered ten free spins. It's looking like a fairly bleak bonus round until the 6th spin when he hits the mother lode. Prior to the free spins starting, Book of Dead randomly assigns one of the regular symbols to be a 'special' symbol which will expand to fill the entire reel at the end of the spin if by doing so it results in a win. Although Marius1900's recording starts after the symbol was chosen, it becomes obvious that it was Rich Wilde (the game's hero and highest paying symbol) once the 6th free spin is completed. With one Rich Wilde symbol dropping on every reel the entire gameboard fills with the highest value symbol, resulting in a 5000x (€4,000) win. The final free spins haul totalled €4,022.40 – equal to 5,028x the bet size.
Number 7: SuperMaza – Napoleon (Blueprint Gaming)
Clip 4 comes courtesy of CasinoGrounds forum member SuperMaza who shared this huge win on Blueprint's Napoleon: Rise of an Empire a few weeks ago. This is another hand-held recording, and a very short and rather incomprehensible one at that! By the time the recording starts the big win has already landed, and due to all the celebratory animations and the shaky camerawork, it's difficult to make out what the actual combination of winning symbols actually is? One thing we do see, however, is the win climbing higher and higher across the centre of the screen. The final win totalled €3,403.20, and as SuperMaza was only risking €0.60 a spin this represented a 5,672 x haul.
Number 6: Boyd – Dead or Alive 2 (NetEnt)
This clip comes from one of our favourite slots of the year, NetEnts powerhouse sequel, Dead or Alive 2. Irish streamer Boyd is playing at £1.80 (€2.02) a spin and we join the action at the start of a free spins round. xxxx has chosen the mega-high variance High Noon Saloon spins which often leave the player empty handed but occasionally leave them dripping in cash. Given the nature of this compilation so far, I'd imagine you know which way this one went? High Noon Saloon has sticky wilds with win multipliers added each time a new wild lands on the same row as an existing wild. By the completion of his 15 spins, xxxx has two 2x wilds on reel one, three 3x wilds on reel 2, one wild a piece on reels 3 and 4, and another two 2x wilds on reel 5. As the wilds multiply by each other, the final few spins are all rather epic. Our happy streamer is positively bursting as he runs out of the room to share the news of his recent good fortune with his mother. The win will certainly have helped keep his mind off the broken arm he appears to be sporting in the video. By the end of the free spins Boyd has earned a huge £14,331.20 (€16,093), a 7,962x win.
Number 5: Tangamarine – Legacy of Ra Megaways (Blueprint Gaming)
Once again it's a bit of short but sweet hand-held camera action from a jubilant forum member as Tangamarine hits an almighty win on Blueprint Gaming's Legacy of Ra Megaways slot. We don't see the win roll in but it's fairly safe to surmise that Tangamarine had been awarded the A as their special symbol (which will expand to cover the entire reel in the event of a winning combo). It is equally safe to assume that an A landed on every reel, filling every space with the same symbol on a 10,000 Megaways board. This single free spin resulted in a £4,000 (€4,500) win from a mere £0.40 (€0.45) stake. With a couple of other minor wins to add from the rest of the free spins round, Tangamarine left with £4,007.76 (€4,509), equivalent to 10,019x the bet size.
Number 4: TomzerSRP – Dead or Alive 2 (NetEnt)
It's back to Dead or Alive 2 for the 4th biggest win of the compilation as TomzerSRP shows us how to make a mint from just a €0.09 spin. Once again it is the ultra-high variance High Noon Saloon free spins which deliver the goods. We join the free spins round when it is already well underway and a bunch of 2x wilds are spread nicely across the gameboard. Big win after big win roll in, and eventually one of the rows is filled with 3x wilds. The resulting win reaches €1,234.20 which represents a phenomenal 13,714x TomzerSRP's original bet.
Number 3: Lifehack_2996 – Dead or Alive 2 (NetEnt)
Well, I'm afraid it's another hand-held recording and another clip from a game of Dead or Alive 2 – but it is one hell of a big win! Playing at DKK1.80 (€0.24) a spin and playing a bonus round at (inevitably) High Noon Saloon, Lifehack_2996 has already accumulated wilds on every reel, with three reels each with two 2x wilds with a full 6 free spin remaining. This means there are a lot of big scoring spins to get through – especially as during the course of those 6 spins one reel fills with 3x wilds, and another gains two 2x wilds. The resulting win reaches DKK34,884 (€4,625), a whopping 19,269x the bet size.
Number 2: Elkscanplay – Dead or Alive 2 (NetEnt)
Yup, sorry folks but there's just no getting away from that pesky Dead or Alive 2 when it comes to huge wins. Another quick thinking forum member manages to capture the majority of their win from (you guessed it) High Noon Saloon free spins for us to enjoy. With 2x win multipliers on 2 of the 5 reels and a single wild on each of the remaining 3 reels, Elkscanplay completes a wild line, earning himself another 5 free spins. With all these spins and so many wilds already in play (which are quickly added to when two more reels gain 2x multipliers) a huge win is inevitable. Once again our winner was only playing the minimum stake of €0.09 a spin. Nevertheless a €2,217 win is not to be sniffed at – or to put it another way, Elkscanplay won 24,633x his stake during this epic free spins round.
Number 1: Nicola – Dead or Alive 2 (NetEnt)
Given what we've already witnessed, it wouldn't seem right if the biggest win of the month didn't come from Dead or Alive 2. Indeed it was the mighty NetEnt beast which provided the biggest win of the lot, coming from forum member Nicola. We don't actually get to see any of the action as Nicola only managed to start recording just after the final free spin had landed. However, the usual scenario had of course unfolded playing High Noon Saloon free spins, with plenty of multiplier wilds across the board. This time the resulting total win from an £0.18 (€0.20) spin was a mammoth £5,792 (€6,435), equal to 32,177x Nicola's original spin stake!
Share with friends on
Email