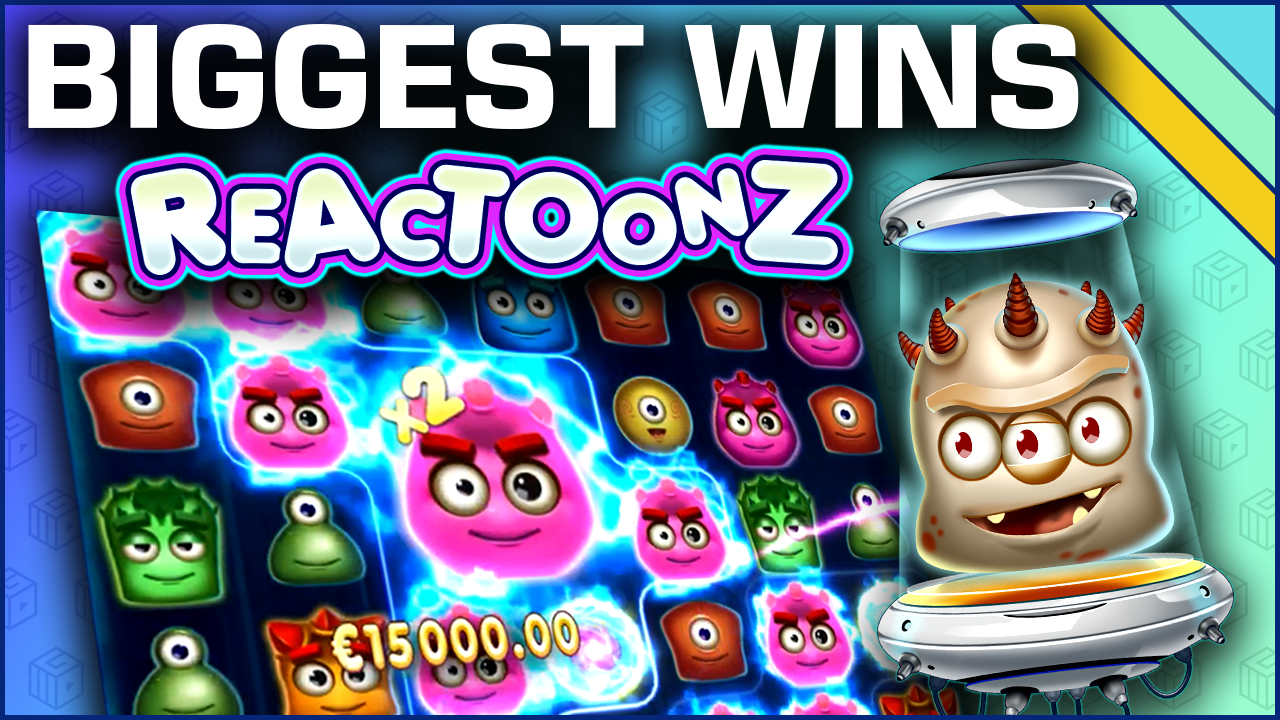 Top 10 Reactoonz Wins
Top 10 Reactoonz Wins
Since it's release in October 2017, Play'n GO's Reactoonz has been one of the most consistently popular slots across the globe. A fun-filled cluster pays slot with a 7x7 grid full of cartoon alien symbols, hundreds of players continue to grind it out on Reactoonz a daily basis. We've trawled our archives for some of the biggest recorded Reactoonz wins and put together this video of our Top 10 Reactoonz wins.
For those of you unfamiliar with how this cluster pays, cascading symbols slot works, head over to our review here before enjoying the video below.
10. OnAirJannick – 1,553x Win
Our first clip was posted in April this year by German CasinoGrounds streamer OnAirJannick, who is playing at €0.60 a spin. Rather than from the coveted 3x3 wild Gargantoon, the overwhelming majority of this win originates from an Incision, one of the games quantum features, earned after successfully stringing 5 consecutive winning clusters together. An incision sends shockwaves diagonally across the board from both sides, changing each symbol it passes to the same regular symbol. In this case they all change to the game's most valuable regular symbol, the pink 2-eyed alien. As OnAirJannick has, by this time, strung more than 10 consecutive winning combos together, another quantum feature is randomly triggered. This time it is the Demolition feature, which removes all low paying symbols from the board. By doing this, the pink high symbols are able to cascade into place, with most falling on top of other high value pink symbols for a huge pink cluster win of €900 (1,500x).
OnAirJannick's win continues, unlocking all quantum features including the 3x3 Gargantoon wild. His total win for the spin was €931.71, a win of 1,553x.
9. David Labowsky – 1,554x Win
Netherlands based high stakes twitch streamer David Labowsky is up next, playing at €10 a spin at Rizk Casino. Once again, the win here is largely down to the Incision quantum feature (in conjunction with a couple of helpful features along the way). The path to his big win starts when David's Incision changes the diagonal lines to wilds, kick-starting a bombardments of consecutive winning clusters. In turn, these power up more features, and when an Alteration feature changes some randomly chosen symbols to high value pink alien symbols. This is immediately followed by another Incision which this time turns the diagonals to pink aliens. When combined this creates a swathe of connected pink aliens, including a 2x2 symbol which doubles the already huge win to €15,000 (1,500x). Before the spin is out, Labowsky picks up a few more wins to end the drop on €15,543 for a 1,554x win. GET PAAAIIID!
8. Spintwix – 1,563x Win
Next up is Hendrik's (David Labowsky) buddy, Spintwix, playing for €7 a spin at Sugar Casino. And once again the good fortune starts with a big break from an Incision which turns all symbols along the diagonals into high value pink aliens. As with Labowsky's win, the Incision is immediately followed by a demolition which removes all the low value symbols and allows a ton of pinks to cluster. This cluster includes not one but two 2x2 clusters, each added x2 win multipliers to proceedings for a €10,500 (1,500x) win. After all the other features have run their course, Spintwix gets his money gun out to spray dollar bills around his room to celebrate what turned into a win of €10,942.75, which equates to 1,563x his bet size.
7. JJCasino – 1,569x Win
Former CasinoGrounds streamers JJCasino stars in our next clip, the first in which the big win doesn't come until after the Gargantoon has made his way out of his holding pod. The Gargantoon is a 3x3 wild which is only released after all the quantum features have played out. After any wins from the Gargantoon are paid out, it first splits into two 2x2 wild aliens, and then into 9 regular 1x1 wilds. It's not until the final 1x1 wilds are released that the big win occurs. After bemoaning the poor positioning of the larger Gargantoon wilds, JJCasino perks up when he notices that a bunch of high value pink aliens have clustered together. The final drop sends a pink alien down to join the cluster – and when a handful of the 9 1x1 Gargantoon wilds join the action a piercing scream is let out by the ecstatic streamer. Among the pinks is a 2x2 symbol which doubles the big win to €7,500. Playing at €5 a spin, this once again represents a 1,500x win. His final win of €7,642.75 represents a total win of 1,569x his bet size.
6. chapMAD – 1,594x Win
chapMAD is a twitch streamer with over 72k followers who is a keens slots player, although he is mainly known for his other gaming exploits. In this clip he manages to conjure a huge win out of seemingly nothing once reaching the Gargantoon stage. Having only won moderately through the quantum features and with the 3x3 Gargantoon, he hits it big with the two 2x2 Gargantoons which manages to just about link up horizontally to a 2x2 pink alien, a single pink alien, and a single wild for a (you guessed it) 1,500x win. Playing at 50kr a spin, his overall win of 79,680kr represents a score 1,594x the size of his initial bet.
5. OmegaSlots – 1,648x Win
Another German streamer, OmegaSlots, is up next, and he gets his big pink alien cluster in a more unusual way than most. Having racked up a ton of quantum features, the Alteration feature is released twice in a row. The Alteration features takes a random number of symbols across the board and changes them to the same random, regular symbol. More often than not, this is the most disappointing feature as the changed symbols are often low in numbers and far apart. However, on this occasion, both Alterations feature quite a few symbols, and on both occasions the symbols are fairly well connected, as well as connecting with one another. Most importantly, however, they both alter the randomly chosen symbols into pink aliens, including three 2x2 pink aliens, each with a 2x win multiplier. The resulting €1,200 win is (drum roll please) 1,500x his original €0.80 bet size. After making a few more decent scores with the Gargantoon who followed shortly after, OmegaSlots final win came in at €1,318.60, worth 1,648x his stake.
4. Daskelelele – 1,782x Win
CasinoGrounds streamer Daskelelele takes this month's 4th place slot with this win playing at €10 a spin. Daskelelele's win comes courtesy of an Incision followed by an Alteration in which both features changes symbols to high value pink alien symbols. With one 2x2 pink alien in there doubling the win, the biggest single win of €15,000 (yes, 1,500x the bet size) makes up the majority of this score. However, a couple of decent scores during the Gargantoon stage a little later on in the win added another 200x or so to the final winning total of €17,820.50 (1,782x).
3. Ryansgiggs – 1,831x Win
This win was posted earlier this year by CasinoGrounds forum member, Ryansgiggs who was playing at £1.60 a spin. In this clip, the win remains low up until the Gargantoon is released. The 3x3 wild beast connects well with two big paying symbols. Firstly, it connects with 6 high value green aliens for a £480 (300x) win, as well as 6 high value pink aliens for another £1,200 (750x) win. The win continues to grow as the Gargantoon splits and the two 2x2 wilds manage to connect with 5 pinks and 2 normal wilds for another £1,200 (750x) win. The combined win of £2,930.24 equates to a win of 1,831x his bet size.
2. MeisterdeLampe – 1,934x Win
Another forum member takes the number 2 spot with this win posted in May this year. Playing at €10 a spin, MeisterdeLampe strings together enough consecutive wins to go through the quantum features to the Gargantoon. It's the 3x3 Gargantoon which causes the damage as it links up with a 2x2 high value pink alien with a 2x win multiplier which also hits 2 regular wilds and 2 regular high value pink aliens for a €15,000 (1,500x) win. The two 2x2 Gargantoons land another high value win, connecting with 5 green aliens and 2 regular wilds for a €3,000 (300x) win. When smaller wins from throughout the drop are added, the final win came to €19,337 for a 1,934x score.
1. Marko Kolehmainen – 2,141x Win
Our number 1 Reactoonz win comes from Marko Kolehmainen, playing at just €0.40. Unfortunately, this hand-held recording is not the best, and it's hard to follow the action. The salient point, however, are as follows. After a string of consecutive wins and quantum features which took Marko's win up to over €156 (390x), he managed to land his 3x3 Gargantoon where it directly connected to a 2x2 high value pink alien wild for a €600 (1,500x) win. Once the 2x2 and 1x1 Gargantoon wilds were done and dusted, Marko's final win of €856.36 was big enough to take our number 1 spot as it was worth 2,141x the original bet.
Share with friends on
Email