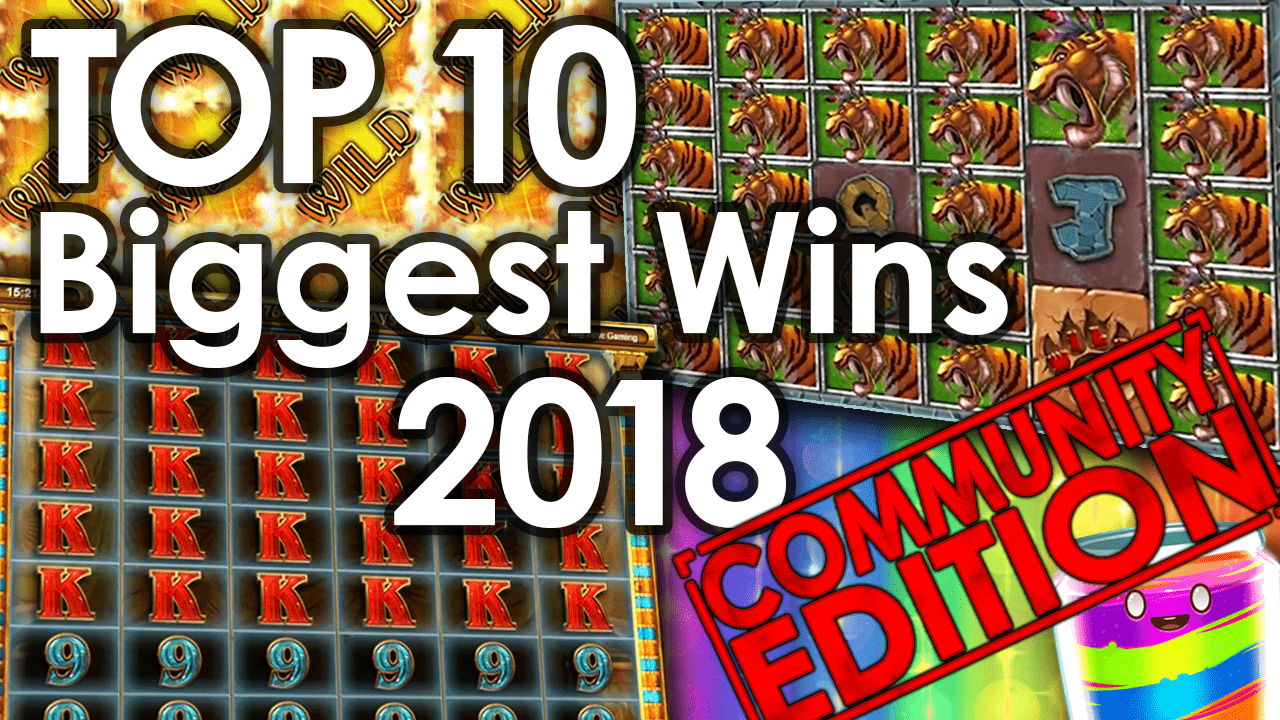 Top 10 – Biggest Wins of 2018 (Community Edition)
We saw some really fantastic wins on our 2018 biggest wins streamers edition. Seems like our community made it even better with the wins. The 10th place is almost as big as Miikapekka's win on streamers biggest wins compilation. This casino treat won't let you down for sure. Our editors have done some awesome work with the video, so a huge thumbs up to them!
Before we let you go straight into the video, remember to submit your big wins in our forums and you might get featured in one of our weekly youtube clips. Right now we even have a running competition for the biggest win in a new game. Check out the Buster Hammer Carnival Competition here. The game is exclusively available at LeoVegas.
10 – MarioLULz – Night of the Werewolf
Mario gets the bonus feature on Night of the Werewolf, where you can pick the expanding special symbol. Of course, he picks the best symbol of the game, and the 10 spin feature begins. Nothing special happens on the first spins, but on the fourth spin, he gets the ''once in a lifetime'' hit. Full screen of the best symbol pays to him €2,500.00 with 0.50 cent bet. In total the bonus pays €2,518.00 which is 5036X win!
9 – Sebastian MJ – Danger! High Voltage
In this clip, editors have done some great work, as the quality of the clip is not the best. Editors still managed to change it to a very entertaining clip. Let's jump to the feature. We believe that the special symbol is the K. We see in the clip only the last two spins, but oh boy. What an insane Gates of Hell bonus it is! Three re-triggers and 16 spins in total with €0.7 bet pay in the total 6822X win which is $5457.72 win.
8 – Rynrae – Tiki Tumble
When the clip starts, the multiplier has already grown to 7X. Two spins into the clip, the player lands wild to every reel, and the celebration begins. The first spin with wild every reel pays 1544X win. Bet size is £0.40, so the single spin pays over $600. Next spin is even bigger and pays 2245X. Then the winnings are getting bit lower, but every spin pays from 150x to 1500x. In total the bonus pays £2747,08 which is 6868X win.
7 – Adrian – Jammin Jars
Jammin Jars was one of the best games of 2018 for sure. Since launch it's been a returning playing in our big win videos. Same game, and so many insane wins. This time Adrian is playing the slot with €4.00 bet when the bonus feature begins. Multiplier grind starts on the first spin, and every jar is getting some nice multipliers. On the third spin, jars are connecting with each other many times. This single spin (3rd spin) pays over 4000X win. Fourth jar lands to the screen on the same spin, and few spins after, on the fifth one, he hits over 3500X win again. This bonus pays in total €33,763.40, which is 8441X win.
6 – Erlandlo – Captain Venture
We are happy to see one classic novomatic slot on our compilation. This clip is very short, as the full bonus was not recorded at all. The hit which Erlandlo got, is every old school slot player dream hit. Wildline, in Captain Venture with SEK 10,00 bet. Wild line pays for him SEK 80000,00. In total the bonus paid 8494X which is SEK 84942,00!
5 – Crabscratch – Queen of Riches
Next up, we have a slot, which could change your life with one spin. Balance is going down, and the player has only nearly 50 kronor left. Six reel expand feature comes, and symbol 10 goes all the 15625 ways to the end. This one spin pays SEK 18,752.00 which is 9376X win with SEK 2.00 bet.
LuckyP has gambled his spins and starts the feature with 18 free games. The multiplier is 7x when the 11th spin begins. Max Megaways shows up and with a €1.60 bet, we can feel that insane win is coming up. Yeah, we were right, and would you believe this? Aces 576 ways and multiplied by 9x. This pays €14,515.20 in total, the bonus pays €15,234.00 which is 9521X win.
3 – Ripnrolla – Jammin Jars
Did you think, that last Jammin Jars clip were the biggest hit of 2018 in that slot? You were wrong. Ripnrolla is spinning Jammin Jars with SEK 20.00 bet, and all the three jars he got are on the same corner, next to each others. This clip is a bit messy, but you should see, what happens on the second spin. Multiple hits with three jars guarantee a huge win, but how much? This one spin pays SEK 95.444.00. On the very next spin, our recorder hands are shaking so hard, that it gets blurry, but we can see the reason why. After this third spin, total win is already nearly SEK 320.000.00. Seems like, on the third spin the 4th jar also landed. Last spins are not that huge any more, but can you believe it? SEK 334.305.00 total win, which is 16715x WIN!
2 – Owen Baker – Extra Chilli
Owen has disconnected from the game, so we could see the balance on the slot. Unfortunately, we cannot see what in the world did he hit, but his total winnings after the bonus are £3,441,54. Oh yeah, what was the bet again? Hard to believe, but it was £0,20. This means that it was a 17210X win. There is something for you to think, what did he hit?
1 – Kosmankasa – Queen of Riches
Did I mention the life-changing slot? Seems like, that six reel expand feature has done the job again, and the second-best non-premium symbol K has landed big time. K symbol 15625 ways to the end pays with a €0.40 bet over €7800! In total this spin pays €7,825.30 which is a 19563X win.
EXTRA – EXTRA – EXTRA
At the end of the clip you'll find a nice collection of screenshots. And a Jackpot win that is just the dream situation for any gambler.
Extra clip – Papachi – Dragon's luck
Papachi's balance is nearly running out. But then he lands the jackpot feature to change the situation, for a loooong time. Daily Hot Jackpot Lands which has grown to $9,442.17. The bet size was $0.40, so the win is 23605X. We can only say well done Papachi, very well done.
Top 4 Screenshots!
Dream Cather – Empirewire
No words for this. Just 7x 7x 7x and then number 40. Bet size has been multiplied with 13720x so the SEK 10 bet changed to SEK 137,210 win!
Queen of Riches – Dani9191
Yeah, we get it that Queen of Riches is insane game, but every time it still surprises us. 2$ bet, 15625 ways K symbol again to the end and nearly $40,000 win! In total, spin paid $39,063.50 which is 19532X win.
Primal Megaways – Rickardos1
Primal was one of the most potential games of the 2018 for sure, and this screenshot shows it. We shared this in the social media, and we still cannot believe that someone got hit like this, like many others are not believing. Base Game hit with tiger symbol. Spin had 11250 megaways, and tigers went to the end 4500 ways. Bet size SEK 2, which is €0.20. Win was SEK 45000, which is €4395. In total 22500X win!
Genie Jackpots Megaways – Ebb98
''Mystery symbol feature and almost max ways of the Genie Jackpot symbol!'' This is what Ebb98 told us in our forum, and we believe him. Potential of this slot is hard to tell with few words, but maybe this screenshot shows it. Bet was €0.10, and it paid 36060X. This is also proof, that even the 10 cent bet can change your life.
Share with friends on
Email