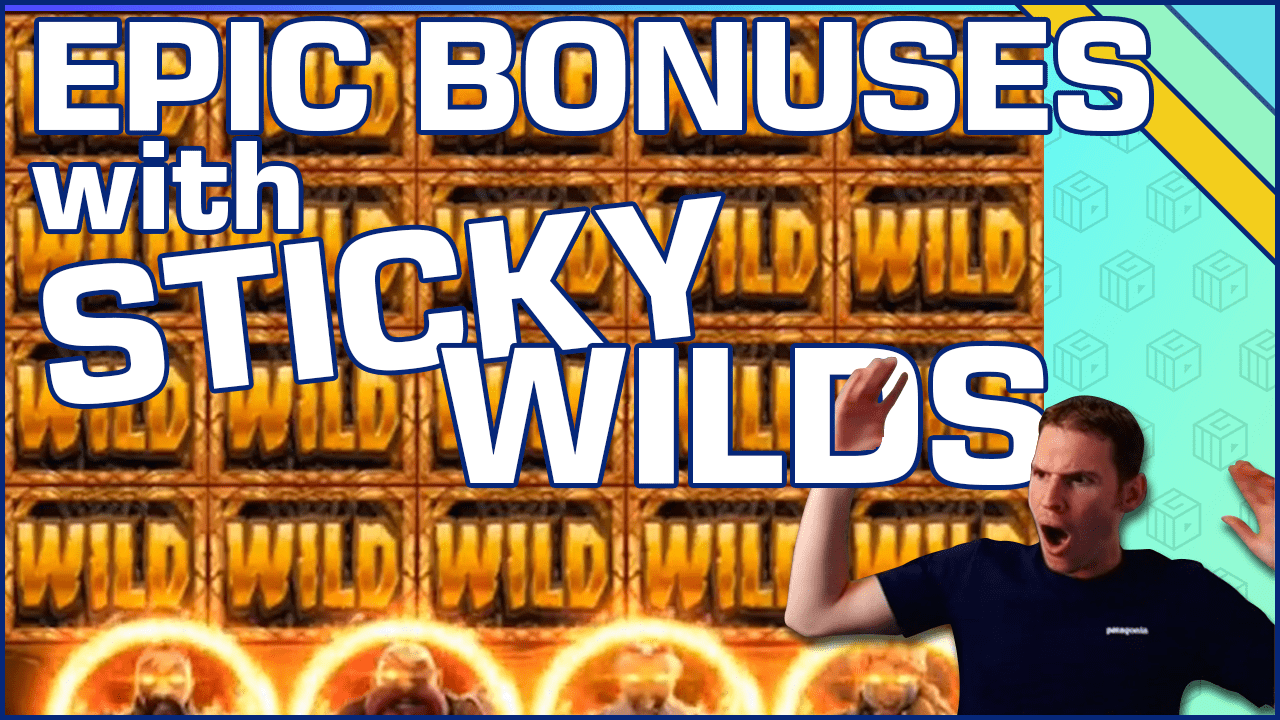 Sticky Wild Bonuses with HUGE potential
Usually, the most significant wins are including Sticky Wild symbols, so today we are treating you with a sticky wild win compilation. Seven different and insane wins through the years from five different providers; NetEnt twice, Microgaming, Yggdrasil, BigTimeGaming and Novomatic twice. Which one gave the biggest X win? Find the compilation below.
Teukka – Joker Pro
First up, we have Teukka with a nice hit in Joker Pro, and even it says in the video that it is a Huneasd with his friend. Great translations again used on the Finnish clip, big thumbs up for the video editor! The clip starts with 60x line hit with the diamonds, and four spins later, the initial first wild lands. On the very next re-spin, hot spot win lands instantly and 1000x hit is real!
BroGamingNL – Danger High Voltage
Next up, we have the legendary DHV with the gates of hell bonus game. Sometimes it feels like that every video includes a DHV win. Why not, its one of the best video slots out there for sure. BroGaming rolls for the K symbol, and after two spins, he already gets retrigger and five wilds in total. After four spins, he has at least one wild in every reel, which means guaranteed four of a kind.
Three spins later, he hits another retrigger. In total for the rest of the spins, he has 13 wilds on the screen making the total win to 3086x. Unfortunately, we didn't see any skulls on the first reel during the bonus, so we will just let you think, how much skulls would have paid.
Jarttu84 – Garden of Riches
Helloo Youtube! Jarttu broke garden of riches in four spins and got the wildline almost straight away. On the sixth spin, he got another wildline, which means that every spin rest of the bonus game pays more than 100x. In total, he gets 11 wilds, and a 902x win. At the end of the Video, he tries to double €5940.00 to €11880.00. Unfortunately, doubling fails, but after all, its still insane win with a 20€ bet!
NickSlots – Garden of Riches
Nick starts slowly to gain the wild symbols at the beginning of the bonus game. After five spins, he still already has three 5 of a kind lines, but on the seventh first wildline appears. When Garden of Riches wildline pays 50x, Flamenco roses pays 100x for a wild line. On the very next spin, he hits another wildline, and every spin rest of the bonus pays 200x or more. Total win with £4 bet was insane £4296.00 = 1074x.
LDNdude – Vikings Go Berzerk
LDNdude shows us, how easy it is to hit the main feature in the Vikings Go Berzerk and how much it can pay. A golden chest hits on the last reel with $1 bet. He wins 14 free games with the Ragnarok feature. which means that every premium symbol will be a sticky wild, as soon as premium hits the reels. Premiums are gathering, and when he has six spins left, he is only one wild from a full screen of wilds.
So far, the bonus has paid 586x. On the second last spin, last wild appears, and full screen is ready. This pays 250x every spin, so 500x is guaranteed for the last 2 spins. Total win for the free spins was $1,836.44.
LetsGiveItASpin and CasinoReggie – Casino Zeppelin
Next up we have our boys Kim and Reggie with a Dead or alive vs Casino Zeppelin challenge. Casino Zeppelin bonus lands with an insane start: 2 wilds which will stick for the bonus round and four scatters, which gave five extra spins. Already from the beginning of the bonus game, we can feel that it just a matter of time before the wildline lands.
Wilds are landing all around the reels, but not for a wildline until there are six spins left. Before that, bonus paid in total already almost 500x, but after this, payouts get insane. On the last spins, best premiums show up as well, and the total win grows up to 1986x.
JimboCasino – Dead or Alive
As the last clip, we have maybe the most known and famous sticky wild game – Dead or Alive. Jimbo hits the bonus and gets instantly wild on the second reel. Later he gets three wilds on the same spin, on a payline, and few spins after, he has a wild line. Just one more spin and he gets a second wild line. The payout for the wildline is 333x£7.20. Just imagine how much it is, but that money twice? That's just insane. Bonus paid in total 5727X. Try to beat that in LeoVegas!
Share with friends on
Email