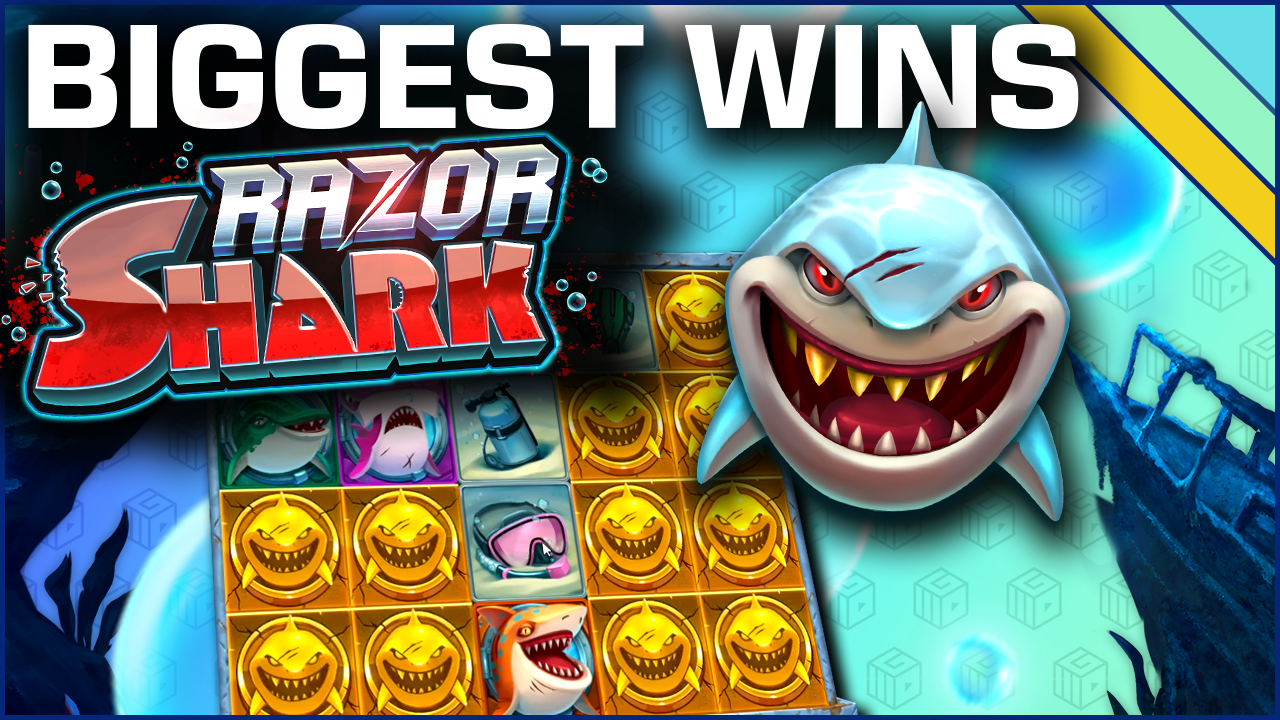 Biggest Wins on Razor Shark
Top Wins – Razor Shark
Released at the end of August last year, Push Gaming's Razor Shark quickly became a firm favourite among the CasinoGrounds community. With its snappy design, innovative reel mechanic, and a playing experience as volatile as a Shark with the smell of blood in its nostrils, this Push Gaming classic made it all the way to a commendable 3rd place (as voted by you) in our poll to find CasinoGrounds 2019 Slot of the Year. Plenty of streamers dedicated time at the controls of this sub-aquatic sensation, all hoping for a bite of the bounty available. This weeks video compilation showcases those among us who managed to take a bigger bite out of Razor Shark than most.
10. LetsGiveItASpin – 2,372x Win
First up is CasinoGrounds maestro, Kim "LetsGiveItASpin" Hultman dabbling in some high stakes action, playing a Razor Shark session shortly after the game's release for €10 a spin. We join the action just as LGIAS lands three scatters to enter the bonus round where he quickly starts piling on the wins. During Razor Shark's bonus round stacked reels of seaweed (Mystery Symbols) move down one row every spin but also convert into matching symbols or Golden Sharks at the conclusion of every spin. When the seaweeds drops out of view the bonus round ends, unless more seaweed appears etc. etc. Furthermore, after every bonus round spin the win multiplier meter to the right of the gameboard increases by 1x whether a win lands or not.
Pretty soon LGIAS's winning total is up over €3,000 with all wins multiplied by 15x – and this is where the real magic happens. The first huge win takes place when four seaweed symbols transform into Golden Sharks and award win multipliers of 1x, 2x, 10x, and 50x. These are added together for a 63x win which is then multiplied by the main 15x multiplier. When all this is then multiplied by LGIAS's €10 stake it comes to a €9,450 win. As soon as the 50x multiplier landed Kim shoots out of his chair, mouth agape and temporarily speechless until he eventually offers up a few cries of "Whoooah" followed by "What the f**k just happened" and then the inevitable "DING DING!"
These cries come back just a few spins later with the multiplier now up at 18x when a similar win occurs with three seaweeds transforming into win multipliers of 1x, 10x, and 50x which results in a win of €10,980. LGIAS's total free spins winnings end up at €23,731 for a 2,373x score – more than deserving of the triple "DING DING!" offered up by Kim and his two friends at the end of the clip.
9. Ryans_slots -2,512x Win
Contrary to the previous lengthy installment, this win posted by forum member Ryans_slots is the shortest of the entire compilation, lasting just the one spin. After triggering the Razor Reveal feature which turns the seaweed symbols into Golden Sharks, the Sharks then transform into coins with win multipliers. Out of the 5 coins, there are two 1x and two 5x win multipliers. However, the 4th of those 5 Sharks revealed the highest possible win multiplier of 2,500x. Playing at £0.50 a spin this resulted in a 2,512x win for Ryan.
8. OmegaSlots – 2,513x Win
Just pipping Ryans_slots by just 1 bet is this win from German streamer OmegaSlots. You might notice that for the vast majority of this clip, OmegaSlots is away from his computer, so we improvised by adding a couple of eyes to his chair instead. Some of you may remember this win from our recent "Top Chair Wins" compilation which featured the top recorded wins we could find in which the streamer's chair did most of the work in the absence of their owner!
Once again this is a relatively brief clip showing a max win from the Razor Reveal feature. Also, once again there are 5 Golden Sharks which go on to reveal coin wins of 1x, 10x, 1x, 1x, and the jackpot 2,500x. An ecstatic OmegaSlots arrives just as the massive win is racking up to wildly celebrate his chair's good fortune on landing this €1,256,50 (2,513x) win from a €0.50 bet
7. Mikkelbuh – 2,811x Win
Posted on our forum not long after the game's release, this win from Danish forum member Mikkelbuh shows comes from a lengthy stint at Razor Shark's free games feature. We join proceedings quite late on, by which time Mikkelbuh has already accumulated healthy winnings of 2,773 DKK (€372) from his 5 DKK (€0.67) stake. More importantly, he has also accumulated a win multiplier of 25x which is not done just yet. In fact, when we join the action, a Razor Reveal feature had just revealed coin values worth a combined 41x the bet size. When the 25x win multiplier is added, the win clocked up over 5,100 DKK for a +1,000x win. As well as the coin wins, the Razor Reveal also revealed 3 scatter symbols. When a scatter symbol is revealed during the bonus round it adds an extra spin by moving all reels up one space, thus re-revealing seaweed mystery symbols from below. The mystery symbols are played again on a new spin. With each new spin adding a win multiplier, Mikkelbuh makes it all the way up to a win multiplier of 31x before his round comes to an end. During those final few spins Mikkelbuh lands a couple of impressive high value symbol wins including with oxygen tanks, face masks, and Great White Sharks. These wins which are made all the more impressive by the ever-climbing win multiplier. At the conclusion of his free games, Mikkelbuh has accumulated wins totalling 14,054 DKK (€1,885), equal to 2,811x his bet size.
6. Daskelelele – 3,162x Win
Playing at a lofty €10 a spin, we join the action as CasinoGrounds streamer Daskelelele lands 3 scatters to trigger the bonus free spins round.
During his bonus round Daskelelele is lucky enough to land 14 mystery symbols from the 20 spaces available, with mysteries on every reel and the multiplier already at 8x. On the nudge after a €280 camera symbol win, Daskelelele's mystery symbols trigger the Razor Reveal feature where they all turn to Golden Sharks. Each shark reveals a win multiplier which are all added together and multiplied by the win multiplier and the bet size. The total revealed of 72x translates into a €6,480 win. Furthermore, two of the Golden sharks revealed two 'Up 1' scatter symbols which move the reels up 2 places, bringing many of the mystery symbols back into play. Two spins later, with most of the mysteries still in play, they reveal the game's top symbol (Great White Shark) and connect with wilds on the middle reel for a huge win. When the 10x win multiplier is applied, this single spin amounts to €24,350. Eventually rising to a 14x win multiplier and with the additional of another 3-figure win, Daskelelele takes away €31,619 from the round – a win of 3,162x his bet size.
5. Amraun – 3,298x Win
For our number 5 entry we're back with another forum member, Amraun, playing on a mobile device playing for 5 DKK (€0.67) a spin. A Razor Reveal has just revealed 3 scatters to send Amraun off to the free games feature as our clip starts. The round is going fairly averagely for the first dozen spins, although the Mystery Symbols keep appearing and the win multiplier is of course racking up. The first big win occurs when a Razor Reveal turns over coins worth 1x, 1x, and 100x. With the multiplier value applied this creates a 1,224x win of 6,120 DKK (€820).
As the seaweed mystery symbols keep rolling in, the spins keep on going but things are slow going with the wins, and the next 20 spins only add another 1,000 DKK to Amraun's winnings. Once again, it is the Razor Reveal feature which comes to the rescue. With the win multiplier up to a whopping 33x four Golden Sharks reveal coin values of 2x, 2x, 50x, and 1x. This 55x win becomes an 1,815x win once the 33x win multiplier is added, creating a 9,075 DKK (€1,217) score. The free games run out soon after with the total win standing at 16, 490 DKK (€2,212), or 3,298x the bet size.
4. SelectedNoob – 3,381x Win
In at number 4 is streamer SelectedNoob's big win which came back in February after he triggered the bonus round playing for €0.50 a spin at Loyal Casino.
Things start to kick off when he triggers the Razor Reveal feature for the second time. With the multiplier up to 8x the 7 sharks reveal coin wins of 31x and 2 scatters for 2 extra spins. With multiplier applied, the coin win of 248x adds up to €124 and SelectedNoob is on his way. When play resumes the two rows of seaweed (mystery symbols) on reels 3 and 4 of this 5-reel slot are joined by another stack of seaweed starting on reel 2. It just so happens that when the three stacks of mystery symbols are at their most fertile (filling reels 2 and 3 entirely, and filling 3 of the 4 symbol spaces on reel 4), they are joined on reels one and five by 3 and 2 of the highest paying shark symbols. When the three mystery stacks then all turn wild SelectedNoob is hit with a sensational win of €1,471.25 (2,942x) after the 11x win multiplier is applied. In total he takes home €1,690.55 for a staggering 3,381x his bet size.
3. BelveSlots – 4,545x Win
Kicking off our top 3 is forum member BelveSlots who posted this tasty looking catch just last month. Playing at €0.20 a spin, we join this clip during a bonus round with the multiplier already up to 17x and with wins just going up to 350x. The first noticeable win once again occurs as a Razor Reveal brings in coin values adding up to 54x which jumps to 1,188x with a 22x win multiplier applied. A few spins later, with the win multiplier up to 29x another Razor Reveal turns over coin wins of 2x and 100x. Multiplier by 29x this win expands to a huge 2,958x win of €592. The round ends almost immediately after this win resulting in a finally score of €908.68, equating to 4,545x BelveSlots original bet size.
2. Tonigreen Win – 4,772x Win
Another forum member takes the number 2 slot and we have Tonigreen to thank for sending in this handheld recording of his recent Razor Shark win playing at €0.50 a spin. Unusually for a hand-held recording, Tonigreen actually recorded his entire bonus round, presumably in the hope of a big win he could share on the forum. He certainly did that, but it took some time. In fact, it took until the win multiplier was up to 24x before any significant wins landed. Inevitably, it was a Razor Reveal feature which started the ball rolling when Golden Sharks revealed coin wins of 2x and 100x. With the win multiplier applied this win of 2,448x (€1,224) set the ball rolling. Consecutive shark wins at 27x and 28x add another 900x to Toni's total before a Golden Shark win at 30x contributes another 1,222x. At this point Tonigreen realises he's probably going to make a Big Wins compilation and can be heard saying "Welcome, CasinoGrounds". The bonus round wraps up shortly after with Tonigreen pulling in a total win of €2,385.55 for a 4,772x win.
1. Miikapekka – 5,011x Win
The biggest Razor Shark win we have on file comes from popular Finnish streamer, Miikapekka playing for €1 a spin. Our clip starts as Miikapekka triggers free games. The first win of any note occurs with the win multiplier up to 11x when (you've guessed it), a Razor Reveal results in a coin win of 132x plus an extra free spin. The very next spin, however, dwarfs this win as two more rows of Mystery Symbols on reels 1 and 2 combine with the ones already on reels 3 and 4. The symbols all transform into a high paying shark win of €1,254 (1,254x). On the next spin the number of mystery symbols remain the same as 2 new ones replace two departing ones a Green Shark win of €450 is added. A decent chunk of mystery symbols still remain for the next spin to reveal the highest paying symbol of all, the Great White Shark. With the 13x win multiplier they add up to a huge €1,852.50.
Spins continue for some time as more mystery symbols come and go. Along the way, several 3-figure shark wins land, the biggest of which is a €588 win with hammerhead sharks with the win multiplier up at 28x. It finally comes to an end with the multiplier at 34x and the win total at €5,011 (5,011x).
Share with friends on
Email