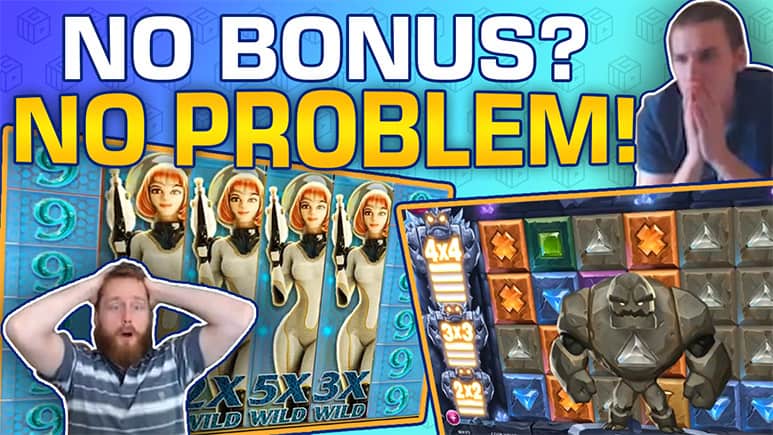 No Bonus? No Problem! – Slot Big Wins
We have seen a lot of base game wins and linehits on our forum lately, which means that you don't need the bonus feature to win big sometimes. We have gathered a real treat with huge wins, on games without a bonus feature. Maybe you will find your new highly volatile game from this compilation. As an example, in the first clip, you can do some low-rolling and still win huge amounts!
1. Reptalityy – Starquest
One of the most underrated slots for sure, Starquest shows some potential. As the editor tells with the translation, little bit of Monica is needed. He gets the 4 multiplier wilds out of 4 possible and hits a stack of symbol nine on the first reel. The slow spin continues and it ends with a stack of symbol nine again. It shows that nines are going 10080 ways to the end. This one spin with €0.60 bet pays €2419.20, and the total win of re-spins is €2,438.49. This is a 4064X win.
2. David Labowsky – Gem Rocks
David gets excited as he is close to the 3×3 rock, which he eventually gets. This 3×3 rock already pays with €2.50 over a 100X but there is still a chance to hit the 4×4 rock. He gets the needed wins and 4×4 Grey rock lands. Luckily, there are some grey stones in the last two reels, so it is connecting with full lines. The result is that the screen is covered with the grey symbol and its two symbols away of the full screen. The count takes almost forever and in total the bonus pays €2611 which is a 1044X win.
3. LetsGiveItASpin – Light Blocks
Light Blocks was one of the great releases last year. This Merkur slot is not a newest looking slot, but with it difference, it brought some happy moments to our streamers and other gamblers. In this clip, Kim is playing Bob the Builder and builds a wall of symbols and multipliers. Wall grows and passes multipliers really quickly, and some of the best symbols drop to the wall. In case you didn't notice, Kim had 200SEK bet, which is almost €20. Building stops in the multiplier of 9x and the count begins. Editors have done some awesome work with this, and we are sure it will make you laugh. In total this wall pays 111,250.00SEK which is a 556X win.
4. OmegaSlot – Berry Burst Max
Last years slot release had shown some potential and here is proof of it. This game is like a Starburst, but you can get wilds on the first and last reels as well. In this case, Omega almost gets the full screen of wilds but misses the last one on the reel 4. Before the last re-spin, this game paid already over 150X win with a €0.60 bet. On the last spin, best symbol and third best symbol with 4 wilds. As berry burst is not the most famous slot, even we didn't have any idea how much this spin pays. Turns out, that in total these wild re-spins pay 743X win, and €446.10.
5. Nickslots – The WishMaster
The WishMaster is one of the greatest ''Grind'' games ever made. In this clip, Nick is running low on the balance when he gets the first scroll, which is a random wild. Eight spins later, he gets the Expanding wild scroll and bit later the last wild reel 3 scroll. The set up is almost perfect, and the first spin gives him 4 wild reels and 175X win with £2.00 bet. Few spins after, he gets another 4 wild reels and the missing reel is filled with premiums only. This pays nearly 500x win! In total, he grows his balance from £130 to £1754.
6. JJCasino – Multifruit 81
Multifruit surprises JJCasino big time and tables are flipping. Two jokers and a full reel of jokers with all the symbols he gets pays big time with €4 bet. Winning symbols are the red seven, which is the best symbol, watermelon which is the second-best symbol and blueberries which is the third-best symbol. All the winnings are multiplied with 5x because there are Three jokers in every payline. In total this one spin pays €9600 which is 2400X win.
7. NickSlots – Queen of Riches
Cloned reels give a huge comeback for NickSlots on Queen of Riches. He gets the cloned reels for every reel and gets 46656 megaways. The low symbol Q nearly fills the whole screen and goes 4096 ways to the end. This one spin pays on £5 bet £20,485.50 which is 4097X win!
Bonus – LetsGiveItASpin – Starburst
As a bonus, we have some rare video footage of LetsGiveItASpin high-rolling on Starburst many years ago. 200SEK bet rewards him with a 4140 SEK win, which is a bit over 20x win. Kim says that ''we have to stop gambling now'' and well, where did he end up after saying that..
Share with friends on
Email