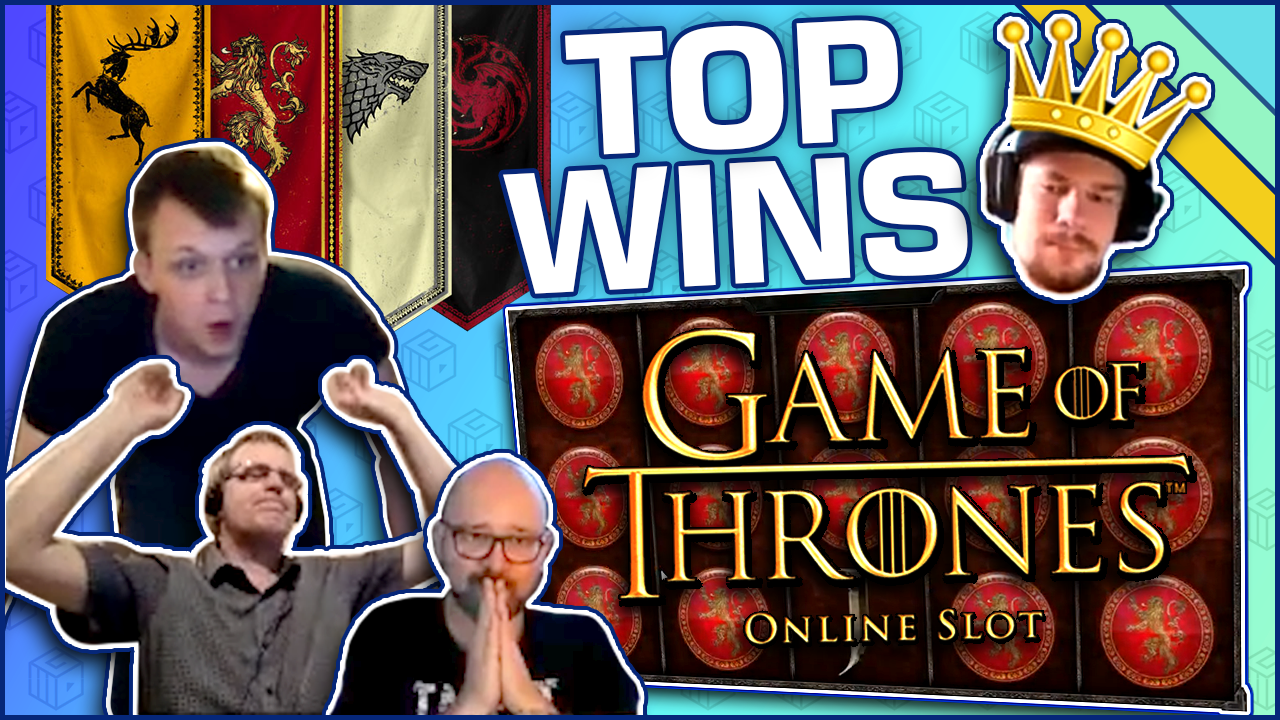 Big Wins on Game Of Thrones
Now eight seasons into the franchise, the hype behind the HBO Fantasy Epic Game of Thrones is bigger than ever. To celebrate the return of the world's favourite show to our TV screens we've put together a short compilation video celebrating some of the biggest streamed wins from the Game of Thrones slot.
Microgaming released Game of Thrones back in 2014. In fact they released two identical looking slots, the only difference being that one was a 15 pay line slot and the other was a 243 ways-to-pay version. Despite having the lower RTP (95% compared to 96.4%) it was the 243 ways-to-pay slot which has proven most popular – and it is from this version which all our clips are taken
Game of Thrones is available at most of our recommended casinos or at Casinopop.
Clip 1 – Stotplayer: Stake £1.50 – Win 646x
The first clip is taken from a session played by UK based twitch streamer Slotplayer back in March 2018. Playing £1.50 per spin at BETAT casino Slotplayer hits 3 scatters to enter the bonus round. He chooses The House of Lannister for his bonus round which awards 10 free spins with a 4x win multiplier. He doesn't have to wait long to hit paydirt as on his second spin the board is awash with the Royal Seal of Lannister. The only reel without a seal is reel 4, but with two wilds instead there are 5 of a kind wins galore with a 4x win multiplier. Finishing with £969 in total from the bonus round Slotplayer enjoyed a 646x win
Clip 2 – XaverNL: Stake €1.80 – Win 526x
This win from streamer XaverNL may not be as big as some of the others in this round-up, but considering it was in the base game with zero win multipliers, it is still an impressive spin. You know you're in for a decent payday when stacked wilds cover the first three reels of a five reel slot. When they cover the entire 5th reel as well then a bumper spin is a cert. From his single €1.80 base game spin XaverNL pocketed €946.62 for a 526x win.
Clip 3 – Miikapekka: Stake €0.60- Win 1,511x
It's back to the free spins round for our next big win. Popular Finnish streamer Miikapekka decides to go for the free spins with the highest variance, Baratheon, which only awards 8 spins but alongside a 5x win multiplier. The gamble pays off on the 4th spin when the Royal Seal of Baratheon sprays liberally across the first three reels before all but one of the symbols on the last two reels are wilds. In total Miikapekka took away €900 from this spin alone, with his final bonus round score equating to 1,511x his €0.60 stake.
Clip 4 – Slotspinner: Stake €3 – Win 931.5x
CasinoGrounds streaming favourite, Slotspinner is up next with a huge base game win. Having left the reels to run on autospin Slotspinner is uncharacteristically quiet when wilds cover all but one of the first 4 reels and a couple of different royal seals land on the 5th reel to guarantee a monster win. For whatever reason (pee break? Fixing lunch?) Slotspinner had let the reels keep spinning in his absence. It doesn't take long, however, before he is back at his desk, eyes almost popping out of his head as he makes numerous expressions of disbelief and surprise. Not all of Slotspinner's verbal expulsions were family friendly so we've cunningly bleeped out the naughty words! Playing for €3 a spin Slotspinner's one spin haul was an impressive €2,794.50 for a 931.5x win.
Clip 5 – Rex Borgersen: Stake €2.10 – Win 2,261xvb
Norwegian twitch streamer Rex Borgersen is one of four players on this list to win over 1,000x from a spin, and he did that and then some. Playing for €2.10 a spin, Borgersen goes for broke on his free spins round by picking the high variance House of Baratheon which awards 8 free spins with a 5x win multiplier. The move instantly pays off as on the very first spin a Baratheon Royal Seal lands on reel 1 one before they cover all of reels 2 and 3. Just for good measure 5 of the remaining 6 symbols are Game of Thrones wilds. This monster win of spin of €4,725 was equal to 2,250x his original stake. Adding the remaining wins from the round he actually won 2,261x his stake from his free spins.
Clip 6 – Supersmask: Stake kr12 (€1.15) – Win 986x
Swedish streamer Supersmask is next up with a near 1kx stake win playing at kr12 (€1.15) per spin. He chooses the second most volatile free spins round (Lannister) and has immediate success with a 5 in a row of the Lannister Royal Seal for a kr240 win. However, this is a mere hors-d'œuvre as on his 7th spin the first four reels all contain Royal Seals with the 5th reel being stacked with wilds. Supersmask seems pretty happy with the result as his total haul from the bonus round is kr11,828 (€1,132) representing a win of 986x his spin stake.
Clip 7 – Jaggrdy: Stake €0.60 – Win 4,337x
This win from Jaggrdy is by far the biggest in relation to the bet size and is awesome to see. Unfortunately the action is only recorded after the win has landed, and as there is no head-cam or commentary we don't get to see the jubilation Jaggrdy must have felt at the time. In this clip from 2017 Jaggrdy had chosen the House of Lannister for his free spins and hence a 4x multiplier was attached to every win during his 10 free spins. On his 4th spin out of 10 the entire board except for the bottom symbol on the middle reel is filled with Lannister Royal Seals. This win alone came in at £2,592 from a £0.60 bet. In total Jaggrdy's free spins earned him a figure worth 4,337x his stake!
Clip 8 – Huneasd: Stake 4.80 – Win 1,497x
Our final clip is the biggest in terms of sheer cash won, it is also one of the four clips in today's video which features a win of over 1,000x the original bet. The clip features Finnish CasinoGrounds streamer, Huneasd, playing for €4.80 a spin. Once again Lannister is chosen for the free spins round, and as with Supersmask Huneasd hits a decent win early on with 6 Royal Seals creating a decent number of ways-to-win for a €230 win. Once again, as with Supersmask, it's the 7th spin which sends our streamer fleeing from his chair on a victory march. Royal Seals fill reels 2, 3, and 5 whilst a single seal on reel one and 2 wilds on reel 4 allow a flurry of 5 of a kind wins with a 4x multiplier. This single spin brings in a €6,912 win. By the end of the free spins Huneasd has accumulated €7,186.88, which represents a win of 1,497x his €4.80 stake.
Share with friends on
Email