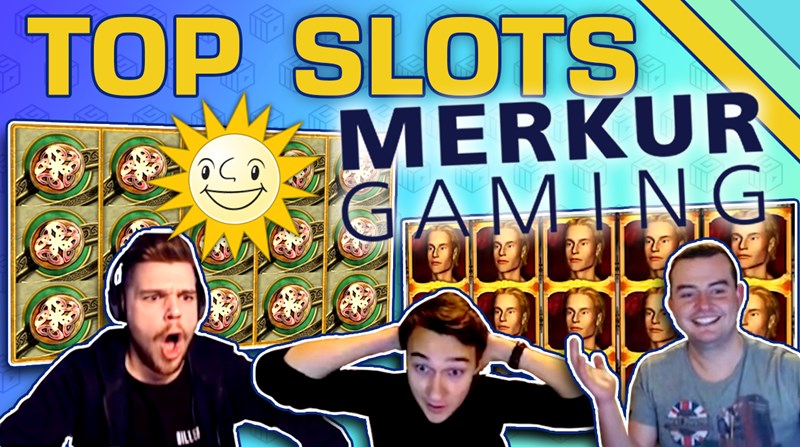 Check our Lastest Compilation! Top Merkur Slot Wins
Today we're looking at top provider slots from German gaming powerhouse, Merkur Gaming, a subsidiary of the industry giant, Gauselmann AG.
Merkur are probably most well known for their land-based reel games and cabinets across the globe, but they've also made quite a splash in the online slots space. Merkur are famous for their no-nonsense, no-frills high variance games and we've compiled some great big winning clips from some of their classic releases.
Clip 1: Slotspinner – Railroad (1,041x Win)
Railroad, a 2014 release by Merkur is the subject of our first clip which sees CG favourite Slotspinner breaking into the scatter triggered bonus round playing at €2.50 a spin. Railroad is a typically simple Merkur offering with just 5 paylines, rudimentary artwork, and a high volatility. What is unique about Railroad, however, is that the symbol wins themselves are very much on the low side for a 5 payline slot. The game makes up for offering such small wins during the free spins round by increasing the probability of triggering more spins. Starting with just 12 free spins, by the end of his bonus round Slotspinner had accrued an insane 560 free spins from which he was able to prise a win of €2,602.50 (1,041x his stake).
Clip 2: LetsGiveItASpin – Golden Gate (400x Win)
Playing at 50 SEK (€5) a spin our top man LetsGiveItASpin, ably accompanied by CasinoReggie is grinding 2015's USA themed slot Golden Gate. It's a short but sweet clip, and as we join the action LGIAS is asking the question, "but how often do you get a maximum win?" He gets his answer on the very next spin when a full line of the highest paying symbol (the red fire truck) rolls straight in. As the line also contained a wild, this win was also subject to a win multiplier resulting in a single base game win of 20,000 SEK (€2,000) worth 400x the bet size. Cue jubilant celebrations from the boys as LGIAS cries out, "Merkur doesn't give a fudge, Merkur doesn't give a fudge!" followed by the inevitable, "Ding Ding!"
Clip 3: CasinoJ – Vampires (1,354x Win)
Vampires, released in May 2017 is more like the sort of slot Merkur fans are used to; a fairly bland and unrewarding base game, but a bonus game with huge potential. UK streamer CasinoJ demonstrates some of that potential in our next clip and we join the action at the start of 15 free spins. During Vampire free spins, a win using a wild symbol will cause vampire bats to fly from the wild to the other winning symbols and turn them wild for the remainder of the round. This tends to create some very big wins towards the back end of the bonus round. However, on this occasion it only takes two spins to hit the jackpot. The first spin brings in a small win with Aces which contains a wild. On the very next spin an Ace in the top left corner turns wild and combines with another wild and 3 female vampires (the highest paying symbol) for a £2,500 (1,000x) win. During the remaining 13 spins CasinoJ adds another £850 to his coffers as the wilds bring in more 100x wins. In total he won £3,385 (1,354x) during his 15 free spins.
Clip 4: CasinoReggie & Slotspinner – Queen of Persia (2,231x Win)
It's two of our favourite CasinoGrounds streamers up next as CasinoReggie plays with Slotspinner at €2.50 a spin on another highly volatile 5 payline monster from Merkur, Gold of Asia. This is another game where once in the free spins you will often find yourself hitting plenty of retriggers. However, not only does Reggie indeed hit a lot of retriggers (ending up playing 195 free spins after starting with just 15), but he also hits a HUGE win along the way. Without the need for a wild symbol Reggie hits a full payline of scatters which pays 500x the bet size. This win would be satisfying enough, but during the bonus round all wins are trebled so he ends up winning €3,750 from this single spin. If that wasn't enough, 5 scatters added another 25 free spins to his bonus round. When the dust settles CasinoReggie has earned Slotspinner a handsome €5,577.50, equating to a win of 2,231x his bet size. Slotspinner is suitably impressed as he retakes his seat on the stream as Reggie departs saying, "Thank God I have a lucky Reggie on my stream!"
Clip 5: Tanjian – Magic Mirror Deluxe 2 (1,923x Win)
Magic Mirror Deluxe 2 is a Merkur slot from 2012 which is pretty much the same as the original, which itself is pretty much the same as any other Book or Ra clone. Nevertheless it is still one of Merkur's most popular slots ever. Frustratingly when we join the action Tanjian has already won £1,670 (835x the £2 stake) which we can't precisely account for (although given what transpires we can take a good guess!). We join Tanjian on his 12th spin out of 20, so he must have earned one full retrigger of free spins. As with any book clone, a random symbol is selected as "special" prior to free spins, and all examples of that symbol will expand to a full reel if a win can be made. Furthermore, winning symbols do not have to be on adjacent reels. In Magic Mirror Deluxe 2, each retrigger will award another "special" symbol and on his 17th spin Tanjian hits another retrigger by landing 3 more scatters. As such a third "special" symbol is added. With Aces, Queens, and Shields all now "special" symbols, this is where most of his bonus round wins are coming from. The biggest win we see takes place on spin 24 when a shield lands on every reel. Once they are all fully expanded to fill the entire 5×3 board a win of £1,500 is awarded for 10 x £150 wins. Given the bet size and the available wins, we can quite safely assume that Tanjian's other big win must have been with shields earlier in in the bonus round. In total Tanjian ends the free spins round with a £3,846 (1,923x) win.
Clip 6: LetsGiveItASpin – Lightning Blocks (556x Win)
Lightning blocks is one of Merkur's more recent slots, released early in 2018. It is also one of their most simple, yet most innovative slots and probably needs a bit of explaining if you've never come across it before. If you're familiar with the game then skip the next paragraph!
Lightning Blocks doesn't follow the traditional slot format but instead drops blocks down into a 5 symbol wide grid in a random order. The object is to complete full rows of five symbols. If a block lands in a space with an electric field around it an additional block is awarded, likewise if a block lands in a space with 2 electric fields around it, two additional blocks are awarded. A spin ends when no new full row is completed whereupon the value of each individual block which forms part of a full row is added up and the win is awarded. Once four complete rows are filled, each subsequent row has an additional win multiplier added to it.
LetsGiveItASpin manages a highly impressive win here as the rows begin to stack up quickly, giving him more and more opportunities to fill additional rows. Furthermore, a lot of premium symbols form part of the completed rows which eventual reach the 9x win multiplier. When the game ends the symbol values are combined and win multipliers added where applicable. Kim is playing at a high roller stake of 200SEK (€20) a spin and manages to finish up with a huge 111,250SEK (€11,125) win. This is equal to 556x his bet size.
Clip 7: Teukka – Knight's Life (3,736x Win)
Popular Finnish streamer Teukka is up next, and here we're lucky enough to witness his (at the time) biggest ever win. Playing one of Merkur's classic high variance slots Knight's Life at €5 a spin Teukka lands three horse scatters and enters the free spin round. Just 3 spins in and another 3 horses add another 10 free spins to the pot. With all the knights turning to wilds during free spins, Teukka picks up some decent wins during the round. By his 17th spin not only has he earned €1,300 in winnings, but the win multiplier has also been up at the maximum 3x since spin 12. Spin 17, however, is where things go crazy as a full line of wilds lands. Normally paying 1,000x, the win multiplier results in a €15,000 (3,000x) win, sending Teukka into a happy meltdown. In total Teukka won €18,680 for a 3,736x win.
Clip 8: CasinoRockstar – Dragon's Treasure (5,048x Win)
We saved the biggest win (in terms of ROI anyway) till last and it's Swedish Twitch streamer CasinoRockstar at the helm playing another of Merkur's "Book" clones, "Dragon's Treasure". Even when it was released back in June 2011, Dragon's Treasure was pretty far from cutting edge in terms of graphics and artwork. However, often with Merkur it's all about the volatility and gameplay, and you're pretty much guaranteed that with a "Book" clone. As the final clip gets underway CasinoRockstar triggers 10 free spins and Hagen (the handsome male symbol) is randomly chosen as the "Special symbol" which will expand to cover the entire reel in the event of a possible winning combo.
Hagen is the game's jackpot symbol, with 5 on a payline awarding a huge 1,000x the bet size. However, the likelihood of hitting a lot of Hagen's is slight and as such CasinoRockstar isn't too confident his free spins will deliver anything significant. He audibly moans when Hagen is selected as his special symbol and with just two free spins left he opines, "I don't like this dude, he NEVER shows up". And he nearly didn't. But on the very last spin Hagen lands on all five reels, filling the board with his likeness. Playing at 25SEK (€2.50) a spin, this single win earns CasinoRockstar 125,000SEK (€12,500). His total haul for his 10 free spins totalled 126,200 SEK (€12,620), equivalent to 5,048x his bet size.
Share with friends on
Email