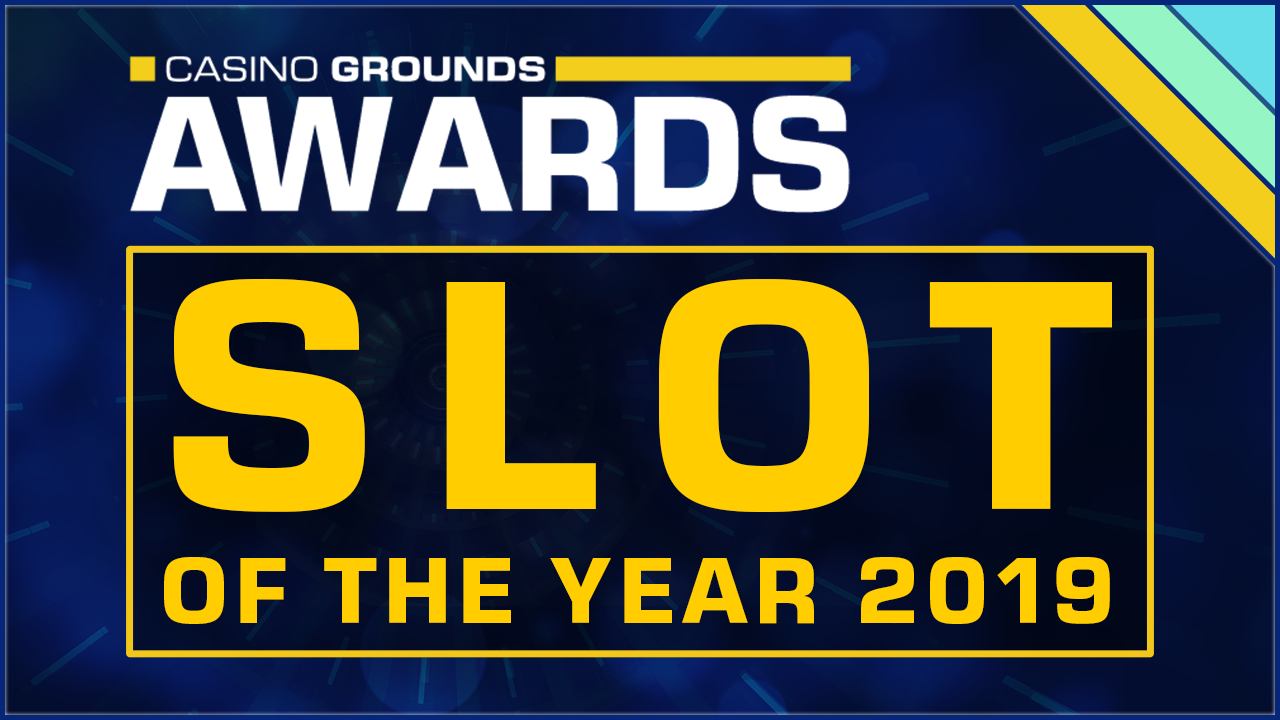 CasinoGrounds Slot of the Year 2019
We seem to say this every year, but 2019 really was a huge year for the online slots industry. We witnessed hundreds of stunning releases showcasing the awesome leaps and bounds the big developers seem to make year on year. We've also been lucky to be able to bring you streaming compilations of many of these great new slots month after month where we've also witnessed bigger and better wins than ever before.
After putting the final decision in our valued forum members hands, your votes have been cast and your voice has been heard. So, without any further ado, please enjoy some great moments from the top 5 slots of 2019, as voted by you.
5. Money Train (Relax Gaming) played by Mitaaspins
In this reviewer's humble opinion, Money Train is the best release in the Relax Gaming portfolio, and it's made number 5 on our list of the top slots of 2019. This was a brave release to make just months after the phenomenal Dead or Alive 2 hit the web, surely the standard-bearer for volatile Wild West-themed slots? Nevertheless, Money Train has carved its own place in the pantheon of great Cowboy slots with this innovative train robbery effort.
In our first clip, Mitaaspins is playing at €0.50 a spin and opts to buy straight into the game's bonus feature, The Money Cart Bonus Round for 80x his stake. During the bonus game, 3 bonus spins are awarded 3 the regular symbols are replaced with balls of tumbleweed, win multipliers or special symbols. Each time a multiplier or special symbol falls the bonus spins are reset to 3 and the game ends when 3 consecutive spins result in no new winning symbols.
The special symbols either add more multipliers or add more reels. During his bonus round, Mitaaspins added 2 extra reels to reach the maximum 7×4 board. He also filled all but one of the 28 symbol spaces with multipliers or special symbols. Along the way he had some fine luck with the special symbols, landing a 'Persistent Payer' symbol early on and 3 'Collector' symbols throughout the round. For the uninitiated a Persistent Payer symbol adds its own multiplier value to all symbols for every remaining spin. A collector symbol collects all the visible values on the screen and adds them to its own multiplier value. As you can imagine, the later 'Collector' symbols got to add ever-growing total values to their own values as the Persistent Payer had been showering multipliers across the board for some time. Sound confusing? Check out our full review here to make sense of it all.
By the end of his bonus round, Mitaaspins had collected 2,251x in multipliers for a total win of €1,125.
4. Lil' Devil (Big Time Gaming) played by Jampanpaja
Taking 4th spot on 2019's top slots list is Big Time Gaming's insanely volatile slot named after The Cult's 1987 hit (which also provides the slot's soundtrack). With two different bonus rounds and multipliers galore, Lil' Devil is seen as the third in a series of BTG slots alongside Danger! High Voltage, and The Final Countdown.
Popular Finnish twitch streamer Jampanpaja is the star of this clip with an insane win playing at €2 a spin. Having triggered the bonus round, Jampanpaja opts for the more volatile 7 'Be My Angel' Free Spins. In this round, a random symbol is selected to transform into a sticky wild whenever one lands on reels 2-5 on this 6-reel game. When any of these reels fills with wilds an additional 3 free spins are awarded. Furthermore, filling reels 3 or 4 with wilds transforms them into Angel Wilds which cover the entire reel and start with a 4x win multiplier. With every spin thereafter that multiplier increases by 2x to a maximum of 12x on both reels. Needless to say, this is exactly what happens for Jampanpaja, who spends the entire bonus round shrieking with delight whilst performing some rather X-rated celebratory moves. In fact, he fills not only reels 3 and 4 with wilds but also reel 2, and by the end of his free spins reel 5 has wild symbols on 3 of its 4-reel spaces. As you can imagine, having 3 (almost 4) fully wild reels out of 6, as well as a win multiplier of 144x applied to several wins this ends VERY well for Jampanpaja. Most of the wins are well into four-figures, with his final spin earning a staggering €18,662 for a totally free spins win of €47,990 or 23,995x his stake.
3. Razor Shark (Push Gaming) played by Daskelelele
Push Gaming has provided some of our favourites every slot, including last year's recipient of this very aware, 2018's Jammin' Jars. They haven't hit the top spot this year but have managed a very creditable 3rd place with their volatile denizen of the deep themed slot – Razor Shark.
Playing at a lofty €10 a spin, we join the action as CG streamer Daskelelele lands 3 scatters to trigger the bonus free spins round. The free games round relies on the game's 'Nudge and Reveal' feature to continue running. The round starts with reels 2 and 4 from the 5×4 reel set full of Mystery Symbols (represented by seaweed). These reels nudge down one symbol at a time while the rest of the reels spin to reveal regular symbols. Once all the mystery symbols have dropped off the board the bonus round is over. New mystery symbols often land during the spins, thus lengthening the bonus round. During free spins, each nudge of the mystery symbols adds a 1x win multiplier.
During his bonus round, Daskelelele is lucky enough to land 14 mystery symbols from the 20 spaces available, with mysteries on every reel and the multiplier already at 8x. On the nudge after a €280 camera symbol win, Daskelelele's mystery symbols trigger the Razor Reveal feature where they all turn to Golden Sharks. Each shark reveals a win multiplier which is all added together and multiplied by the win multiplier and the bet size. The total revealed of 72 translated into a €6,480 win. Furthermore, two of the Golden sharks revealed two 'Up 1' symbols which moved the reels up 2 places, bringing many of the mystery symbols back in play. Two spins later, with most of the mysteries still in play, they turn into the game's top symbol and connect with wilds on the middle reel for a huge win. When the 10x win multiplier is applied, this single spin amounts to €24,350. In total Daskelelele takes away €31,307 – a win of 3,131x his bet size.
2. Temple Tumble Megaways (Relax Gaming) played by Shaw Slots
Well, I might have chosen Money Train as my favourite Relax Gaming slot but you lot obviously have different ideas, as taking the runner-up award for 2019 in the top slots category is their 2nd Megaways slot, the Aztec-themed Temple Tumble.
Taking the reins is Irish YouTuber Shaw Slots with a sweet free spins win playing at €1 a spin. Shaw Slots opts for the second most volatile free spins option which includes special symbols which, if landed, award either additional free spins or win multipliers. By the end of his bonus round, Shaw Slots has played 21 free spins, having landed several free spin blocks, and has built up a win multiplier of 6x. Like many Megaways™ slots, Temple Tumble benefits from a cascading symbol feature with reaction wins meaning that a single spin can result in multiple wins. That is indeed the case here as Shaw Slots lands reaction win after reaction win throughout this bonus round, culminating in a total win of €773.10 – that's 773x his original €1 stake.
1. Dead or Alive 2 (NetEnt) played by Slotspinner
I doubt there will be many of you who will be overly surprised at this result. Released back in March last year, NetEnt's beast of a sequel, Dead or Alive 2, has walked away with the CasinoGrounds award for slot of the year 2019 as voted for by you.
This hugely volatile slot has redefined the meaning of 'massive potential', topping the biggest win compilations month-in-month-out ever since its release. Huge wins are possible on any number of slots, but unlike many, Dead or Alive seems to deliver them, up to and including the max win of 111,111x the bet size. The win in the following clip isn't quite so enormous, but its still a doozy of a score for top CG streamer, the one and only Slotspinner.
The popular CG streamer opts for the most volatile High Noon Saloon spins and quickly starts building up those sticky multiplier wilds. With 3 spins remaining he finally has a wild on every reel which gives him a further 5 free spins. On the very next spin he adds wilds to reels 4 and 5 which means all reels except reel 1 have two, 2x wild multipliers. As you can imagine, the next seven spins are all HUGE. In fact, the final two are even huger after he lands a third wild on reel 5, turning all 3 wilds on those reels to 3x multipliers. Those last 7 spins each win Slotspinner between €5,000 and €9,000, resulting in a feature win of €48,013 (26,674x).
Share with friends on
Email