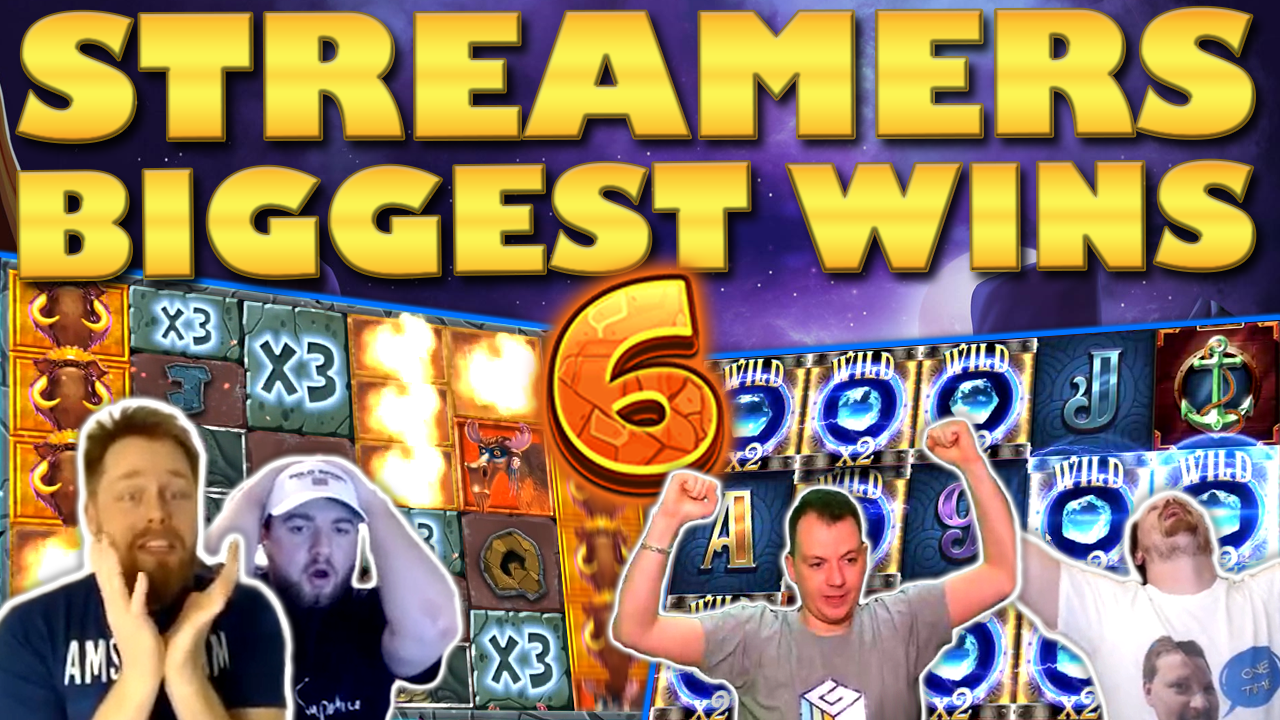 Casino Streamers Biggest Wins Compilation Video #6/2020
Another Tuesday brings with it yet another compilation of the best slot hits from your favorite casino streamers. This was somewhat of a slow week when it comes to streaming. Mostly do to the London ICE event that took place. Thus, we have fewer big wins to share with you today. Specifically there are eight clips in total, including a bonus clip at the end, which you just can not miss. So without further ado let's take a look at the compilation.
Casino Streamers Biggest Wins Video Montage
Huneasd & Gamble Gangsta
We start in Finland where Hune was playing Riders of The Storm. This is one of the best Thunderkick titles which you can find at Wildz casino. The main attraction here is the jumping wild feature, on the bonus. To illustrate, every time a wild symbol lands on the screen it will continue to move to the left, every spin, until it is out of view. Hune was able to land nine of them in one go, resulting in huge wins during multiple spins, and a 2113x the stake total payout. Riders reminds me of Jack and the Beanstalk, but with much more potential.
One more unique slot machine, that we do not see very often, comes from Gamble Gangsta. I am referring to the Minotaurus game from Endorphina. Anyone who is familiar with this provider knows that they love to make volatile titles. Minotaurus is no different, as Gangsta found out last week. Unfortunately not many casinos support Endorphina slots, hence we rarely see them on our videos. However, every time one of them makes it, it is quite a delight.
MajorConcerns & Daskelelele
Next we have two very different players winning big in the same game. First we take a look at a new entry on our compilations. MajorConcerns is an up and coming slot streamer who is showing a lot of promise. His channel is full of entertaining content, so we highly recommend it for you to check out. Back to the win though, which came on Jammin Jars. Here, MajorConcerns took advantage of two dancing wilds, and the colossal symbol feature, on the base game. Hence, without even getting into the free spins, he landed a nice 1383x the bet.
On the other hand, Daske's big win on Jammin Jars was all thanks to the bonus. The Swede was playing at Party Casino when he landed the three scatter/wilds. Soon after, a fourth wild joined the party, and the wins just kept coming. In addition, thanks to his massive bet of €10 per spin, Dask finished the entire bonus with a mega reward of more than €15k. – That's why we all love the jars.
Slots4Fun & ShaneTSGTV
He escaped again! – Gargatoon is free and it's all thanks to Slots4Fun. The steamer was playing Reactoonz on Casumo last week, where after a number of winning combinations the monster was free. In turn Garga helped our streamer get quite the win. So, after landing on a perfect spot, Garga merged with the pink premium symbols to give a huge hit of 800x the bet. This is the only Play'N Go slot featured today, and we could honestly not ask for a better representative than Reactoonz.
Big Time Gaming also comes with just one slot on this compilation. Here, the game is Lil Devil and the lucky player is Shane. Immediately after he triggered the free spins, the streamer chose the "be my angel" feature. – Which, and I can not stress this enough, is the best one on Lil Devil's bonus round. So if you want to activate the slot's full potential, you always go for the angel. Shane did just that and it paid off quite good.
David Labowsky & LetsGiveItASpin
The best hit for today comes from David Labowsky. He was one of the few to actually stream in London. Well, that was a smart decision if you ask me. Especially since during it, he got a super massive hit on Primal megaways. Usually, we see Primal pay on the base game, but this time it was the free spins that gave the bacon. – Mammoth bacon to be more precise, as it was the mammoth premium symbol that combined with a bunch of multipliers. Moreover, thanks to a big €5 bet, David came back from England with €15775 in his pocket. Finally, we also have a bonus clip at the end of our compilation. Here we see LetsGiveItASpin wreck the Dream Catcher game. This is a must watch, especially if you are in the mood for something more than the ordinary slot machines.
Tell us which win on Casino Streamers Biggest Wins – Week 6 of 2020 was your favorite. Also, make sure to check our other videos on CasinoGround's YouTube channel.
Share with friends on
Email