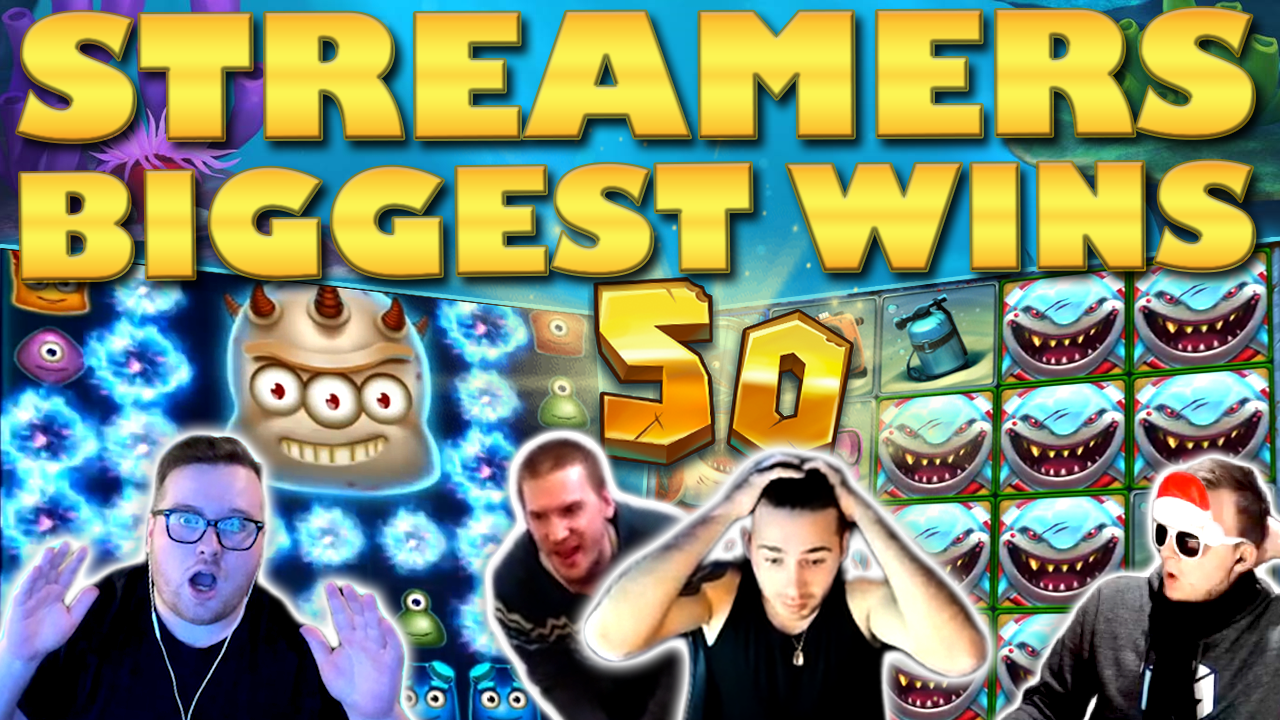 Casino Streamers Biggest Wins Compilation Video #50/2019
Today we feature the 50th streamer's compilation for the year. Moreover, this is also the last big win review for 2019. However, the videos will continue throughout the upcoming weeks leading to 2020. In addition, we have a lot of special compilations which we will be releasing during the festivity days. Thus, make sure to keep an eye out for them too. As for this video, we have eight clips to share with you, each one from a popular casino streamer. – So let's take a look at what the lads got last week.
Casino Streamers Biggest Wins Video Montage
Play4Win & NickSlots
Let us start from the top with the first big hit for today. Here we find Play4Win exploring the Temple of Treasure slot machine. The streamer made a bonus buy and was lucky enough to get the 10000 megaways. Moreover with ten spins from the start, the feature was looking promising. Thus it was no surprise that the end result yielded 1336x the stake. Now I could not understand what language Play4Win was speaking, but he sure looked happy.
Next we have NickSlots, on Razor Shark. This Push Gaming title was extremely rewarding to multiple players last week. However, sticking with Nick, he was playing on MrGreen when he triggered the random feature. Here three coins landed on screen, with one of them golden. Whoever is familiar with Razor Shark knows that one gold coin will automatically give you 1000x on the spot. That's exactly what our Brit got, and on a €4 bet as well.
Slotspinner & Shanetsgtv
When it comes to new slot machines the stand out, this time, is the new Eye of Horus Megaways. This is the latest multiple ways title from Blueprint, which you can play at Wishmaker casino. The game boosts quite a simplistic design, that brings a very old time-ish vibe to it. However, the potential is huge, as Slotspinner found out. The German activated the free spins first, on a €5 stake. Additionally, during the bonus, he took full advantage of the megaways, as well as, the full reel wilds. The end result? – A nice 619x the bet hit. However, I have a feeling we will see much higher wins from the Eye of Horus.
As for Shanetsgtv?! – He was testing his knowledge on Who Wants to be a Millionaire. I am talking about the slot game of course. Granted, Shane managed to go up till the 3rd level. Hence he only had ten free spins to work with. Nevertheless, thanks to an abundance of luck, and plenty of winning combinations. – The streamer walked out with a huge 803x win.
The Casino Brothers & Daskelelele
If I remember correctly, this is actually the first time we feature the Casino Brothers in our big win compilations. Now regardless if they have been here before, I still have to say that they are extremely worth checking out. The guys make quite entertaining casino streaming content. So go take a look at their channel, and you will not regret it. Now as for their win today, that comes from good old Jammin Jars. As always, the more the wilds keep dancing, the more you win. In this case, the brothers got three super active wilds, during the free spins. In addition, thanks to the wilds being constantly next to each other, the total win got up to 1394x the stake.
It is really nice to see that Daskelelele is becoming a regular on our compilations. We really hope his good fortune continues. Thus, this week he brings us another mega hit on Return of Kong Megaways. Now technical, it is still Philip who got the payout. A 1177x the bet, to be more specific, all thanks to a sizable amount of "Q" symbols that hit the screen.
JJCasino & Fruity Slots
The luckiest slot streamer for today is JJCasino, and his game of choice was Razor Shark. This is the second big win on the Shark game, for this clip. However, JJ's hit was during the bonus round while he was making €5 bets. With the multiplier reaching 20x, the streamer landed an enormous number of shark premiums which covered the whole screen. Thus, he ended up with a mega €9638 payout. As per usual, when we have a win from JJCasino, we have to warn you to be careful with the headphones, because his reactions are as funny as they are loud. Finally, we have to mention Fruity Slots also. He joins the club with a bonus round on Reactoonz. Hence, do not miss it.
Tell us which win on Casino Streamers Biggest Wins – Week 50 of 2019 was your favorite. Also, make sure to check our other videos on CasinoGround's YouTube channel.
Share with friends on
Email