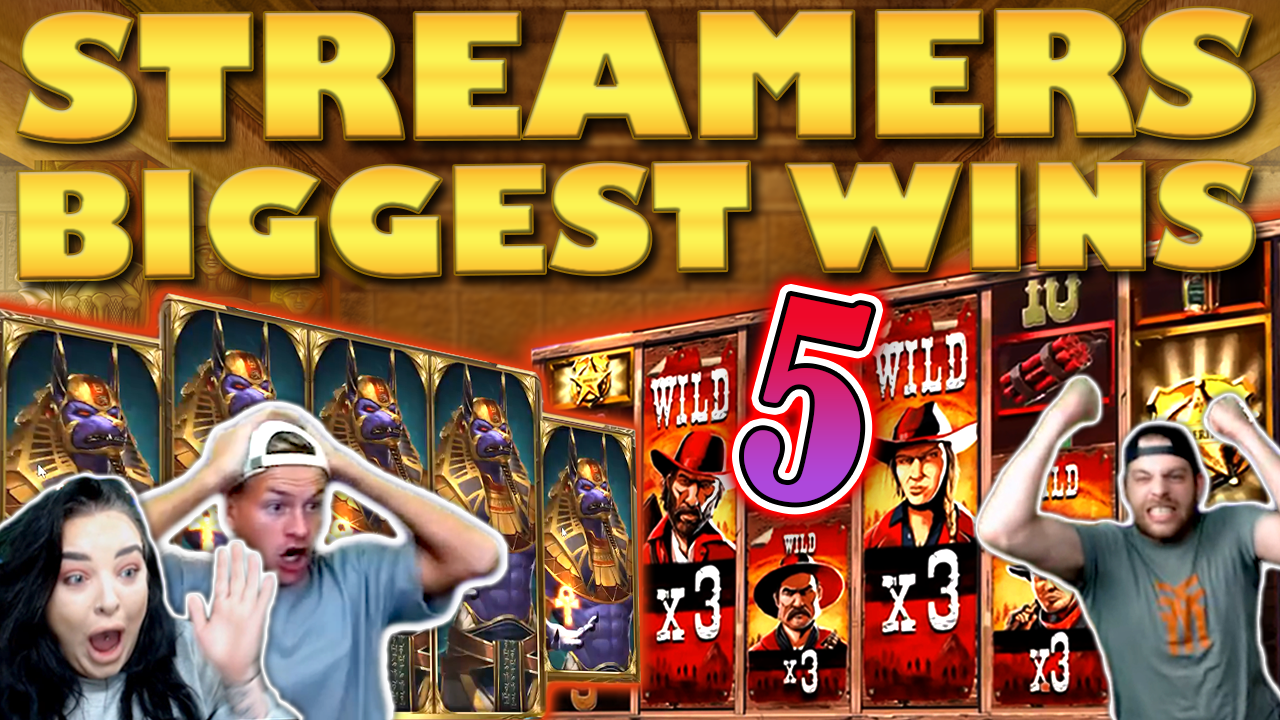 Casino Streamers Biggest Wins Compilation Video #5/2020
This is the first big win compilation for the month of February, and it involves some of the most popular casino streamers. Specifically we have eight hits in total, ranging from good ones to super epic. Moreover, we also have a nice variation of slot machines from a number of different providers. As always, we have spiced up the compilation with plenty of memes to make it even more enjoyable for you to watch. Thus, let us check it out and see which streamer was the luckiest.
Casino Streamers Biggest Wins Video Montage
Bookoffisi & RoseyReels
We shall start with some ancient Egyptian themed slot machines. Therefore, we peek at Bookoffisi who is a relatively new slot streamer from Germany. He was playing the Ankh Of Anubis game on BOB casino when he triggered the free spins. In addition, he managed to collect all the five keys, which is one of the main bonus features. – The result was a full screen of Anubis premium symbols and a 5000x the bet reward. If you speak German and you enjoy extrovert casino streamers, then we highly recommend you check out Bookoffisi. Just a warning though! – Do not use headphones when you do.
The god of the underworld is prominent in more than one clip though. This time it was RoseyReels who got Anubis as a special expanding symbol, during the bonus round on Book of Dead. Here, on just their 5th spin they landed 5 of them, which in turn covered all the reels. It is always beautiful to see a full screen on BOD, and not just because of the massive win it gives.
Huneasd & OnAirJannick
Apart from the two slots mentioned above, we have two more wins on Play'N Go titles. Indeed the provider was very lucky for streamers last week. Therefore we have the return of Reactoonz on our compilation. In the same way, we have the return of Huneasd as well. The streamer has not been part of our clips for a while, same as Reactoonz. Thus, it is really nice to see them both back. It is always funny to watch a Finish streamer, cause you can never tell if he is praising or insulting the slot machine.
The last Play'N Go game we feature today is Moon Princess, which you can find at Sugar casino. The lucky player here was OnAirJannick, who was smart enough to pick "Love" on the free spin round. Love is by far the best feature, and Jannick's win is a great example as to why.
CasinoLand & Zeelazy
Oh you will like this next one! In this next combo we will talk about two different streamers winning in two very similar slots. Specifically we have CasinoLand, who also returns after a long absence, in our clips. The Belorussian makes quite the comeback with a mega win on Lucky Lady's Charm. We do not see many players try out Novomatic games. Since not many casinos feature the provider. – LeoVegas being one of the few that do. Hence, watching CasinoLand get 2030x the stake on Lucky Lady, really put a smile on my face.
Zeelazy is a new casino streamer that we include for the first time on our videos. His content seems pretty fun and we recommend you check him out as well. However, back to his win, which comes from Madame Destiny. Now I will not say that this game is a copy of Lucky Lady's Charm. However, they are quite similar. Naturally, that is great for those of us who like these types of slot machines. More so, since Zeelazy's 1801x win is quite entertaining too.
Daskelelele & Lifehack
Finally we get to the highlight of our clip. Here we have the absolute best slot win of last week. Daskelelele takes the top spot thanks to his epic hit on the new Desperados Wild Megaways slot. This is a beast of a game that combines sticky wilds with multipliers and megaways. Therefore it was no surprise to see it give out 8058x the bet. We are fairly sure it will not be the last time we see Desperados on our videos. As the game is just begging its rise to popularity. Now to be correct it was actually Philip who landed the win, but I am pretty sure Daske was equally happy about it.
Finally, we have to mention Lifehack as well. The Dane joins the club thanks to a bonus on Extra Chilli. – Hence, make sure to check that one out as well. Tell us which win on Casino Streamers Biggest Wins – Week 5 of 2020 was your favorite. Also, make sure to check our other videos on CasinoGround's YouTube channel.
Share with friends on
Email