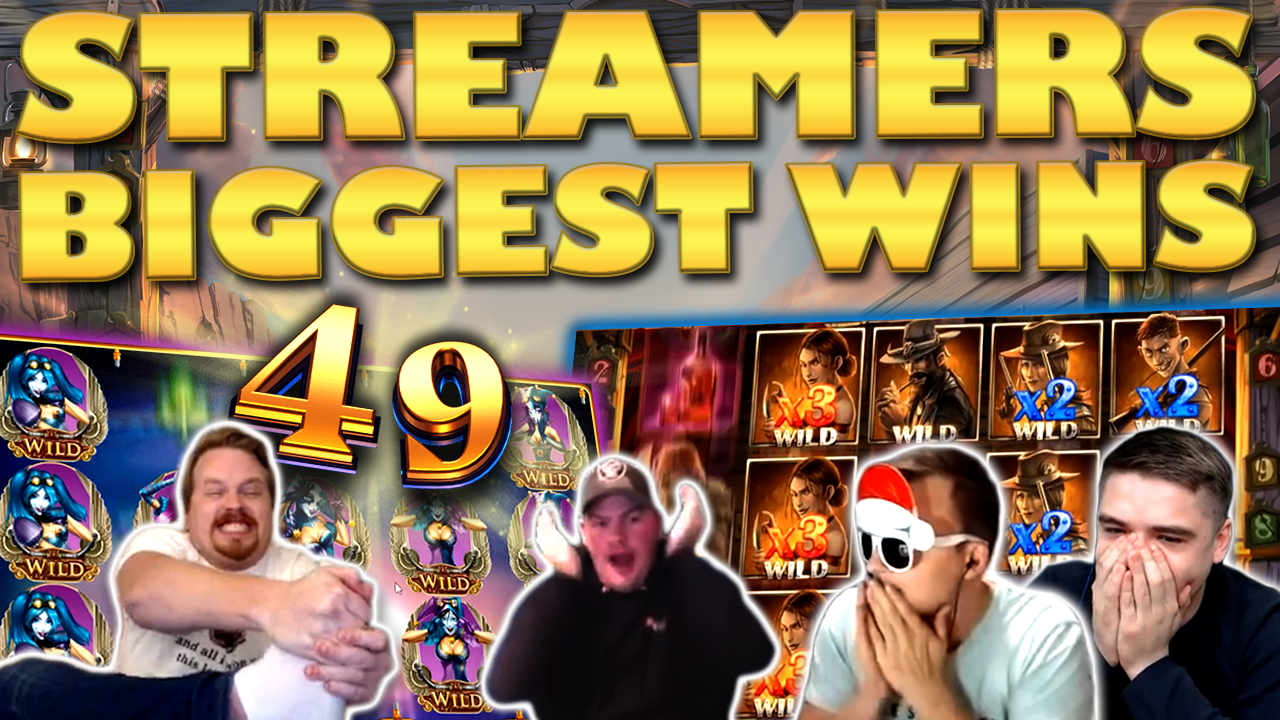 Casino Streamers Biggest Wins Compilation Video #49/2019
As the holiday season is approaching we take a look at eight casino streamers who got their presents in advance. On this compilation we have a nice blend of old and new games, each displaying their potential. Thus, the wins range from big to super massive. Moreover, the reactions from the streamers are extremely humorous and just a joy to watch. Therefore, without further ado, let's take a look at the best hits from last week.
Casino Streamers Biggest Wins Video Montage
JJCasino & Daskelelele
Right off the bat we start with out of the most amusing slot streamers out there. I am talking about JJCasino, whose reactions to big wins have been some of the best and most hilarious during the year. This time was no different, as our German was playing Dead or Alive 2 on a €4.5 bet. First, he triggered the bonus, and in just a few spins he managed to get the wild line. Moreover, some more sticky wilds helped with the multipliers, which took the total win up to 3072x the stake. As you can imagine, JJCasino was extremely enthusiastic, so we recommend you do not use headphones when you watch his clip. In fact, this is not the only DOA2 win we have today, but more on that later.
Now let's take a look at a slot machine which not many are familiar with. "LeoVegas Megaways" is a kind of selective item which you can only play at LeoVegas casino. As you can guess by the name, this is a title made from the casino itself in collaboration with Blueprint. However, despite its unusual making, the games does have quite a lot to give. Hence, it was no surprise when Philip, from the Daskelelele channel, got 1300x the bet on it. Now granted, this was a bonus buy, but even in normal spins LeoVegas Megaways can be quite rewarding.
LetsGiveItASpin & SixSlots
Next up we have a new slot, from ELK studios, which was only recently released. So, as usual, LetsGiveItASpin is there to play it first and let us know if the game is worth it. Cygnus is one of the more volatile titles from ELK and has quite a unique design, as well as, a number of interesting features. Kim took full advantage of them all, while playing it at JustSpin casino. Hence, he managed to walk out of the bonus round with a nice 500x the bet payout. Now, we have not had the chance to play much of Cygnus. Thus, we can not give a definite verdict on it. However, we recommend you try it out for yourselves, and let us know what you think.
As for this next slot. – Well we know Wild Falls very well, and we love it. Especially if you are lucky enough to get the special "River of Gold" free spin feature. This is where the potential of this game lies. – As SixSlots found out last week. Surely, the normal bonus can be very rewarding, however when the cascade turns gold, you know you are in for a big one. This is all due to the locked wilds and multipliers they come with. Hence, watching SixSlots get 1287x, was amazing but not surprising.
Huneasd & Miikapekka
This is by far my absolute favorite part of today's compilation. It was so long ago since we had a big win on good old Cazino Zeppelin. Therefore, we are very grateful to Huneasd who gave the game a try. The Fin was playing on Frank&Fred casino when he triggered the free spins. Almost immediately the sticky wilds started dropping. Now, who is familiar with Zeppelin knows that when a bonus looks too good to be true it usually is not. However, this was not the case this time, as almost immediately Hune got the wild line. – From then on it was just a matter of how big the win would be. Final result?! A missive 2678x the bet. – Got to love the classics.
So far, I can not help but feel that we are lacking in megaways slots. Thankfully, Miikapekka is here to save the day. His lucky game, this time, was Dragon's Fire Megways from Red Tiger. Usually you expect the big hits, on this slot, to come from the high multipliers. – But in this case it was all due to an incredible combination of premium symbols and wilds. From all the Mgaways slot machines we got this year, Dragon's Fire certainly stands out. This is not just one of the best titles from the providers, but one of the best casino games overall.
Fruity Slots
As we promised we have yet another big win, on Dead or Alive 2, to share with you. Unsurprisingly, this is also the best hit of the entire compilation as well. Fruity Slots joins the "10kx" club. – Or in other words, that small number of slot streamers who have gotten more than then thousand times the money on DOA 2. Specifically, for Fruity Slots, the bonus paid him a super mega win of 11273x the stake. I honestly do not know how another game can compete with Dead or Alive 2 this year. However, the voting for best slot of 2019 will start soon on Casinogrounds. So we will see who gets the crown.
Finally, we have to mention Slotspinner also. He joins the group thanks to a free spin round on the Black Gold Megaways slot machine. This is yet another new tiles which is proving quite popular with both streamers and players alike. Hence, I have a feeling we will be seeing more of it in the future.
Tell us which win on Casino Streamers Biggest Wins – Week 49 of 2019 was your favorite. Also, make sure to check our other videos on CasinoGround's YouTube channel.
Share with friends on
Email