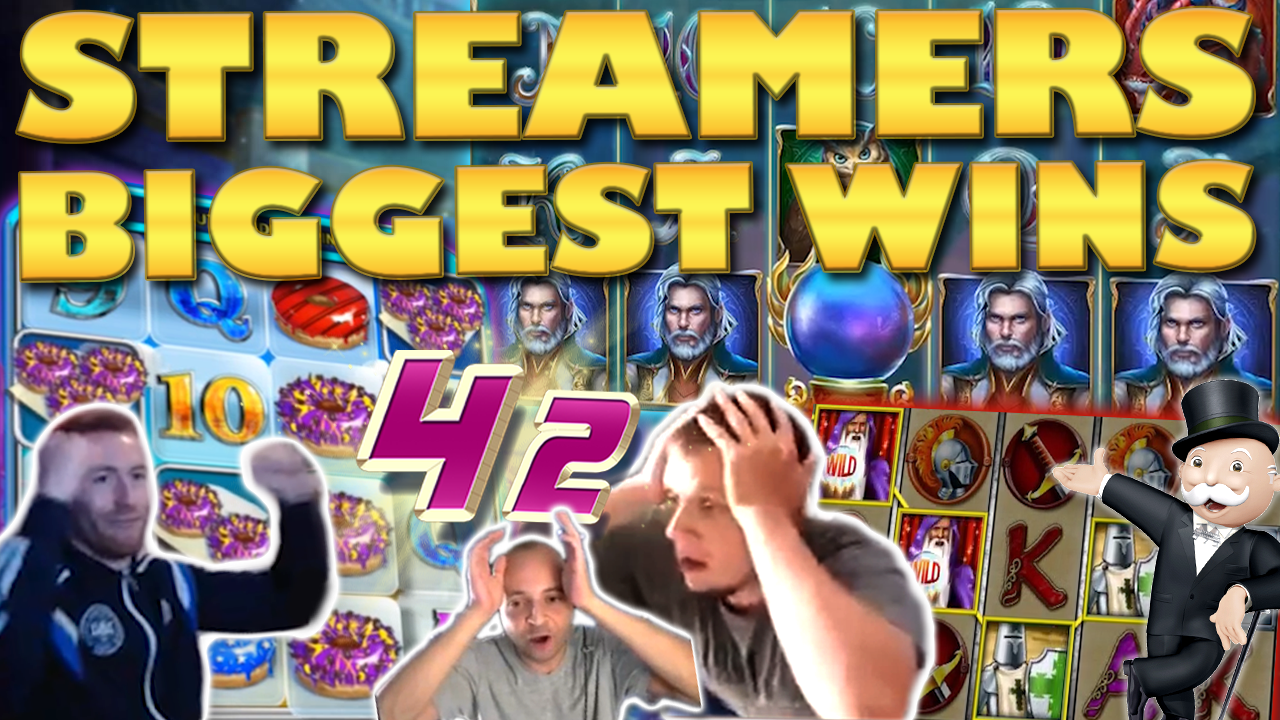 Casino Streamers Biggest Wins Compilation Video #42/2019
With Spooktober in full swing we have some scary good wins to share with you today. As always we have gathered the best casino hits of the last week in one single compilation. Now with so many casino streamers out there, it is pretty impossible to watch them all. Hence, these videos also help by keeping you up to date. Most of the streamers we feature today are from our CasinoGrounds family, however we also have a new entry. Moreover, a bonus clip at the end, for all those who stay after the credits. – Now it is time to enjoy the show.
Quick summary of the streamers biggest wins in this article:
1823x Takethehit on Jammin' Jars

1000x CASINOVAZ on Rise Of Merlin

810x Slotplayer on Donuts

950x Daskelelele on Return of Kong Megaways

1005x OmegaSlots on Terminator 2

1000x Shanetsgtv on Rise of Merlin

1013x SixSlots on Opal Fruits

2240x Slotplayer on Knights Life
Casino Streamers Biggest Wins Video Montage
Casinovaz & Shanetsgtv
The same game paying the same amount, to two different streamers, just days away from each other! That is a weird coincidence, but one that did occur last week. The slot in question in Rise of Merlin from Play'N Go, which you can find on GoGoCasino. I have written a lot about the free spins on this game. Mostly, about the multiple expanding symbols and the high potential bonuses they can produce. However, this game has a pretty interesting base game as well. Now most book type games can give you a max of 500x, during the normal spins. – As long as you can land a line of the best paying symbol. Rise of Merlin doubles up on that, rewarding the player with 1000x for a full line of Merlin premiums. – Double the money double the fun I guess. This is exactly the win Casinovaz and Shanetsgtv got last week. Naturally, both hits are very short in length. However, the wins themselves, and the reactions from the streamers, make them very entertaining to check.
Slotplayer & SixSlots
We can not have a big win compilation without some Big Time Gaming somewhere in there. Hence, the next two big wins. The first is from Slotplayer on the Donuts games. Again we have a base game hit, this time thanks to a multitude of purple donuts. Here Slotplayer landed three mystery boxes which were full of the best symbols. Therefore, he got a nice payout of 810x the stake.
The last time we featured SixSlots, was on our up&coming streamers segment. Well, now he is back on the main compilation, this time. Hit hit comes on Opal Fruits, during a €1 bet. I have made a lot of jokes in Opal Fruit's expense. Especially by comparing it to more popular BTG titles like Danger or Final Countdown etc. However, despite me poking fun at the game, it actually does have a lot of potential. Opal Fruits is not one of the best games of BTG, but it can still pay quite good. Finally I have to reiterate that SixSlots is a new casino streamer which I highly recommend.
Takethehit & Daskelelele
There are two main reasons we feature Takethehit on today's video. The first is due to the absolute monster win on Jammin Jars he got. This time the hit came on the free spin round after a lot of dancing around from the scatter/wilds. It's the usual Jammin Jars winning recipe which we have seen quite often before. In addition, it was two wilds in particular that helped Takethehit get a massive 1823x the stake. The second reason, and my favorite, is because he mentioned us during the win. – And we will always feature every streamer, or player who gives us a shout out, while they win big.
Next up we have a bonus on the new Return of Kong Megaways which you can find on iGame Casino. Daskelelele was lucky streamer on this game. – Or " Jack's Gambling Channel" with which you can find him on YouTube. Daske was mainly a Twitch streamer, so his YouTube channel is pretty new. However, with our help, he is adding content there daily. Hence, you can show your support by subscribing to it.
Slotplayer & OmegaSlots
The same casino streamer twice on the same compilation?! – That's an unusual one. However, I really wanted to share with you this bonus on Knight's Life. We do not really see that many Merkur slots on our compilations these days. Thus, it is always nice when a streamer goes back to them. Case and point, Slotplayer whose nostalgia trip resulted in an epic 2240x the stake win. As you well know, not many online casinos feature Merkur games, but you can always find them at LeoVegas. – As long as you are not in Sweden of course.
Before we end, we have to mention OmegaSlots as well. The streamer joins this week's big win board with a rare hit. – A Hot Mode on the Terminator 2 slot machine. Hot modes are so rare, that very few players have gotten one, while the rest of us dream to land it one day.
Finally do not miss the bonus clip at the end. It features an insane run on Monopoly Live by Slotspinner. Tell us which win on Casino Streamers Biggest Wins – Week 42 of 2019 was your favorite. Moreover, share your thoughts in the comments. Moreover, share your thoughts in the comments. Also, check our other videos on CasinoGround's YouTube channel.
Share with friends on
Email