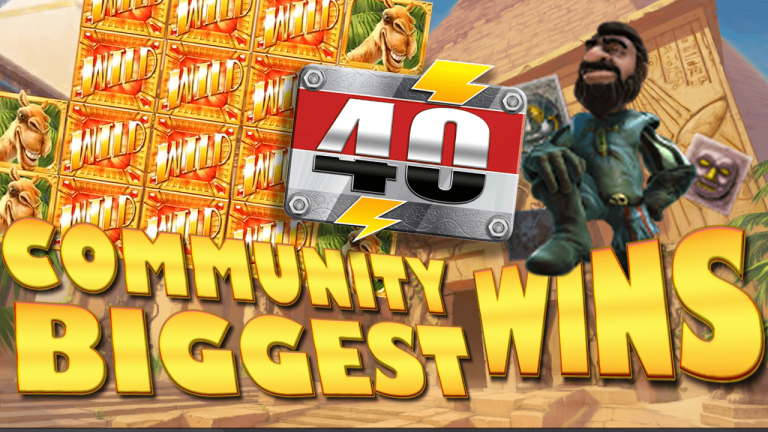 Community Big Wins Slots Compilation Video: #40/2017
On this Community biggest slot wins Part 40 small wins don't exist. Almost every single slot win, shared on CasinoGrounds Forum by our forum members, is massive. Therefore the video compilations, we have for you today, only include a fraction of these big slot hits. As all the wins were extraordinary it was difficult to select the biggest casino wins. But after a lot of effort we bring you today two video compilations. First a collection of clips showing big base game hits and bonuses. On the other hand, the second video is full of screenshots. Furthermore, the casino wins come from the 13th until the 19th of October 2017. If you want to play, for real money, any of the slots featured! -You can find them on MrGreen casino, or any other online casino.
Community biggest slot wins Part 40 - Clips
The main video compilation of Community biggest slot wins Part 40 includes a huge number of bonuses. As almost every other week, nowadays, the Danger High Voltage slot is present. The casino game is by far the best BTG title, and both slot streamers and players love the game. Thus if you play DHV on Casumo or other BTG powered casinos, make sure to share with us your best wins on the forum. Furthermore, we have a big win on a slot that you would never guess it can pay. It's a super massive win on non other but Gonzo's Quest. We could not believe our eyes, and we bet you will fill the same. Finally, we also have wins on the Dead or Alive slot, with more players joining the Dear or Alive wild line club. You can try this slot for yourself, along with Gonzo, at iGame casino. Due to the many winners on Community biggest slot wins Part 40, we are unable to mention them all. However, these are the slot players with the absolute best big wins.
DreamsComeTrue - 2681x win on Danger High Voltage
pausefisk - 2500x win on Dead or Alive
Redmanus82 - 2220x win on Dead or Alive
We thank all our members who share their incredible slot wins, week after, week.
Community biggest slot wins Part 40 - Screenshots
As for the screen shots of Community biggest slot wins Part 40, they are even better than the clips. Moreover, the casinos in which the player play are also numerous and diverse. These range from – Quasar to CasinoRoom , as well as, many others. Therefore, due to the huge number of enteritis, we are unable to mention all of them. However the 4 biggest winners of this week are as follows:
Jankkee - 4142x win on Dead or Alive
Nicola - 2350x win on El Torero
Nelan - 1780x win on Magic Mirror 2
Anderking - 1518x win on Star Quest.
This are only a few from the numerous spectacular wins the viewers have sent us on CasinoGrounds Forum.  And we want to thank you all for sharing with us your incredible slot wins. This clip will go live Saturday morning, on our our CasinoGorunds FaceBook.
Take a look at the compilation on the video below:
---
Subscribe on CasinoGround's YouTube channel to get updates on all the latest Community Biggest Wins videos. Moreover, take a look on our other segments: Biggest Slot wins on Stream and Slot Mechanics.
Did your win make it on today's video?
Which community win do you like the most? – Make sure to let us know on the comments.