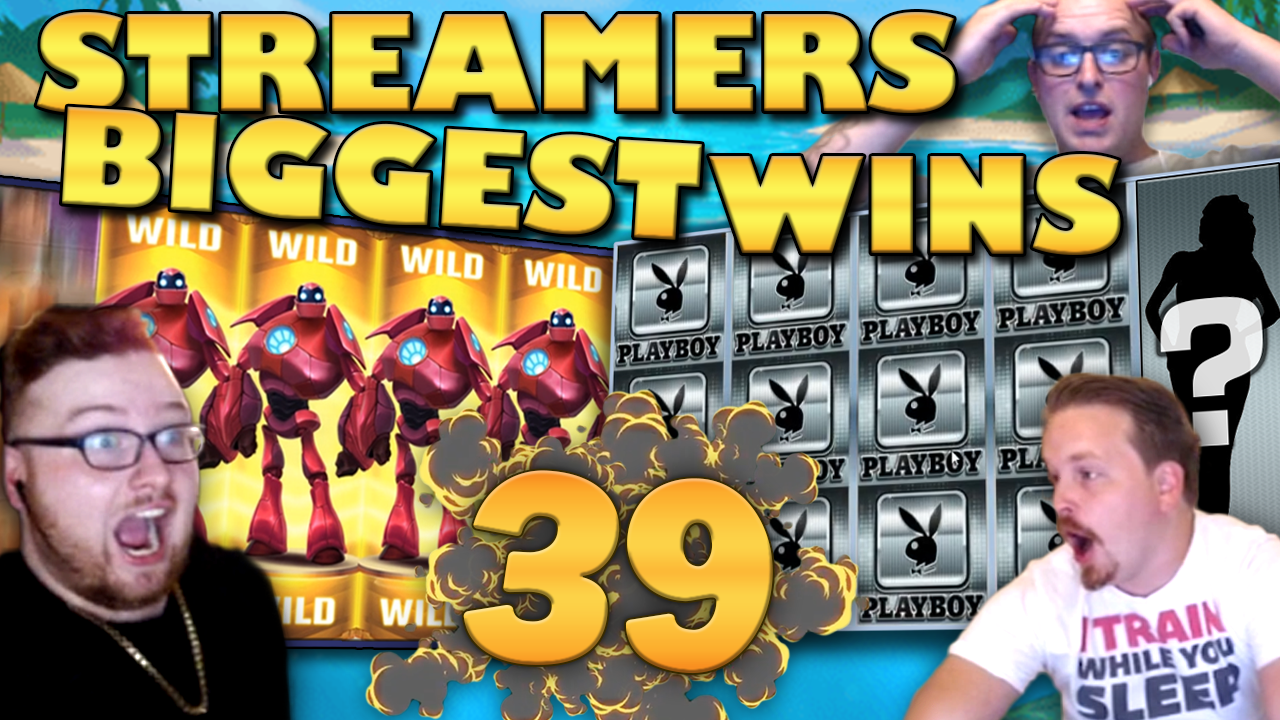 Casino Streamers Biggest Wins Compilation Video #39/2019
As it is the first day of October, we have to start the new month with some big wins. Thus, as always, we have a collection with the best casino hits. – From you favorite casino streamers. There are eight of them in total, and each one is better than the last. Moreover, what is even more interesting is that each slot machine, featured today, is unique. Not only we do not have streamers winning on the same game. – But every slot is from a different provider, which results in a lot of variety. Now, let us take a look at them all.
Quick summary of the streamers biggest wins in this article:
5127x – OmegaSlots on Dead or Alive 2

873x Letsgiveitaspin on Dragon's Fire M

789x – Tombha on Big Bot Crew

1250x – Slotspinner on Money Train

517x – JJCasino on Book of Dead

744x – Mitaaspins on Razor Shark

985x – DeluxeCasinoBonus on Alice in Wonderland

5805x – Gamble_Gangsta on Playboy
Casino Streamers Biggest Wins Video Montage
OmegaSlots & Letsgiveitaspin
Surprisingly Dead or Alive 2 is not the best win of today's compilation. However, the game still gets on the podium with the second best hit. In similar fashion to most other big wins on DOA2, this one is also thanks to the High Noon Saloon bonus feature. Omegaslots was the lucky streamer who managed to trigger the free spins, and come out of them with an epic win of 5127x the bet.
From a new streamer on a classic slot we jump to a veteran streamer on a new game. Specifically, we check LetsGiveItASpin's interplay with the new Dragon's Fire Megaways which you can find on Highroller casino. This is a sequel to a previous title, from Red Tiger, with the same name. In contrast though, this new version has megaways which umps up, the potential, to eleven. I was a big fan of the original version, and I believe that this second game is even better.
Slotspinner & JJCasino
With Oktoberfest in full swing we had to make our own small celebration. Thus we feature two of our best German casino streamers. The first is our usual suspect Slotspinner, who gets all the multipliers on the Money Train slot. This is one of the best games of the year in my opinion, and after his 1250x win, Slotspinner agrees as well. It will be interesting to see what more unique games will Relax Gaming can come up with.
Our next German streamer is JJ casino who was playing Book of Dead at 21Casino. His hit was simple yet beautiful. There is nothing better than a line of explorers on BOD, and the 500x that comes with is nice as well. Moreover, JJCasino combined his premiums with three scatter wilds. Thus not only did he get the big win, but also triggered the bonus round in the process. Now that's the best way to start the free spins.
Tombha & DeluxeCasinoBonus
If I am not mistaken. – This is the first time ever that we have Tomba on streamers biggest wins. Moreover, is the first time we have a casino streamer from Norway. Thus, we hope to feature many more in the future. Anyhow, back to Tomba who got lucky on a very unexpected slot machine. The game's name is BigBot Crew from Qucickspin. It is not very often that Quickspin slots make our compilations, as the provider is known for more lesser volatile titles. However, BigBot Crew is one of their best new games, and the big win, on the video, certainly shows it.
Next we have DeluxeCasinoBonus who got lucky on a slot with which I am not very familiar. The game's name is Alice in Wonderland. Hence you can probably guess what the theme is about. In addition, even though the provider is BF Games, it feels a lot like a casino game from Novomatic. Furthermore, I can think of, at least, three Novo games that play similar on the bonus free spins. This is not necessarily a bad thing, as Novo games are extremely popular with players and streamers alike. Additionally, the payouts they give are always spectacular. As for DeluxeCasinoBonus, a full screen of premiums and wilds gave him a huge 985x the stake win.
Gamble Gangsta & Mitaaspins
The biggest win of this compilation is a blast from the past. Gamble Gangsta decided to try the old classic PlayBoy slot. Now do not ask me why, a guy in a half lit room with red background, was playing playboy. The important thing is that he came on top. Seriously though, this is one of the best slot machines from Microgaming. In addition, despite being out for quite a lot of years, it has aged pretty well. You can find PlayBoy in almost any casino, including Kaboo. Gamble Gangsta's win here was a thing of beauty with an almost full screen of wilds and a €7000 the stake reward.
Before we end, we have to give a shout out to Mitaaspin as well. The streamer joins the roster with a big win on the new Razor Shark slot. Hence, do not miss his bonus either.
Tell us which win on Casino Streamers Biggest Wins – Week 39 of 2019 was your favorite. Moreover, share your thoughts in the comments. Moreover, share your thoughts in the comments. Also, make sure to check our other videos on CasinoGround's YouTube channel.
Share with friends on
Email