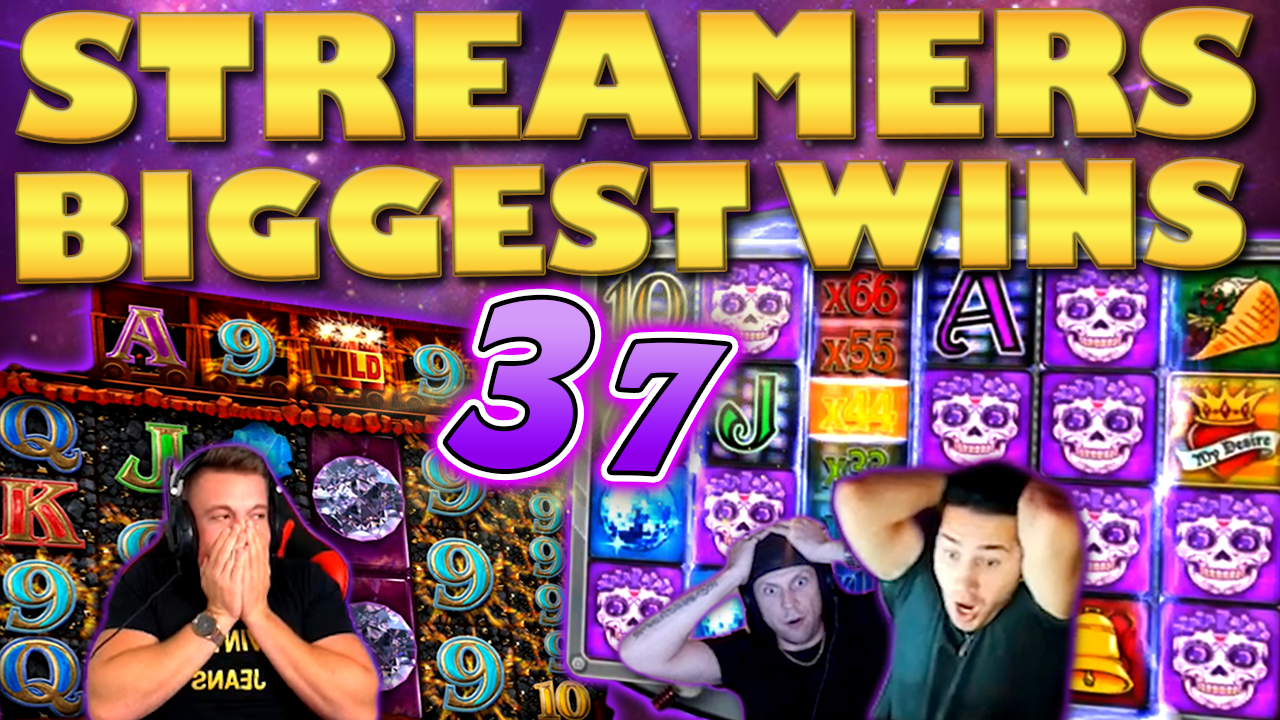 Casino Streamers Biggest Wins Compilation Video #37/2019
After a short absence we bring back the streamers big win segment. Now, even though we skipped the article for a few weeks. – We still published the best casino streamer hits, weekly on CasinoGround's YouTube channel. However, today we not only share with you an array of spectacular bonus rounds and free spin hits, but also we take a detailed look at each and every single one of them. Moreover, what makes this compilation all the more special is that for the first time in weeks the biggest of the slot wins does not come from Dead or Alive 2. So who is ready to look at what our favorite streamers did last week?!
Quick summary of the streamers biggest wins in this article:
4189x Oscarcasino on Dead or Alive 2

1528x Jamjarboy on Jammin Jars

998x Play4Mike on Mega Moolah

665x JJCasino on Bonanza

610x Casinovaz on Razor Shark

2312x Miikapekka on Money Train

3255x MitaaSpins on Dead or Alive 2

13238x Slotplayer on Danger High Voltage
Casino Streamers Biggest Wins Video Montage
Oscarcasino & MitaaSpins
As we mentioned, the biggest win of this week did not come from Dead or Alive 2. However this does not mean that the game did not deliver. Thus, both the second and third best hits of today's video come from DOA2. Specifically, Oscarcasino and Mittaspins who got lucky while playing the NetEnt title at LeoVegas. In addition, the wins where pretty similar as well, despite the different bet sizes. Hence, both streamers picked the High Noon Saloon bonus feature, and both got lucky with the sticky wilds. The end result was a massive 4189x the bet for Oscar, while Mitaa got a huge 3255x the stake. Now we just have to wait for Friday's community compilation, and I bet Dead or Alive will retake it's rightful spot on top.
Jamjarboy & Casinovaz
Let us change pace with some Push Gaming. Two slots from the provider make the cut on this clip. One is the popular Jammin Jars, and what better streamer to win big on it than Jamjarboy. – I mean it's in the name. Honestly I think Jamjarboy has a special connection to this game, as it seemed like he already knew the slot would pay him, before he even started playing. – And pay it did, thanks to the dancing wilds which gave a mega win of 1528x the bet.
In Casinovaz's case the reward came thanks to the new Razor Shark game. This slot is reminiscent of the old Temple Tumble casino game from the same provider. However, Razor Shark has enough new features to make it unique. I especially like the coin feature which boosts quite the potential. Although our streamer got his win the old fashion way. – Meaning that he got the free spins, and landed a lucky line with the premiums. Casinovaz is a really entertaining streamer, so I hope we see him more often on our videos.
Miikapekka & Play4Mike
The collector game is my new favorite game. I am talking about Money Train from Relax Gaming. This slot features one of the most interesting and unique bonus rounds I have ever seen. This is actually very impressive and refreshing, especially since most casino games nowadays are focused on megaways. Miikapekka took full advantage of Money Train's potential while playing it on Rizk. Here, he got the free spins and opened up all the reels. Moreover, by landing a bunch of premium symbols he took the multiplier up to 2312x.
Play4Mike is also back on our video with an old classic. Specifically with Mega Moolah Isis. However, do not let the basic design of this slot fool you. Mega Moolah can pay a lot, as Play4Mike found out when he was rewarded with a nice 998x the stake.
Slotplayer & JJCasino
Most of you already know what is coming up next. Slotplayer's hit on Danger High Voltage was one of the most talked about things from last week. Moreover, many casino streamers hosted the lucky Brit, so everyone could see his incredible win. Now danger has given mega hits before, but nothing like the one we saw from Slotsplayer. Personally, I didn't even know DHV could pay 13238x the bet. – But that's exactly what happened. Slotsplayer did not believe it either, as you could see the shock and excitement on his face.
On the other hand this just puts a lot more pressure on the new Lil' Devil slot, which is exclusive on Betfair. As many are calling it the new version of Danger. We will have to wait and see if it can live up to the original.
Before we close we need to give a quick shout out to JJCasino and his hit on Bonanza. With all the megaways games getting released daily. – It is nice to see that the forerunner Megawyas slot still got it.
Tell us which win on Casino Streamers Biggest Wins – Week 37 of 2019 was your favorite. Moreover, share your thoughts in the comments.
Share with friends on
Email