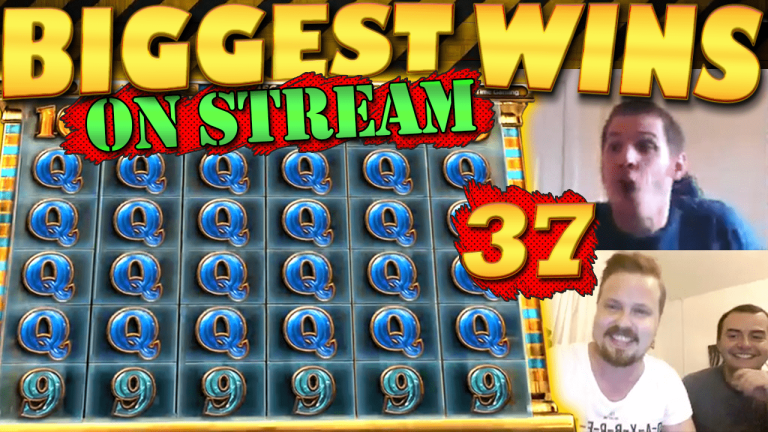 Casino Streamers Biggest Wins Compilation Video #37
Casino streamers Big Wins – week 37 / 2017 brings us one of the biggest slots wins ever caught on stream. We are sure that most of you already know which slot streamer got the super mega big win, and on what game. However, before that, we have a number of other big wins to share.
Similarly to every other week, we have a video compilation with all the best hits, as well as, a small review of each win. For today's compilation we include slot wins from the 11th until the 17th of September 2017. Finally, you can make sure not to miss a stream from your favorite casino streamer, by checking their daily schedule on the CG streamers page. And if you are particularly interested in any of these slot machines, you can play them for real money on any online casino on our streamers top rated casino bonuses list
Watch a quick montage of the wins on the video below.
Follow the detailed videos of every win from each of the streamer's personal Channels.
---
BlackCatSeven
A back to back bonus for BlackCatSeven, last week, with only one spin between the two. And what's even funnier is that he called it. The casino streamer was singing Green Day songs, while playing the Bust the Bank slot on a SEK 15 bet. Here is where he triggered the first free spins feature, which was not very good. - To say the least. And yet, even before BlackCatSeven could finish complaining, about the first bonus, the second one hit. Almost immediately, this second bonus gave an insane win, in the same way, two more spins towards the end of the feature also payed big. In sum, a mega SEK 11545 total win. Finally, I have to say that Bust the Bank is one of my personal favorite slot machines, because it has excellent features, as well as, huge potential. And if you also want to give this casino slot a try, you can find it at Thrills casino.
---
LetsGiveItASpin
The Book of Dead slot was absent, for a while now, on our big win compilations. But this week we bring it back thanks to LetsGiveItASpin. The slot streamer was playing the game on a SEK 40 bet at LeoVegas, when he hit the free spins. Even though with Anubis as the special expanding symbol, the bonus was looking pretty average. However, that would not be the case. What changed everything was an insane number of re-triggers that took the total free spin number to 50. And this is a lot for this particular slot. No wonder the total win was more than SEK 21000. We can only hope to see more great hits on Book Lau, in the upcoming weeks.
---
Slotspinner
An incredible start on his Novomatic stream, for Slotspinner, last week. The German was playing the Garden of Riches slot, on a €2 bet, when he triggered the free spins feature. To summarize, just in case you are not familiar with this particular game. - What you want is to get the lady, which is both a scatter and a wild. Moreover, wilds are sticky on the free spins feature, so the player can potentially get a wild line. And that's exactly what Slotspinner got, on his 7th spin/ out of 10 in total. Hence, 3 more spins with a wild line on the reels. In this cases, you know the bonus is going to be good, so the €644 total win was no surprise. Finally, if you want to play Garden of Riches for real money! - You will find it a OVO casino, along with all other Novomatic titles.
---
Chipmonkz Slots
Apparently, the Queen of Riches slot can't stop giving big wins, recently. Chipmonkz was playing the game on a £4 bet, during one of his casino streams. And out of the blue, with no warning whatsoever, 4 reels synchronized and landed the stacked wild symbols. In addition, each wild has its own multiplier which makes the win even more massive. In short, an enormous £3340 win which left Chipmonkz completely astonished. You can play Queen of Riches on Unibet along with all other online slots from BTG.
---
David Labowsky
Another big win for David Labowsky, this time on the new Wolf Cub slot machine from NetEnt. The casino streamer, got the free spins feature while playing the game on a €1.40 bet at Super Lenny casino. This was a relatively long bonus, will lots of big wins. All thanks to the many winning lines of bears, elks and other forest animals present on the slot. It total, a €480 win for David, who should add this new online slot at his favorites. #Get Payed XD
---
NickSlots
Well, most of you know what's coming, and those who don't are in for a big treat. We are talking of course about Nick's super mega big win on Queen of Riches. The slot streamer was playing the game on a £5 bet when all 6 reels synced together to give a colossal £20000 win. What followed was a mix of excitement, amazement and a streamer who could not believe his eyes. Further, the chat was also ecstatic, congratulating Nick, and most probably a big number of them starting to play the Queen of Riches slot themselves. If you also want to give this game a try, you can find it at Casumo. And if you get a big win, make sure to share it on the forum, so we can all enjoy.