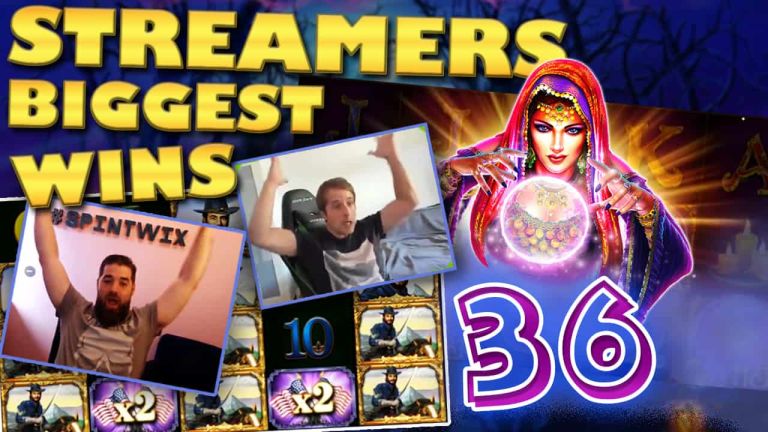 Casino Streamers Biggest Wins Compilation Video #36/2018
As we leave summer behind we take a look at Casino Streamers Biggest Wins – Week 36 of 2018. Slot streamers are coming back from their vacations and they bring with them plenty of epic wins. All of them come from the 3rd until the 9th of September 2018. If you want to try any of these slot machines, you can play them, for real money, on any online casino on our trusted casino list. Watch a quick montage of the wins on the video below:
Spintwix
A new entry opens Casino Streamers Biggest Wins – Week 36 of 2018 today. Spintwix was playing the Fort Brave slot on a big €8 bet when he activated the free spins. After a horrible start the bonus looked like it was going to be bad, however on the very last spin a combination of premium symbols and multiplier wilds turned the whole feature around. The result was a mega win of 1669x the stake. This particular slot machine is available on OVO, as well as, most other casinos that feature Gamomat titles.
Jarttuslot
One of the newest and most interesting games out these last weeks is the new Light Blocks slot from Merkur. Jarttuslot was giving it a try, last week, on big €10 bets. Hence, thanks to its tremendous potential the slot streamer got a big win of 787x the stake. However, this slot machine can pay so much more. Thus, I bet we will see even bigger wins coming out of it. At the moment Light Blocks is available to play for real money on LeoVegas casino. Therefore give it a try and don't get intimidated by it's weird look, as it is very simple to understand once you have played it a bit.
NickSlots
It is a bit strange to see a slot that was not meant to be played on one line give so much when players actually do play it like that. This is the case for the Cats and Cash slot which is paying casino streamers left and right. This time it was Nick who wa gambling on it at Casino Calzone with £4 bets. All that was needed was one winning combination of just four premiums and the result was an insta 500x the stake. I can only imagine how much bigger the win would be if that last symbol had landed.
Miikapekka
Another new and interesting slot is Peking Luck from Pragmatic play. To harness the full potential of this game you need to pick the 18x multiplier on the free spin round. Miikapekka got lucky with his picks as he got 15 spins and the highest multiplier possible. Thus his bonus turned the €2.5 bet into an insane €1850 total win. Royal Panda is the casino to go if you want to try out this slot machine.
SuperSmask
It was quite some time since the last time we had SuperSmask on out compilations. Consequently we were happy to see his amazing hit on the Extra Chilli slot. The streamer was buying SEK 10 bets and hoping for that one big paying bonus. The bonus came, thanks to the purple symbols and a big multiplier, for a 734x the stake win. Chilli is available on almost any online casino, including BOB Casino. Just be careful when gambling for the those 24 spins, it can turn bad sometimes.
Rex Borgersen
Yet another Gamomat slot giving mega wins. This time it was the Mighty Dragon game which Rex was playing on a €2 bet at Casumo. The bonus round is what you are looking for on this slot. Moreover you need to land staked wilds on thee three middle reels as they stay locked for the entire duration of the free spins. That's what Rex did, and the result was a great win of 404x the stake.
Shaw Slots
Big bets are fun and all, but myself I relate more to wins coming from smaller bet sizes. Maybe because that's how I usually play myself. Therefore this win on Knight's Life with just a €0.25 bet is my favorite of today. A great bonus with 26 spins and a super big win of 962x the stake. You can play this game on Frank and Fred casino.
Shirox1980
To end Casino Streamers Biggest Wins – Week 36 of 2018 we go to shirox and his win on yet another new game. The Madame Destin slot is very similar to one of my favorite casino games! - Lucky Lady's Charm. The streamer was playing on €5 bets when he triggered the bonus round. Moreover, in one of the free spins, he got the absolute best combo, not a winning line but 5 scatters which resulted in an insane 1774x the stake total win. I really want to try this game myself now. Redbet is a casino that features this slot, so you can go there as well.
Tell us which win on Casino Streamers Biggest Wins – Week 36 of 2018 was your favorite. Share your thoughts in the comments. Also make sure to check our other videos on CasinoGround's YouTube channel.