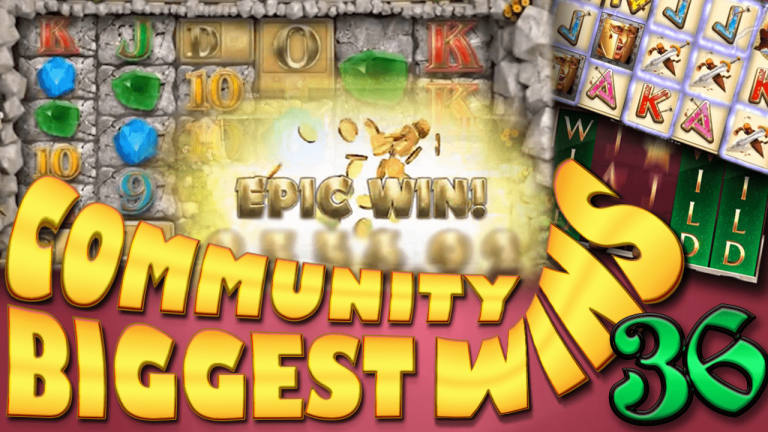 Community Big Wins Slots Compilation Video: #36/2017
Time for the viewers to enter the spotlight with Community biggest slot wins part 36. Surely we tend to focus more at casino streaming, on these articles, but Fridays are all about the community. The forum is our community's hub, which includes casino stream viewers, casino streamers and general gambling fans. Thus we bring you the best slot wins shared on CasinoGrounds Forum. As usual, there are two separate videos, to enjoy. The first includes clips of big base game hits and bonuses, while the second is all about them screenshots. Moreover, the casino wins included are from the 15th until the 21st of September 2017. Finally, if you want to play, for real money, any of the slots featured! -You can find them at iGame casino, or any other online casino.
Community biggest slot wins part 36 - Clips
The big wins of "Community biggest slot wins part 36" first compilation are as impressive as always. For example we have "ShawsSlots" and his incredible bonus round on 300 Shields. A slot with huge potential which you can play at Betsafe casino.  Moreover, "pausefisk" shows us why Big Time Gaming is slowly becoming the favorite slot provider for most players. Two incredible mega wins for him, one on Danger High Voltage and another on Bonanza. You can play both slots for real money at MrGreen casino, along with most BTG titles. Among others, there is also "SimSpinSlots" who also bring us two amazing hits. So the first is sick free spins round on the Bonanza slot which you can find at Dunder casino. As for his second win, that one is even more incredible. - A super big win thanks to the Wild Celebration feature on the Finer Reels of Life slot. Here, the viewer got 3 wild reels which connect through a premium symbol. You can also find the Finer Reels of Life on most Microgaming casinos, like Winning Room casino.
Community Biggest Slot Wins part 36 – Screenshots
The screenshot clip of Community biggest slot wins part 36 is the best yet. It includes some of the most spectacular big wins ever shared on our forum. First of all there is a huge Jackpot win from "Thomas". So big congrats to him and we hope he wins even more. Also don't miss the monster super mega big win from Svinvild, cause it's a must. Now, it is impossible to mention all the other winners, due to them being so many. However, we will give a shout out to the 5 that had the biggest wins. All the slots on the top five list you can find at VideoSlot casino.
Svinvild - 13123x on Danger High Voltage
toomza  - 4184x on Six Acrobats
Thomas - 3417x Jackpot win on Empire Fortune
Jim - 2509x on Dead or Alive
IcyMind - 2071x on Pharaoh's Tomb
As for the rest of the slots on the clip, these also include spectacular wins, in an array of diverse slot machines. Finally, we usually share this clip on our CasinoGrounds FaceBook page, so you will find it there, tomorrow morning.
Take a look at the compilation on the video below:
---
Subscribe on CasinoGround's YouTube channel to get updates on all the latest Community Biggest Wins videos. Moreover, take a look on our other segments: Biggest Slot wins on Stream and Slot Mechanics.
Did your win make it on today's video?
Which community win do you like the most? – Make sure to let us know on the comments.