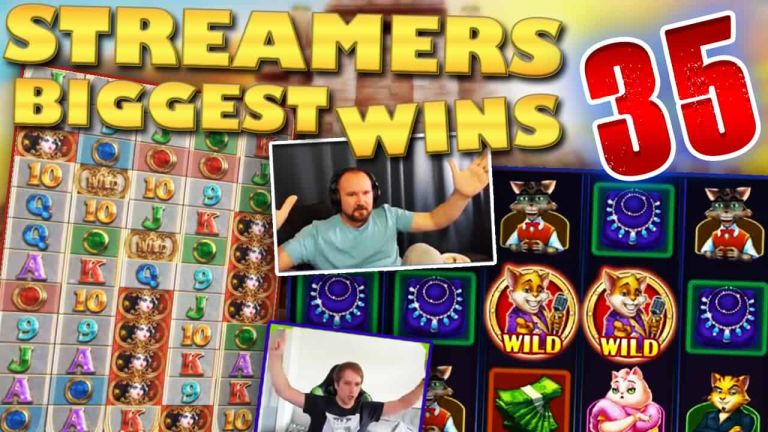 Casino Streamers Biggest Wins Compilation Video #35/2018
Our weekly segment is back with Casino Streamers Biggest Wins – Week 35 of 2018. All the slot wins featured are special, however the last one is a one in a lifetime hit. Thus, make sure not to miss it. Now all the casino game wins come from the 27th of August until the 2nd of September 2018. If you want to try any of these slot machines, you can play them, for real money, on any online casino on our trusted casino list. Watch a quick montage of the wins on the video below:
MiikaPekka
We start Casino Streamers Biggest Wins – Week 35 of 2018 with MiikaPekka and his unreal hit on the Reactoonz slot. What makes this win special is that he didn't even need the gargatoon feature to get the max win. I have never seen something similar in this casino game. Moreover, thanks to the €2 bet size, the total result was a juicy €3016. Play' N Go slot machines, like Reacoonz, are available in almost any online casino, including Kaboo. Therefore make sure to try it out and send us your best results.
Rex Borgersen
I love slot games that play fast, with no fuss but can pay you massively. Such game is the Dragon's Treasure slot machine from Merkur. We are used to see great free spin rounds from this slot, but this time the magic happened in the base game. Rex was playing €2.5 bets on Casumo when a full line of the best symbol landed. Fastest €2500 win I have seen in awhile.
Slotspinner
No big surprise seeing Slotspinner yet again on the compilation. He is by far the luckiest of all casino streamers imo. This time the win was on the Donuts slot during a €3.75 bet. The German was playing on Dunder casino when he triggered the bonus round with a 79x multiplier. All the streamer needed now was winning combos of any symbol. He got three of them, first with 10s, then Qs and finally with the green donuts. As a result the total win was 458x the stake.
Spintwix
Another base game hit, this time on the Six Acrobats slot. Our winner was Spintwix who was playing the game on a €4.5 bet. This particular casino game has huge potential, with the premium symbols paying massively if you can get a full like with them. That's exactly what the slot streamer did, getting a 836x the stake reward from it. Check, this game, out on Night Rush casino and let us know what you think.
CasinoReggie
After a long summer vacation I was back doing what I love. - That is streaming slots and chatting with you (the community). I had already ripped two bullets, on Royal Panda casino, so my hopes for a cash-out were pretty low. However, thanks to suggestions from the lads on the chat, I went for an Extra Chilli bonus buy on a SEK 10 bet. Best decision I made all night, as with only 8 free spins I got a big 591x the stake hit. Guess Extra Chilli will be my new White Rabbit.
Shirox1980
I am beginning to think that Cats and Cash has a thing for German slot streamers. This time it was Shirox who got a super big win on the game during a €5 bet. In yet another stupendous base game hit, the streamer got a full line of premiums. In addition thanks to him playing with just one line, the total win was a mega €2000x the stake. Highroller is the go to casino if you want to try this particular slot game.
Jarttuslot
We close Casino Streamers Biggest Wins – Week 35 of 2018 with what you all have been waiting for. I am talking about the super mega hit of Jarttuslot on the White Rabbit casino game. The Finish streamer was doing huge €2k bonus buys. As most of you know, the trouble with this particular slot machine is getting that first re-trigger. If you do, then the rest come easy. This is exactly what happened is Jarttuslot's case. After getting the first re-trigger the rest just kept coming. Moreover, thanks to the huge bet size the epic wins were constant. 4486x the stake was the end result which translates to an unreal €89710 win. Talk about life changing money. See if you can manage to get a similar hit by playing white rabbit on Frank&Fred casino. - And if you do make sure to have a phone nearby for pics.
Tell us which win on Casino Streamers Biggest Wins – Week 35 of 2018 was your favorite. Share your thoughts in the comments. Also make sure to check out our Twitch Channel for more big wins like these.