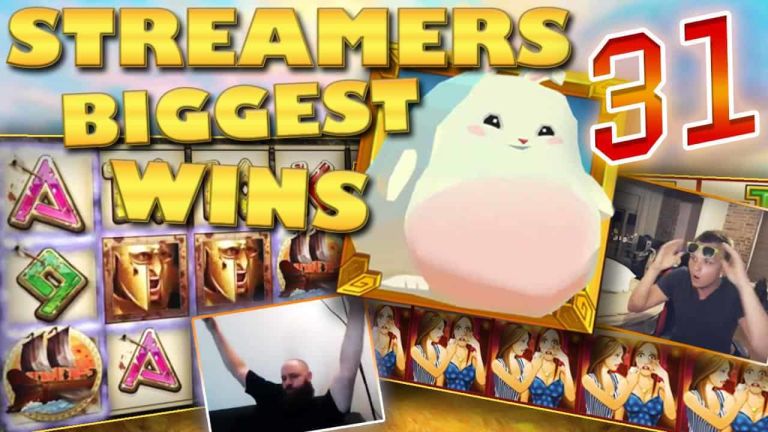 Casino Streamers Biggest Wins Compilation Video #31/2018
As we enter the last summer month we take a look at Casino Streamers Biggest Wins – Week 31 of 2018. The casino streamers bring us a one of the best big win compilations we ever had. Each hit is unique and spectacular, moreover they all come from the 1st until the 5 of August 2018. If you want to try any of these slot machines, you can play them, for real money, on any online casino on our trusted casino list. Watch a quick montage of the wins on the video below:
Huggehugg
We start Casino Streamers Biggest Wins – Week 31 of 2018 with the 300 Shields slot machine which was on fire last week. Therefore we have two super mega wins from this particular game. First off it was Huggehugg playing the game on a SEK 12.5 bet at NightRush casino. The slot streamer got all the way up to the 300x multiplier and thanks to two lucky spins the total bonus result was 830x the stake. If you thinks this win was good, wait til you see the next.
CasinoReggie
Even though it is not the biggest hit of the compilation, I still could not let this one out. I am talking for course about my win on the Railroad slot. The Merkur game triggered the bonus during a SEK 10 bet on LeoVegas. Usually, with this particular slot machines, you hope for re-triggers and accumulate multiple free spins. However on this bonus, that was not necessary as on just the 4th spin I got a big 397x the stake hit. Not bad at all!
Miikapekka
Next comes a one hit wonder from miikapekka. The slot streamer was playing the volatile Star Quest slot when it all happened. This game has tremendous potential, thanks to a combination of mega-ways, multipliers and wild reels. Our slot streamer's win used all three of these features and turned a €1 bet into a 897x the stake win. Videoslots is where Miika got his win, and is also one of the the biggest online casinos.
Rex Borgersen
Next up we have Rex Borgersen feeding the Fat Rabbit. The slot streamer got the free spin bonus on a €2 bet at Casumo. Therefore the goal now was to get as many carrots as possible. - And get them he did! Thus, landing one after the other, the carrots made the rabbit grow to its max, covering the whole reel set. This is the absolute best result you can get from this slot game and the payout was an epic 1866x the stake.
Shirox1980
I told you we were not done with 300 Shields. This second win however, is just beautiful. The shields is by far my favorite slot machines, so it is always exciting to see spectacular wins like this one. Specifically it was a bonus round on a €5 bet by Shirox1980. In the same way as the previous win, here also the casino streamer managed to reach the 300x multiplier feature. Subsequently, he had 5 spins to get a winning combination using at least one wild. This is the only way te multiplier activates. Indeed that is what Sirox got, and the result was a super mega win of 2052x the stake. Play this game on Rizk, and tell us how much you win.
Bonus Wins
Before we end Casino Streamers Biggest Wins – Week 31 of 2018, we have to mention two more big wins that you will see in the compilation. One of them is from Jake's Slots on the Extra Chilli slot machine. While the second comes from Slotspinner on the Georggie Porgie casino game. At the same time we also have something for all you table game lovers out there. Specifically a sick roulette hit by non other than Nickslots. Finally you can go to Dunder casino if you want to play any of these last three casino games.
Tell us which win on Casino Streamers Biggest Wins – Week 31 of 2018 was your favorite. Share your thoughts in the comments. Also make sure to check our other videos on CasinoGround's YouTube channel.