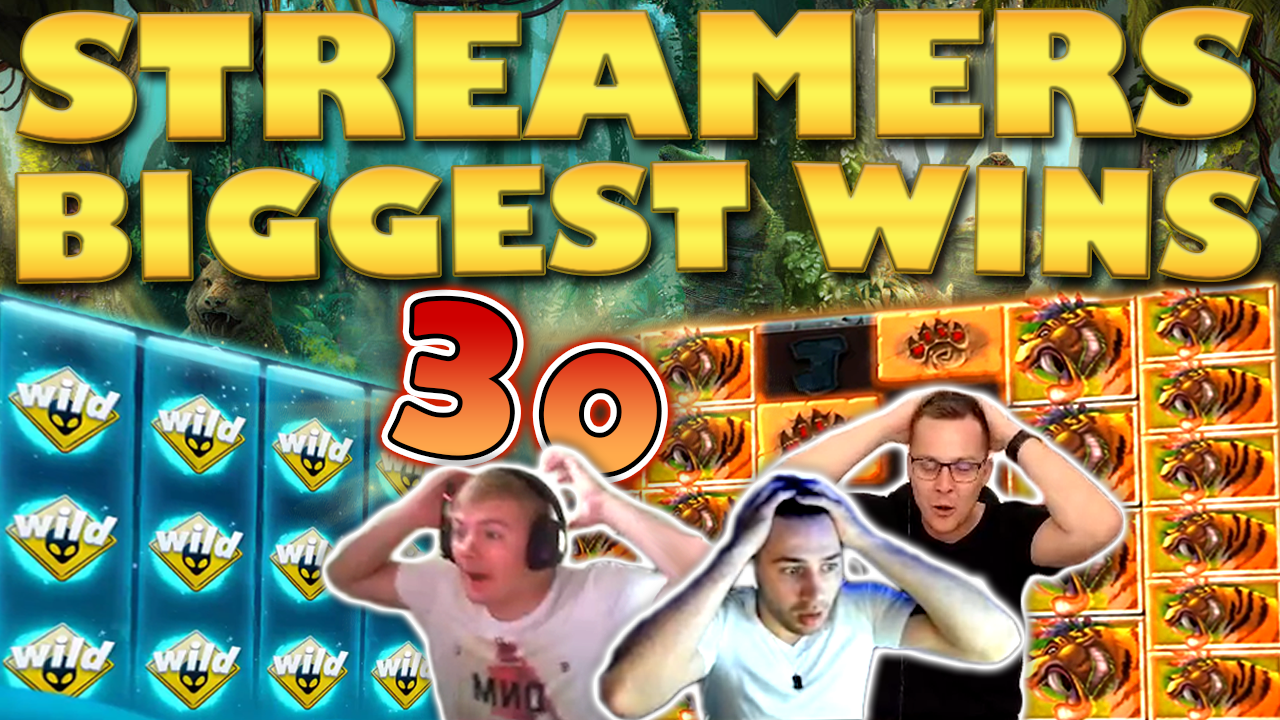 Casino Streamers Biggest Wins Compilation Video #30/2019
For today's Big Wins segment we have a very special clip. Primarily due to the fact that most streamers featured are part of CasinoGrounds. Moreover the hits are, as usual, extremely spectacular. In addition the variety of slot machines is also impressive, with multiple well known and new games. Therefore, let's take a look at what your favorite casino streamers did last week.
Quick summary of the streamers biggest wins in this article:
8208x Juusbaaa – Jammin' Jars

7704x Casino Land on Dead or Alive 2

1200x DeluxeCasinoBonus on Primal Megaways

788x Slotmad on Tractor Beam

691x Spintwix on 300 Shields EXTREME

500x Slotplayer on Magic Mirror Deluxe 2

712x The Magician on Napoleon

1200x Play4Mike on Primal Megaways

10721x JJCasino on Dead or Alive 2
Casino Streamers Biggest Wins Video Montage
Juusbaaa & Slotmad
Let us start with a big one! Specifically with Juusbaa and his mega win on Jammin Jars. The wilds did one hell of a dance performance on the bonus, with the multipliers, on each of them, getting quite high. Hence, the end result for our streamer was an epic 8208x the stake. Needless to say the reaction form the steamer was hilarious. More so since we do not really know what he was saying in Finish. You can find Jammin Jars on Wildz casino, if you want to give it a try.
Moreover, Slotmad got a full screen wild on a less known casino game. Tractor Beam is the name of the slot, and by the looks of it. – The game has a lot of the potential. I admit it is the first time I see this game, thus I am not very familiar with its mechanics. However, Slotmad's win picked my curiosity, and I bet the same goes for many other players.
Play4Mike & DeluxeCasino
Next we have two players trying out the same game. Both Play4Mike & DeluxeCasino decided to play Primal Megaways, last week. Moreover they both got lucky on the base game. Thus they did not even need free spins to win big. Even stranger was the fact that they both got exactly 1200x the stake. – Talk about a coincidence. However this where the similarities end. – As Play4Mike win was thanks to multiple Tiger symbols, while the rhino creature symbol was the lucky one for DeluxeCasino. If you are looking for a casino to play Primal, head to Royal Panda. There you will find this slot, along with all other Blueprint titles.
Spintwix, The Magician & Slotplayer
The middle part of the video compilations features big hits on three of my favorite slot machines. Spintwix triggered the free spin feature on the 300 Shields game, during a €5 bet. Furthermore, the streamer got enough scatter symbols to reach the 300x multiplier. Finally, thanks to a lucky combination with wilds, Spintwix won a massive €3456 payout. On the other hand, the two other wins come from the base game. The Magician gets an unusual line with wild symbols on the Napoleon slot. A similar hit from Slotplayer whose win came from the Magic Mirror 2 game. Kaboo is an online casino where you can find all three of these slot machines.
JJCasino & Casino Land
I have trouble remembering the last time we did not have Dead or Alive 2 as the best win of our compilation. Well today is no different, as we bring two epic hits on the NetEnt slot. The best of them is from JJCasino who got a stupendous 10721x the bet on the bonus round. As you can imagine, it was the High Noon saloon feature with the wild multipliers which delivered the win. Similarly, Casino Land also got a huge reward thanks to that exact bonus on DOA2.
Tell us which win on Casino Streamers Biggest Wins – Week 30 of 2019 was your favorite. Moreover, share your thoughts in the comments. Also, make sure to check our other videos on CasinoGround's YouTube channel.
Share with friends on
Email