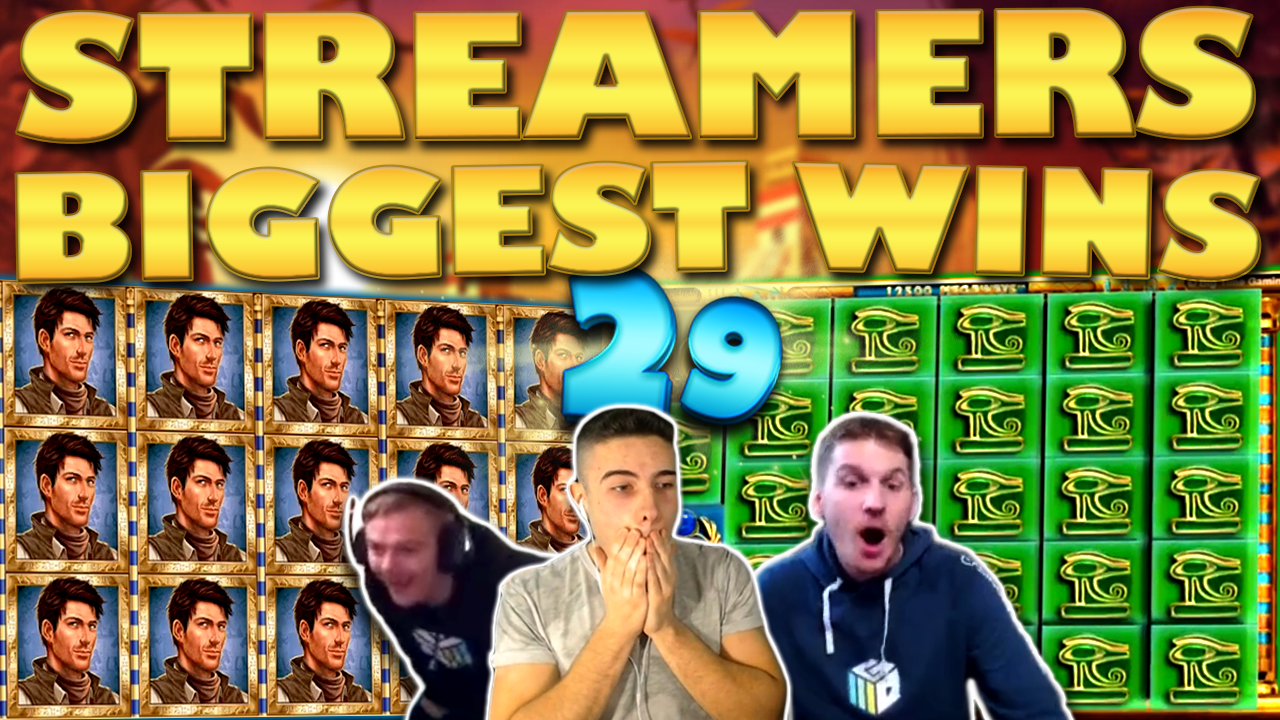 Casino Streamers Biggest Wins Compilation Video #29/2019
Like every other week, today we gather the best and biggest video slot wins from the most popular casino streamers. On this Big Wins segment wins are spectacular to say the least, and they come in all forms. From base game big hits, to mega free spin rounds, and from all types of different video slots. It is truly difficult to decide which one is the best. So make sure to watch all our compilation and let us know whose win is your favorite.
Quick summary of the streamers biggest wins in this article:
5469x MitaaSpins on Queen Of Riches

2130x Miikapekka on 300 Shields Extreme

1110x JimboCasino on Jammin Jars

920x Spajek on Diamond Mine

400x LetsGiveItASpin on One Armed Bandit

874x Slotspinner on 300 Shields Extreme

1073x Takethehit on Vikings

1701x The Bandit on Temple of Treasure

1922x Juusbaaa on Jammin Jars

4521x NickSlots on Dead or Alive 2

5000x AyeZee on Book Of Dead
Casino Streamers Biggest Wins Video Montage
Miikapekka & Slotspinner
We start with the latest slot machine from NextGen. The game is 300 Shields Extreme, and like the name suggests it is an extreme version of the old 300 Shield. The new title is very similar to its predecessor, with the bonus buy feature as the most noteworthy distinction. Hence, the goal is to land 10 scatters, in total, during the free spin feature. This will give you the opportunity to play the 5 last spins, of the bonus, with a multiplier of 300x. However you need the win to include at least one wild for the multiplier to take effect.
Both Miikapekka and Slotspinner managed to go all the way to the final round of the bonus. Moreover they got lucky combinations with the wilds. The first with a full line of the Jack symbol plus the wild. While the second got a premium symbol and three wilds to go with it. Hence, two super big wins for you to enjoy.
Juusbaaa & JimboCasino
One more slot that was lucky for two slot streamers, last week, is Jammin Jars. We all know what Jammin can do, but the game never misses a chance to remind us. In this case, the first winner was Jimbo who got the free spin round while playing on Casumo casino. Here, after landing a forth scatter, the streamer got an amazing combination of scatter/wilds and the top strawberry symbol.
Similarly Juusbaaa also managed to trigger the free spin feature and get the extra scatter. However his win came thanks to many smaller hits. Therefore the multipliers, on the scatter/wilds, went through the roof. – As a result his final win, of 1922x the bet, was ever better than Jimbo's .
Spajek, Takethehit & LetsGiveItASpin
Let us talk about three additional clips that are part of today's compilation. One of them comes to us directly from Poland where Spajek was trying out the Diamond Mine slot. During the bonus round, with an 11x multiplier, the streamer got a whole bunch of "A" symbols, in one of the free spins. Hence he got out of the bonus with a 920x the stake profit.
Next is Kim and his big win on the new One Armed Bandit slot from Yggdrasil. This game is available on selective casinos, including LeoVegas. It's the first time I see One Armed Bandit, however I quite like it. The animations are, as usual from Yggdrasil, top notch. Moreover, I quite enjoy the bonus with increasing multipliers feature. Kim was enjoying it as well, more so after his €2400 win.
To complete this trio we have Takethehit. He called for us, during his win, and we are answering. The lucky slot for Takethehit was Vikings, where thanks to an army of Bjorns he got a huge 1073x the bet win. I hope to see him win way more often, and every time he calls for Casinogrounds. – We will be there to answer.
NickSlots & The Bandit
Well it was only a matter of time! During the past few months we saw Dead or Alive 2 give monster wins to both casino streamers and players alike. Thus it is no surprise to see Nickslots get his due on this game. The streamer was playing the game on four different casinos, at the same time, when he hit the bonus on Rizk. Here, on a £0.9 bet, Nick got the wild line. Strangely enough though, he did not opt for the usual "High Noon Saloon" bonus round. Instead Nick picked the classic Dead or Alive free spin round. Now 4521x the bet win is nothing to complain about. However I can only imagine how big the win would be if he chose the High Noon Saloon.
We stay in Britain for one more big hit, this time from the Bandit. His game of choice was Temple of Treasure. The Bandit bought the bonus feature, and he was lucky to pick the max number of spins and the max number of megaways. In addition, due to the large £10 bet size. – His reward was a hefty £17000.
MitaaSpins & AyeZee
As usual we save the best for last. – And on this compilation's case that is MitaaSpins and his one hit wonder on Queen of Riches. This game was turning heads, last year, thanks to the many spectacular wins it granted to streamers. However this year we have not seen it as often. – Well the Queen is back and with a bang. Specifically a 5469x the stake win, which MitaaSpins got in just one lucky spin.
Finally do not miss AyeZee's big win on Book of Dead. It is not often we see a streamer get a full screen of explorer symbols live.
Tell us which win on Casino Streamers Biggest Wins – Week 29 of 2019 was your favorite. Moreover, share your thoughts in the comments. Also, make sure to check our other videos on CasinoGround's YouTube channel.
Share with friends on
Email