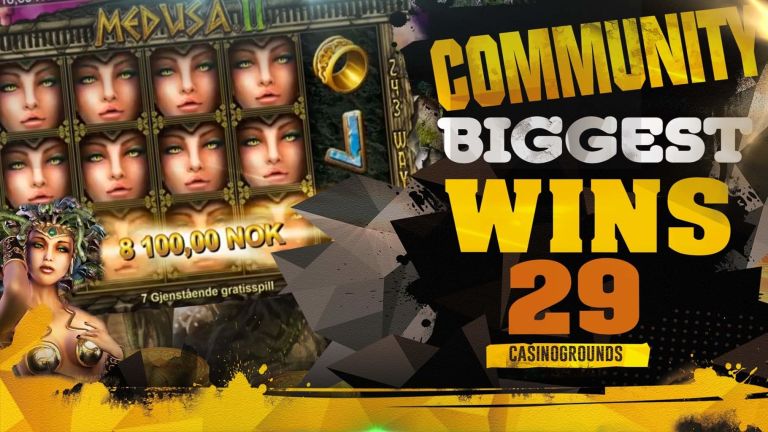 Community Big Wins Slots Compilation Video: #29/2017
Community biggest slot wins #29 brings the biggest and best slot win from our viewers. Like in all other iterations, we have 2 compilation videos, both full of incredible video slot wins. Usually the first compilation includes only clips of bonuses, features and massive base game hits. While the second compilation, is in its entirety made of screenshots wins. All the wins come from the CasinoGrounds Forum, a place for gamblers and gambling. Today's compilations include wins from the 28th of July until the 4th of August 2017. So enjoy the first compilation which we link to this article. And keep an eye out on our "Casinogrounds Facebook" page where we will post the screenshot wins, later today. Finally, if you like any of the slots featured you can find them on redbet casino, or any other big online casino.
Community biggest slot wins #29 - Clips
The Community biggest slot wins #29 compilation video starts strong. And first there is a big win on non other than the Book of Dead slot game. And even though with just the King as the expanding symbol, the win is still amazing. That's the best thing about the book, no matter the expanding symbol, it will always give a good win on the bonus. If you want to try the Book of Dead slot game, you can find at betsafe casino. Further, we stay on the mythology theme, but we jump from Egypt to Greece. So the second clip is a massive bonus on Medusa 2, an old and classic title. This casino game is available in almost in any casino, including CasinoRoom. In addition, Bonanza shows us one more time why it's such an amazing video slot. This time with a colossal bonus feature. If you want to try the casino game, head to Dunder casino. Yet another slot machine that shows its potential, this week, is the Wish Master. Notoriously good, this slot game has such high potential that most casinos do not allow you to play it with bonuses. You can play the Wish Master slot, for real money, at Winning Room casino. Finally, we have to talk about the last clip of the compilation video. And we warn you to sit down before watching it. Here we have an unreal bonus on the 300x Shields slot game, and that's all we are going to say as it's better if you watch it with no spoilers. You can find the 300x Shields video slot at bobcasino, and if you play it, see if you can do better.
Community biggest slot wins #29 - Screenshots
The second compilation video, of Community biggest slot wins #29, is all about them screenshot wins. The wins here are more numerous, as the majority of our CasinoGrounds Forum members prefer to take pictures of their big hits. Moreover, these wins are with a bigger variety and the best sizes are also different for every player. Here you will see bets that go from super high to very modest. Finally we have to mention that the majority of these wins come from casinos like  – calzone online casino and Cherry Casino. But these are just two, cause we can't possibly name them all. We will post the second clip on our CasinoGrounds Facebook Page at exactly 18:220 PM today. If you have a big win that you'd like to be featured, don't hesitate to make a post about it in CasinoGrounds Forum. Keep in mind that the more spectacular or impressive the win is, the bigger the chance it has to be part of the next video.
Take a look at the compilation on the video below:
---
Subscribe on CasinoGround's YouTube channel to get updates on all the latest Community Biggest Wins videos. Moreover, take a look on our other segments: Biggest Slot wins on Stream and Slot Mechanics.
Did your win make it on today's video?
Which community win do you like the most? – Make sure to let us know on the comments.