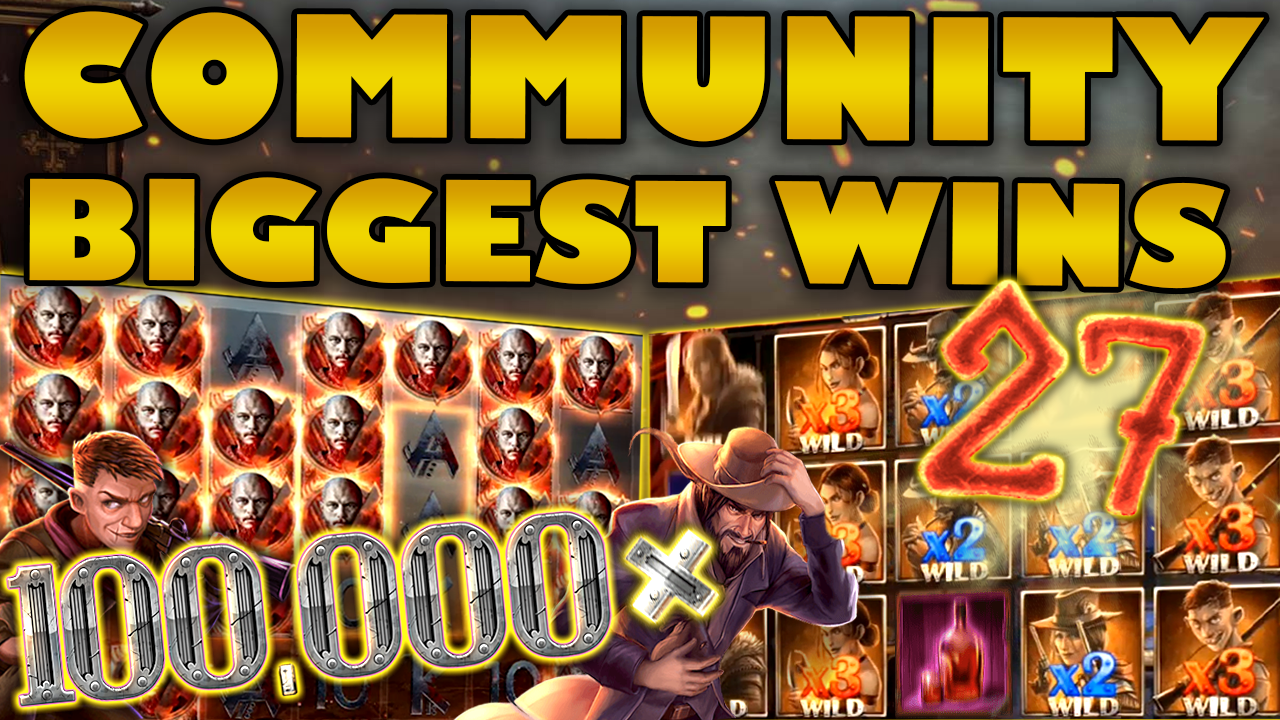 Community Big Wins Slots Compilation Video: #27/2019
You better sit down for this one!
On the previous compilation I made a point of saying that it was the best gathering of slot wins we ever featured. Moreover I was pretty convinced that it would be impossible for better wins to come. Well, just one week after, I am proven wrong. – And I couldn't be more glad about it. Hence today we give you the biggest DOA2 win a player has ever gotten. Moreover, a number of other slot hits, each one amazing in its own right. Thus, let's just get to it and check out the wins.
The hits of today are:
7871x allinbob9211 on Genie Jackpots

3559x Erik on Dead or Alive 2

730x OmegaSlots on Queen of Riches

446x withitkid on Raging Rhino Megaways

1880x antischaap on Jammin Jars

706x David on Lara Croft Temple

432x IkurFPV on Midas Golden Touch

1444x dersaam on Opal Fruit

3318x bloodshot_huck on Vikings

100641x jucepi on Dead or Alive 2
Community Big Wins Compilation #27, 2019
About this week's Biggest Slot Wins
Before we get into the top wins of this video, we can go through the rest of the slot hits. As always Big Time Gaming machines are present, with Opal Fruit and Queen of Riches both giving spectacular payouts. Naturally, the Queen of Riches was a base game hit, as the game possesses no bonus round. The opposite of Opal Fruit, which paid the lucky player on the free spins. Both games are available on Hyper casino, along with most other BTG titles.
Since we are on the megaways topic, we have to talk about the new Raging Rhino Megaways. We are a bit split when it comes to this game. Half of us absolutely love the new version, while the other half is more skeptic. Personally I expected more from the Raging Rhino Megaways. As a better version, of one of the most classic slot machines, it should have been much more exciting to play. Check out "withitkid's" win on the compilation, or try the new Rhino on Kaboo, and let us know what you think.
Now for a multiple ways slot that we can all agree it's good. Specifically, Genie Jackpots which brings us yet another epic win. A 7871x the bet, thanks to the mystery wishes feature. What is interesting though is the fact that the player got the bonus after a 6 scatter trigger. This convinces us even more that the more scatters you get, the better the bonus round will be.
On today's compilation you will also find three more great wins. Respectively on Midas Golden Touch, Lara Croft Temple and Jammin Jars. All three games are available on LeoVegas casino. Naturally the Jammin Jar slot gives the best result of all three.
The best DOA2 win to date
Honestly I am running out of superlatives to say about DOA2. This game is defining all expectations. Week after week the new Dead or Alive is showing us what it means to be a volatile slot. However nothing compares to today's win. One lucky player with the nickname "jucepi" got a super mega win of 100641x the stake. This is by far the best bonus result ever recorded on this slot machine. Moreover, it is extremely close to the max out win of Dead or Alive 2. We could not believe our eyes when we first saw it, and I bet you will feel the same. Finally we have to say a big congratulations to "jucepi" one more time, and we hope he spends the winnings wisely. As for the rest of us, let us hope we get a win half as good as this one.
Remember to share your own wins on the forum, for a chance to be part of future compilations. Check out more big win videos on CasinoGround's YouTube channel.
Share with friends on
Email