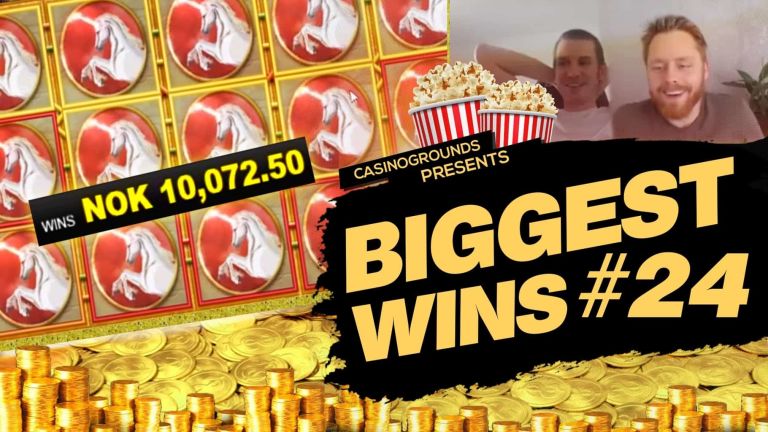 Community Big Wins Slots Compilation Video: #24/2017
This Friday we bring the Community biggest slot wins #24. Or in other words, the best and biggest video slot wins shared on CasinoGrounds Forum. Like every other week, we divide the wins between two amazing video compilations. The first compilation includes only clips of bonuses, and base game hits, all of which result in spectacular wins. The second compilation features screenshots wins, from a number of different slots and providers. Today's copilations include wins from the 23rd until the 29th of June 2017. The first compilation video is the highlight of the article, and every clips is a must watch. That's why we incorporate the first video on this article, while the screen shot wins compilation we share, on our "Casinogrounds Facebook" page, later today. And as always, if you like any of the slots featured you can find them on Super Lenny casino, or any other big casino.
Community biggest slot wins #24 - Clips
Today, the wins on Community biggest slot wins #24 are from a number of different slots. Most of these slots will be familiar to our viewers. So you will find an insane win on the Flame Busters slot machine. As we have said before, the game is unanimously regarded, as the best new slot of the year. If you want to try the Flame Busters slot machine, you can find at Casumo casino. Moreover there are two incredible bonus rounds on the Cazino Zeppelin online slot and the Danger High Voltage slot. You can find both these, casino games on calzone casino. Furthermore, the Hugo slot game makes an appearance as well. If you want to try this classic casino game, head to MrGreen casino. Immediately after it's release, the new Jurassic World video slot, shows it potential with an amazing bonus. Finally the last win is an impressive free spins round on the Magic Mirrors casino game. You can find both these online slots on LeoVegas casino.
Community biggest slot wins #24 - Screenshots
The second compilation video, of Community biggest slot wins #24, focuses entirely on screenshots of big wins posted in CasinoGrounds Forum. The wins are more numerous and very diverse, coming from a variety of slot games on different online casinos. – Quasar online casino and WilliamHill casino just to name two. We will post the second clip on our CasinoGrounds Facebook Page so keep an eye out for that as well. If you have a big win that you'd like to be featured, don't hesitate to make a post about it in CasinoGrounds Forum. Keep in mind that the more spectacular or impressive the win is, the bigger the chance it has to be part of the next video.
Take a look at the first compilation on the video below:
---
Subscribe on CasinoGround's YouTube channel to get updates on all the latest Community Biggest Wins videos. Moreover, take a look on our other segments: Biggest Slot wins on Stream and Slot Mechanics.
Did your win make it on today's video?
Which community win do you like the most? – Make sure to let us know on the comments.