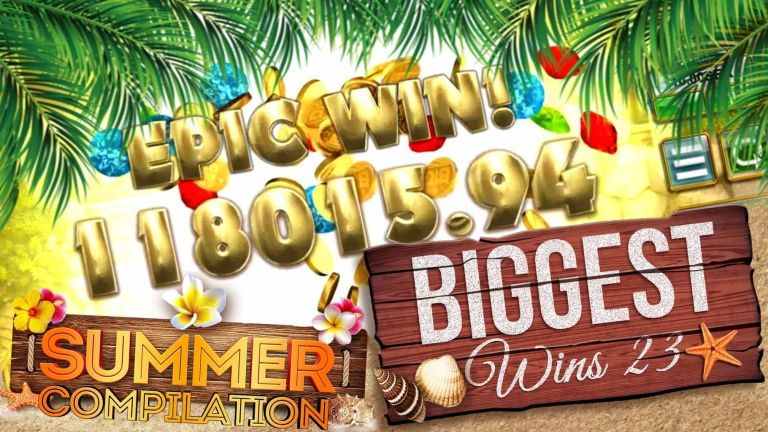 Community Big Wins Slots Compilation Video: #23/2017
This Friday we  have something special in mind. Instead of the usual "Community biggest slot wins" we bring you a "Biggest slot wins Summer Compilation" . This compilation video includes the biggest and best video slot hits made form our forum members, for year 2017. So we take this opportunity to give a big thanks to our forum members. And we thanks them, not only for filling  CasinoGrounds Forum with numerous spectacular big wins. But for impressing us with spectacular slot wins, week after week, since we stared the forum. The compilation will include only clips, while the screen shots video will be as usual. Both videos encompass wins form a number of different slots and providers.  The compilation video is the high light of the article, and they are all super epic wins, a number of them you might remember from previous segments. The screen shots are also pretty impressive. So we encourage you to check both of our compilation videos! And as always, if you like any of the slots featured you can find them on Cherry Casino, or any other big casino. Finally we want to give a big shutout to all our Swedish members and which them a happy Midsommar :)
Community Big Win Screenshots
The second compilation of Biggest slot wins Summer Compilation focuses entirely on screenshots of big wins posted in CasinoGrounds Forum. The wins here are more diverse, coming from a variety of slot games on different online casinos. – Maria Casino online casino and iGame casino just to name two. We will post the second clip on our CasinoGrounds Facebook Page so keep an eye out for that as well.  If you have a big win that you'd like to be featured, don't hesitate to make a post about it in CasinoGrounds Forum. Keep in mind that the more spectacular or impressive the win is, the bigger the chance it has to be part of the next video.
Take a look at the compilation on the video below:
---
Subscribe on CasinoGround's YouTube channel for more Biggest slot wins Summer Compilation, as well as the latest Community Biggest Wins videos. Moreover, take a look on our other segments: Biggest Slot wins on Stream and Slot Mechanics.
Did your win make it on today's video?
Which community win do you like the most? – Make sure to let us know on the comments.