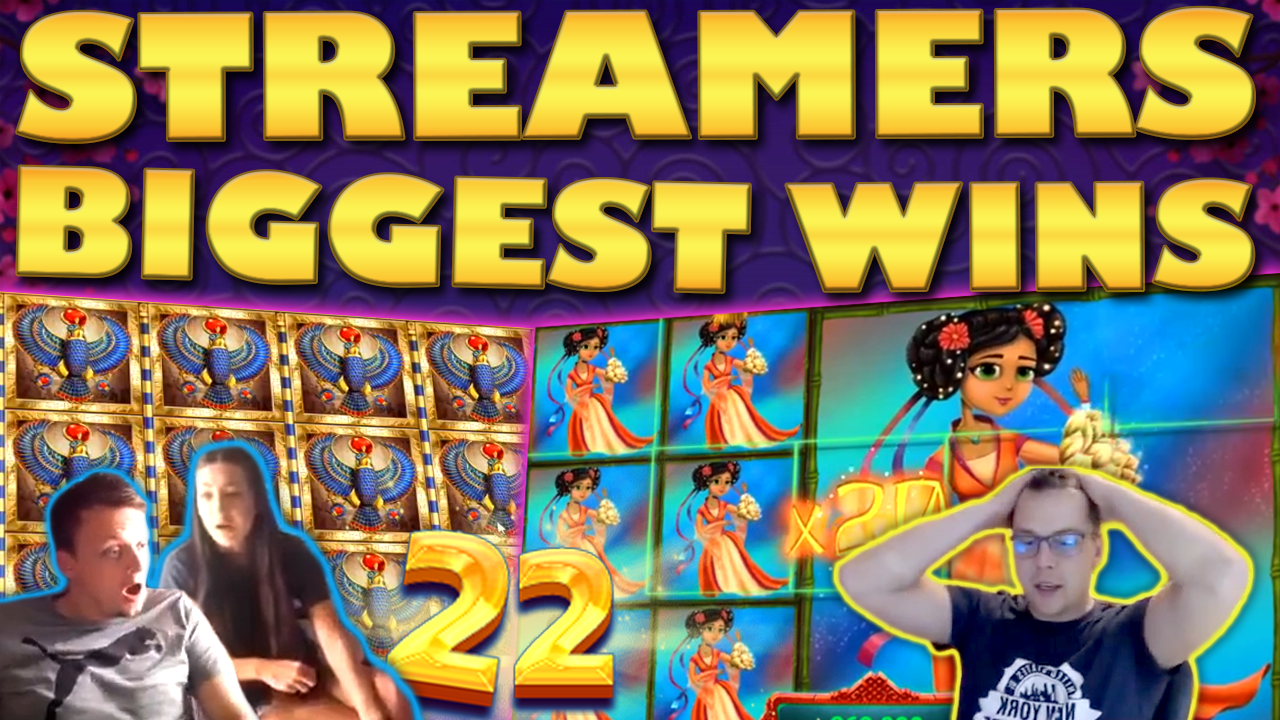 Casino Streamers Biggest Wins Compilation Video #22/2019
For the first compilation of June we have a number of hot wins from your favorite slot streamers. There are nine hits in total, every one of them special in its own way. Moreover, we have a large array of different games featured, as well as, some of the most well known casino streamers out there. Thus, let's jump in and take a look at all the casino wins on today's video.
Quick summary of the streamers biggest wins in this article:
Spintwix wins 1239x on Dead Or Alive 2

Slots4Fun 777 hits 724x on Bonanza

Fruity Slots lands 635x on Book Of Dead

Huggehugg takes 366x on Immortal Guild

Casino Land makes 650x on Drive

Slotspinner hits 750x on Opal Fruits

LetsGiveItASpin gets 862x on Buffalo Rising

Shaw Slots hits 910x on Genie Jackpots

Deluxe Casino Bonus wins 1312x on Taste of China
Casino Streamers Biggest Wins Video Montage
Spintwix & Casino Land
We start our compilation with NetEnt games. – We have to admit that their latest slots have been pretty incredible. The best of them is undoubtedly Dead or Alive 2, which you can find on Turbico casino. This slot has given us some of the best wins that we have ever featured on our compilations. Spintwix's bonus win is another example of the potential this game has. – I am just waiting for someone to get the absolute max win on this casino game.
Now we all expect wins from games like DOA2, but it is exciting when you see underdogs, like the Drive Multiplier Mayhem, also pay big. Thus, Casino Land's 650x the stake bonus win on it, is quite rare and enjoyable to watch.
Slots4Fun & Slotspinner
From one big game provider to the next, as we take a look at two wins from two Big Time Game titles. This is a real clash between old and new. – As in one corner we have the classic Bonanza slot giving a massive bonus to the Slots4Fun casino streamer. It is good to see that, despite the numerous similar slot games, Bonanza hasn't lost its popularity.
On the other hand we have the latest release from BTG. The new Opal Fruit slots which is available on LeoVegas. Who better to show this new game's tremendous potential than Slotspinner. Luck is, like usual, on his side. – And he manages to get a 750x the bet win on the new slot. This is actually one of the first big wins we have on Opal Fruit. However, I predict there will be many more.
Huggehugg & Fruity Slots
Two additional streamers we feature on today's video are Huggehugg and Fruity Slots. I am particularly happy to see Hugo make a return after an unlucky period for him on stream. Now even though his hit on the Immortal Guild slot is not as massive as the rest of the big wins featured. – We hope this is will be a turning point, to return him on his winning ways.
Fruity Slots hit is one that we often see on our videos. However, that does not make his Book of Dead win less impressive. The bird was the word this time and thanks to the birds, being expanded symbol, he got a nice payout.
LetsGiveItASpin & Shaw Slots
When LetsGiveItASpin moved to Malta we were all concerned if his luck would follow him. Well it appears it has, and the proof is his latest hit on Buffalo Rising. On his last stream, Kim managed to get two sick hits on this slot while playing on Frank&Fred casino. First one was a bonus round on the game, and then just moments later a huge base game hit.
Buffalo Rising's twin brother is the Genie Jackpots slot machine. These two games are pretty similar, and we are fortunate to see them both in action on this compilation. Thus, after Kim's hits on Buffalo, we have Shaw Slots smashing the Genie game with a "Mystery wishes" feature on the bonus. I have said it before, and will keep saying it. – Mystery Wishes is the best feature, out of the four, Genie Jackpot has.
Deluxe Casino Bonus
As always we save the best win for last. On today's case that win comes from the Deluxe Casino Bonus Channel. Now I have to admit that I have never seen this slot in my life. Apparently the game's name is Taste of China, and from the looks of it. – It can Pay. Have you ever played this game? What's you best hit on it? Let us know by sharing your wins in the forum.
Tell us which win on Casino Streamers Biggest Wins – Week 22 of 2019 was your favorite. Moreover, share your thoughts in the comments. Also, make sure to check our other videos on CasinoGround's YouTube channel.
Share with friends on
Email