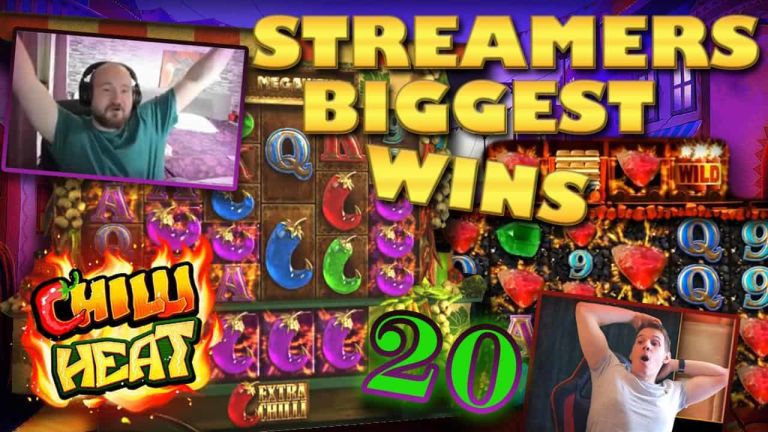 Casino Streamers Biggest Wins Compilation Video #20/2018
The new Casino Streamers Biggest Wins – Week 20 of 2018 comes at the start of an intense couple of weeks. Numerous giveaways, viewer meetups, parties and more are on their way. However before we get there let's take a look at an insane week full of super mega wins from the best casino streamers.
All the hits come from the 14th until the 20th of May 2018. Lastly, if you want to try any of these slot machines, you can play them, for real money, on any online casino on our Streamers top rated casino bonuses and casinos list.
Watch a quick montage of the wins on the video below. Follow the detailed videos of every win from each of the streamer's personal channels.
---
Jarttuslot Goes Big with a €10 Bet on Book of Maya Slot and wins x568
It is unusual to start a compilation with Jarttuslot. Usually the Fin is most times last. - As his wins are always some of the biggest. That shows you that today's Casino Streamers Biggest Wins – Week 20 of 2018 is not like the other compilations.
The slot wins this time are truly amazing. As for Jarttu, his big break came from the Book of Maya slot which he was playing on OVO casino on a big €10 bet. Hence, thanks to a free spin bonus with the best premium as the special expanding symbol, he got a 568x total win.
---
Craig Turns a £ bet to a Mega x622 Win on Magic Mirror 2
Normally i never include long clips on these segments. However i have to make an exception today for the toppest lad Craig. We are so glad to see him win big, even more so since he did it on the beloved Magic Mirror 2 video slot. Therefore thanks to the huge potential of this slot and the many retriggers, his £2 bet turned into a mega 622x win. You will find Craig's hit on min "22:20" of the clip below. Or you can go to LeoVegas and try the game yourselves.
---
NickSlots Travels to Merkur and Smashes Knight's Life with a £2.5 Bet for a x698 Hit
We remain in the British Isles as we jump from one Merkur powered slot game to another. Now it was time for Nick to smash the good old Knight's Life casino game while playing at calzone casino. Triggering the bonus round on a £2.5 bet. Nick did what he does best and won an impressive 698x the stake reward.
---
Slotspinner Nets x1000 his £2.5 stake on Railroad
When a free spins round last for almost an hour it an exciting thing to happen. Even more when that bonus pays you 1000x. Not a lot of slots can do that but it is certainly possible on Railroad. Slotspinner got such bonus last week with 560 spins while playing on Dunder. We have cut most of it and left only the important parts. However you can see the entire €2.5 stake bonus on the streamers personal channel.
---
MiikaPekka' Endorphina Twerk Scores him x1.093 his Stake
Another popular game with the players is Twerk! - For obvious reasons of course. I am not talking about just the funny theme. More importantly, like most other Endorphina games, this one has huge potential for massive wins. Therefore, thanks to that potential our streamer Miika got a 1093x win on the games bonus. There are not many online casinos that feature this slot, but you can find it on Videoslots and a few selected others.
---
Shirox1980 Feeds the Royal Panda Extra Chilli and Walks Away With a x5.439 his Stake! 
If you count just the wins in relation the the stake, then Shirox1980 had the best win last week. Specifically a 5439x on BTG's Exta Chilli slot. In addition what made this win so impressive wha that it was only on a 16 initial free spins. That means that our streamer did not gamble to the end for more free spins, but still won massively. The mega win was a result of the re-triggers in combination with increased multipliers and premium symbols landing. Play Extra Chilli on Royal Panda, for real money, and let us know what you get.
---
Dask Goes Completely Bonanza and Show us How Online Slot Millionaires are Made ...!
I am fairly sure that most of you knew this was coming. This last win shows the crazy potential online slot machines have, as one streamer becomes a millionaire in just one spin. I am talking of course about Daskelele and his €20 bet bonus round on Bonanza. I will let you experience it as everything I say does not do this magnificent super mega win justice. Therefore enjoy:
---
Tell us which win on Casino Streamers Biggest Wins – Week 20 of 2018 was your favorite. Share your thoughts in the comments. Also make sure to check our other videos on CasinoGround's YouTube channel.