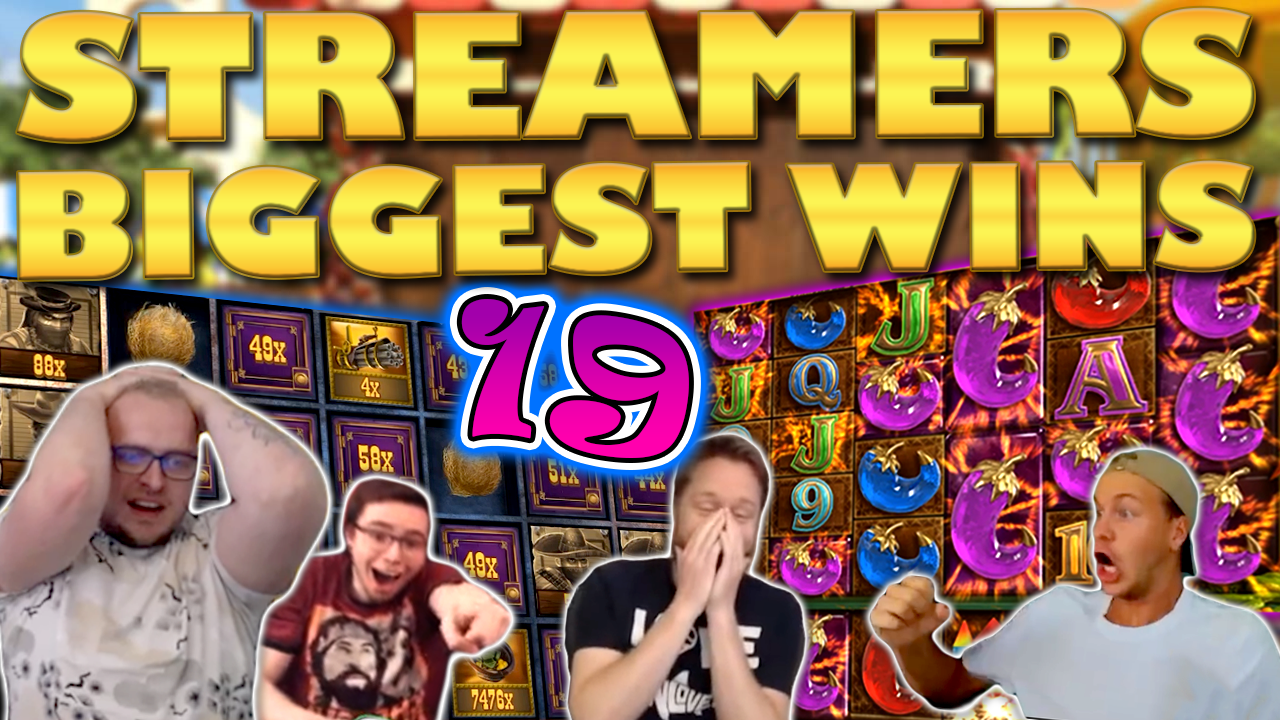 Casino Streamers Biggest Wins Compilation Video #19/2020
Another Tuesday is here, and with it comes the latest compilation of our big win segment. Today, we feature eight slot streamers with hits on a variety of different games. Hence, we have bonus buys, free spins, one hit wonders and more. In addition, the video also includes an extra clip at the end. So make sure not to miss it. Now, let us start and talk a quick look at everything on the menu.
Casino Streamers Biggest Wins Video Montage
Daskelelele & Dumbros
As per usual we begin with the second best hit of the video. In today's case that comes from Daskelelele on the Money Train slot. The streamer was playing at Party Casino when he triggered the free spin feature. Here, the bonus was an absolute rollercoaster of emotions, with every spin producing incredible results. Thus, not only did Daskelelele activate all reels, but also he landed a bunch of bandit premiums to help with the multipliers. As a result the streamer got his biggest win to date, or in other words, more than €42k payout. Daske was not the only one to get lucky on Money Train last week. Hence, we also see Dumbros get a hit on the Relax Gaming powered slot. Granted, his bonus win is definitely less grandiose than Daske's. However, a 1264x the bet, is still a pretty amazing result.
Play4Win, SelectedNoob1 & David Labowsky
Additional slot machines which are part of this compilation include Dragon Fall, Crystal Ball and Hellcatraz. For the first two hits, they come in a very classic fashion, so there is not much we can say about them. Moreover, almost all are familiar with the manner in which Dragon Fall and Crystal Ball produce wins. Thus, Play4Win activated the free spins on Dragon Fall, and made four wilds dance around the reel set. In turn, these wilds increased their multipliers and got into winning combos with other symbols. Therefore, the final result was a huge win of 1136x the bet. On the other hand, SelectedNoob1's Crystal Ball win was a one hit wonder. The casino streamer got a line of the best paying premium. Hellcatraz is the latest release from Relax, and you can find it at LeoVegas. We have to thank David Labowsky for giving us the first ever win, on this slot, in our videos. Honestly, I have to admit the game reminds me of Flame Busters, but only in the design. Hellcatraz has numerous features and bonuses that make it quite unique. Now, as for the hit itself, that was a 2191x the bet during the super free spins. Try the game out and let us know what you think.
Casinolandstreaming & ShaneTSGTV
Another game provider, featured extensively, on today's clip is Big Time Gaming. First we see Casinolandstreaming get into a long bonus on good old White Rabbit. For those of you who are not familiar. - This was the first slot machine ever to implement the bonus buy feature. Therefore, not only did Casinoland get into the free spins, but he also managed to fully activate all reels. Hence, get more than 50 spins. Honestly, with that set up, I was surprised he did not win more. The second BTG hit is from ShaneTSGTV on Lil Devil. Now, we are used to seeing super mega wins on the Devil. However, this time around we went on a different route. Thus, even though the win is only 723x thye bet, it comes from the "Dynamite Lover" feature. We have exclusively seen only the "be my angel" one on our compilations. - So we thought it would be nice to check out the second bonus on Lil Devil.
MitaaSpins & The Bandit
Finally, we reach the end where we find the best win of the day. In this case, it means a bonus round on Extra Chilli from MitaaSpins. This is actually, the highest payout this streamer has ever gotten, while live. Thus, we are double happy. - For him, and for the amazing 10083x the stake we get to share with you. Lastly, we also have to mention the bonus clip. Hence, at the end of the video, you will find one last gamble. Specifically, the bandit doing one of his usual pluderings on Reel King. - So check that one out as well. Tell us which win on Casino Streamers Biggest Wins – Week 19 of 2020 was your favorite. Also, make sure to check our other videos on CasinoGround's YouTube channel.
Share with friends on
Email