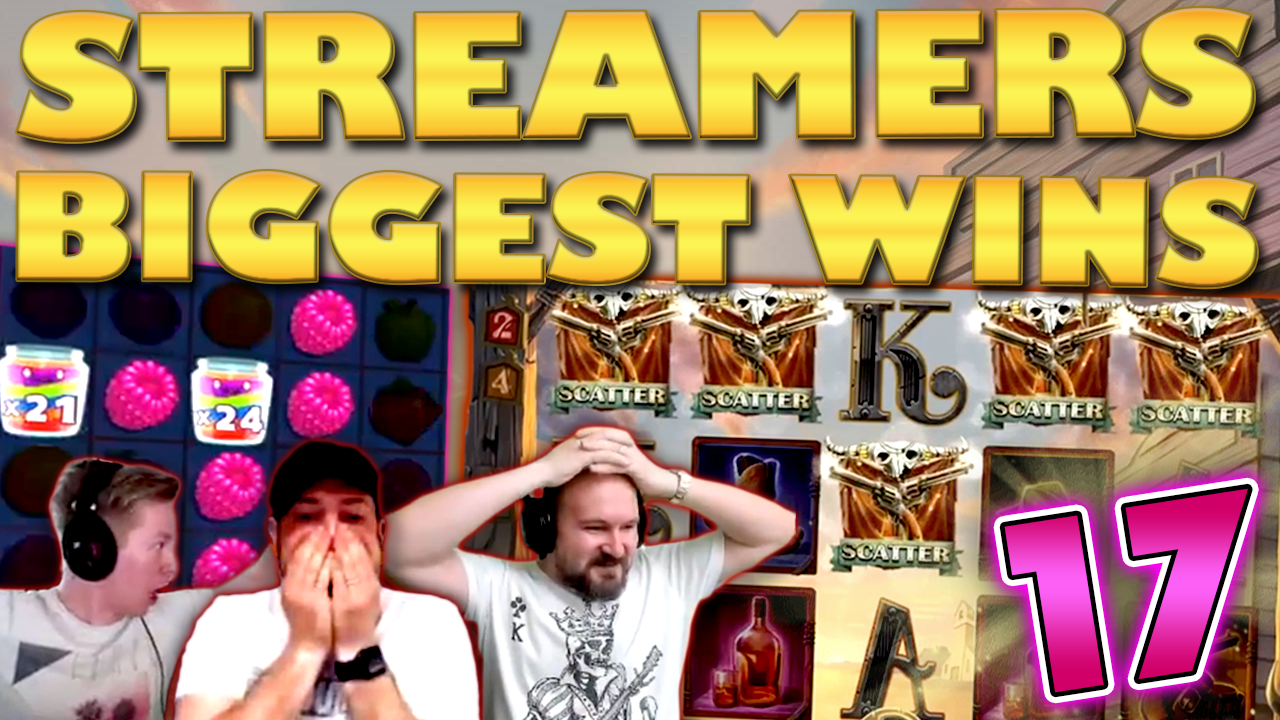 Casino Streamers Biggest Wins Compilation Video #17/2019
The last day of April brings us spectacular hits for our Big Wins segment. On today's compilation we have, of course, the new Dead or Alive slot. This game has been the talk of the town for days now. Thus it is no surprise that almost every casino streamer played it last week. Moreover, we have a multitude of wins on other slot games. Furthermore, a unique bonus clip on a game that we feature for the first time on our compilations.
Quick summary of the streamers biggest wins in this article:
Slotspinner wins 2523x on Dead or Alive 2

Appehehe hits 2533x on Vikings Unleashed

Jarttu gets 2623x

on Dead or Alive 2

Supersmask makes 491x on Wild Heist

Miikapekka lands 543x on the Final Countdown

Craig slots gets 732x on Vikings

Fruity Slots hits 1659x on Jammin Jars

Teukka lands 4413x on Vikings Unleashed
Casino Streamers Biggest Wins Video Montage
Slotspinner & Jarttu
Well we have to start with the most talked about slot machine at the moment. Dead or Alive 2 was released less than a week ago, and already there are numerous mega wins on it. As for slot streamers, Slotspinner was the first to get a wild line on the game, while playing it on Dunder casino. Moreover, thanks to the Max free spin feature and the multipliers, Slotspinner walked out of the bonus round with a 2523x the stake win. Another winner on DOA 2 was Jarttu who got the classic 5 scatter win. Here, like in the old Dead or Alive, you get 2500x the stake if you land the five scatters in one spin. I am glad they kept that feature, and I bet Jarttu is happy as well.
Fruity Slots & Supersmask
Slots come and go, on these compilations, but the one constant is Jammin Jars. The game manages to deliver this week as well, with a monster hit for Fruity slots. The casino streamer was playing £4 bets when he triggered the free spin feature. Next followed the usual dancing around of the wilds, with ever hit making the multipliers bigger. Hence, when the dance was over Fruity got a nice £6000 win. On the other hand, Supersmask returns to our compilations after a long absence. It is all thanks to Thunderkick's Wild Heist slot machine which rewarded our streamer with a big bonus win.
Miikapekka & Craig
Two more lucky streamers which are part of our compilation are Miika and Craig. The first got a big win on the Final Countdown, while the second on NetEnt's Vikings slot. Both casino games are available at Casumo. Now I have to say that I found more enjoyable the Final Countdown win, mostly because I am starting to really like the game. I think BTG really hit a home run with this slot, and I would put it on my top 3 games from the provider. Now even though I am not a big fan of the Vikings slot! – I have to say that you can't miss the win, just cause of Craig's hilarious reactions.
Teukka & Appehehe
Two Finnish slot streamers winning big on the same slot, in the same week?! – The odds on that happening are not high. – And yet Teukka and Apppehehe both got super epic wins on Vikings Unleashed. Teukka got an absolute monster, and the best win of the week, with a 4413x the stake bonus. Appe left his own mark on the Blueprint slot, with a bonus buy which gave a 2533x the stake hit.
Finally the compilation includes an extra clip at the end. On it, we have LetsGiveItASpin winning big Super Sic Bo. Super Sick Bo is a dice game, available on LeoVegas, which I have to say is very interesting.
Moreover, it has a certain resemblance with Lighting Roulette, due to the random multipliers. For more info on this strange game, watch Kim's big hit on it.
Tell us which win on Casino Streamers Biggest Wins – Week 17 of 2019 was your favorite. Moreover, share your thoughts in the comments. Also, make sure to check our other videos on CasinoGround's YouTube channel.
Share with friends on
Email