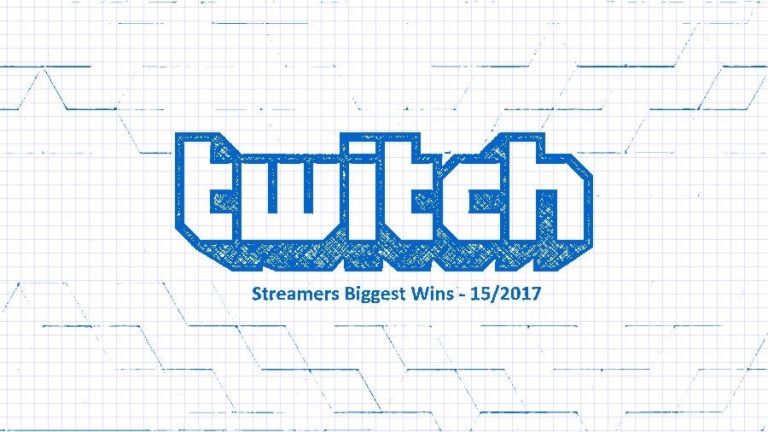 Casino Streamers Biggest Wins Compilation Video #15/2017
Another Tuesday, another Casino Streamers Big Wins post.  A relatively chill week the past one, with not any particularly mega hits on slot machines. However, almost every streamer had a big win, and we will take a look at all of them.
Today's clip is kind of big as wins were both - result of base game hits, and bonuses! And we promise, each one is worth watching.
---
Shirox1980
We start things off with a familiar streamer. Shirox1980 has been part of our segment almost every week, mostly thanks to his incredible luck when it comes to slots. And this time is no different as the German won big, last week, on the Battlestar Galactica slot machine. Shirox was playing on €2.4 bets when he triggered the slot's feature and filled, almost, the entire screen with the highest paying symbol. The result was an insane €1156 win. To learn more about the features on the Battlestar Galactica casino slot, try it for yourself on MrGreen.
---
Slotspinner
Apparently Slotspinner is adjusting well after his move to Sweden. And it seems like he brought his luck with him. The German had a number of big wins last week, but the biggest was undoubtedly the base game hit on the Thunderfist slot machine. Slotspinner was playing €1.75 bets when, on a lucky spin, the screen filled with the stacked wilds and gave a win of €425. You will find Thunderfist on betsafe or any other casino which features NetEnt slot games.
---
BlackCatSeven
Last week was lucky for BlackCatSeven as well. The Swede got the free spins on the High Society slot while playing SEK 10 bets on Thrills casino. Free spin nr 5 was the lucky one, giving a wild reel and a full line of the best symbol. The total win on the bonus was a staggering SEK 3285.
---
Badazzbear1
Another streamer that wins big, week after week, is Badazzbear1. And last week, it was time for him to crush the Book of Dead slot. The streamer was playing AUD 1 bets on Casinoroom when he landed 4 scatters to trigger the free spins. An amazing bonus with the bird as a special expanding symbol. Thanks to a number of retriggers and a full screen with the expanding symbol, the bonus awarded a total win of AUD 910.
---
MiikaPekka
The Bonanza online slot is one of the most favorite among players and streamers alike. And every now and then it reminds us of its awesome potential . MiikaPekka was playing €1 bets on the slot game when he got an insane base game win. Almost a full screen of red rubies and a €406 total win. Give Bonanza a try for yourself at redbet casino, and maybe you will be the next to win the 14000x.
---
David Labowsky
It was all about them base game hits last week, and the best and biggest came from David Labowsky. Actually, to be more precise, it was his chair. David left for a glass of water and put the Wonky Wabbits slot game on auto-spins. It was one of these autospins that did the trick. The rabbit wilds spread through the screen and turned a €1.5 bet into a huge €671 win. Check the features of Wonky Wabbits for yourself on MariaCasino and let us know if you beat David's win.
---
LetsGiveItASpin
The new Hong Kong Tower slot machine from ELK is proving very popular among players. That's mostly due to the slot game's unique bonus feature. Kim had a go at it last week, while playing SEK 20 bets on LeoVegas. On the bonus Kim was particularly lucky on the multiplier wheels, and finished the bonus with a big SEK 5450 win.
---
NickSlots
Probably the luckiest streamer at the moment, NickSlots can't seem to lose. Not just that, but the Brit has become kind of an expert at comebacks. Last week, things were not looking good for Nick, as he was on his last £25 while playing Book of Ra on Casumo. And then it happened! - One lucky spin on a £4 bet, turned into a full line of the best symbol. The line had 3 wild/scatters on it as well, so not only did it award £800 strait up, but it also triggered the free spins feature. The bonus was also amazing, with tons of retriggers and numerous good hits. The total win? - A staggering £2100.