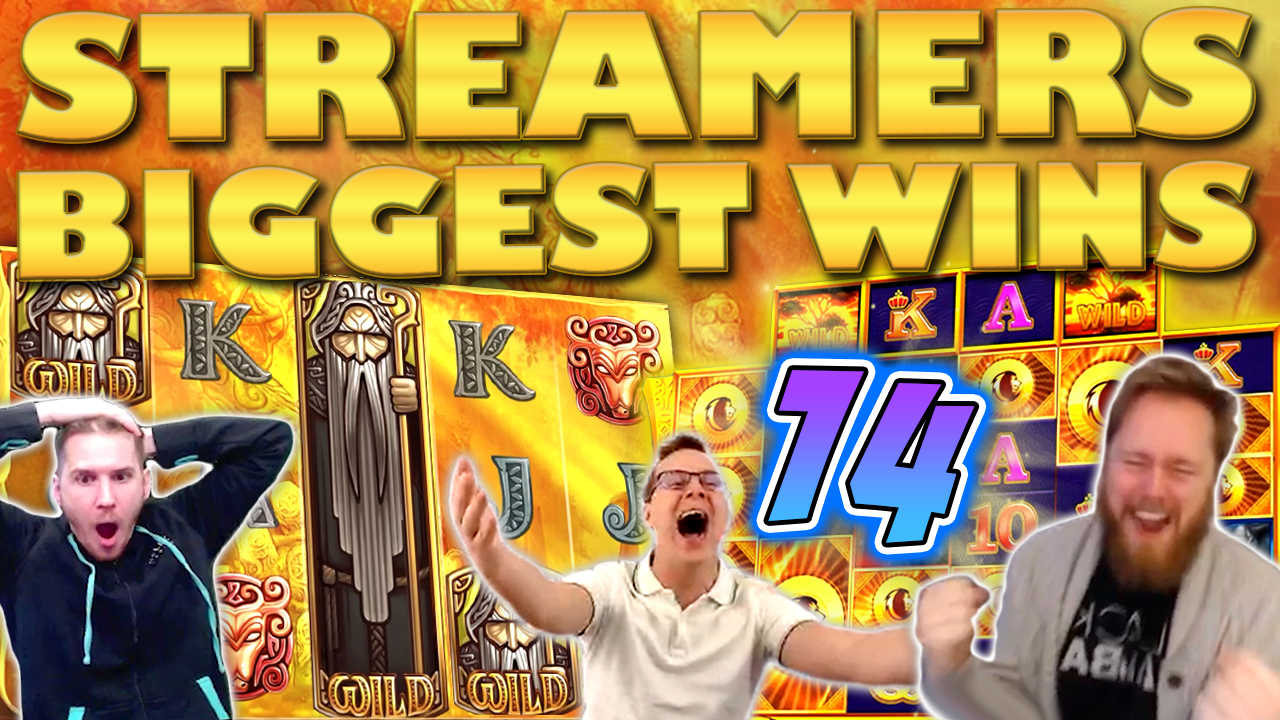 Casino Streamers Biggest Wins Compilation Video #14/2020
On this first Tuesday of April we take a look at the luckiest casino streamers of the past week. Hence, we have nine of them in total, each one playing, and winning, on a different slot machine. Moreover, we feature bonus rounds, base game hits and more. Thus, stay tooned as we explore every single one of them individually. - So let's get started.
Casino Streamers Biggest Wins Video Montage
NickSlots & Daskelelele
We begin with two of the most popular casino streamers out there. First is NickSlots who was playing Secret of the Stones Max, at Calzone casino. It's only been a few weeks since the release of this new version of the old game. However, it is already showing quite the potential, as Nick's win is the second consecutive one, in as many compilations. We hope Stones Max does not lose its spotlight soon, and it becomes a classic like its predecessor. When it comes to the win itself, it was thanks to the wild reel the streamer got in the beginning of the bonus. Here, a combo of premiums, wilds and multipliers resulted in a stupendous £20k payout. Now on Jack's Gambling Channel, Temple of Treasure Megaways was the slot of choice. I guess when him and Philip are both present, their luck gets amplified. Thus, after numerous consecutive wins on the bonus, they increased the multiplier up to 41. Therefore, the 1619x the stake at the end of the free spins was no surprise.
DeluxeCasinoBonus & Casinohoppers2019
Sticking with the megaways topic, we have two additional wins on those types of casino games. Hence, DeluxeCasinoBonus and his unexpected hit on Who Wants To Be a Millionaire. Not only was his win on the base game, and outside the bonus, but the strangest thing is that it was all thanks to the lowest value symbol. - Apparently, even the 9s can be useful if you get plenty of them. Now, I do not know what DeluxeCasino was saying, but he too looked surprised and impressed. Rainbow Riches is the other megaways slot which we have to talk about. This one gave a win to Casinohoppers, in a completely opposite way from the first. Specifically, it was the free spin bonus that produced the reward. Moreover, it came through a combination of the highest value diamond symbols. Let us know which one of these two titles would you pick to play.
David Labowsky, Thecasinobrothers & Play4Win
Furtheron, in our video compilation today we will find David Labowsky. It has been quite a while since the last time we featured the Dutchman on our clips. Hence, we are extremely happy for his return, and with a mega win nonetheless. D-Labs gets us the second best hit of the day, thanks to a bonus on Safari Gold. This is a Blueprint title, which you can find at Maria Casino. Thus, with only twelve spins and a 6x multiplier, the streamer got a huge 2391x the bet playout. On the other hand, we have a game that has been absent from our videos for quite some time. The Wish Master from NetEnt, is one of the most unique slot machines out there. This one does not rely on any bonuses of any kind. However, the combination of features, in the game, can make it very rewarding. Case and point, Thecasinobrothers who got a full screen of wilds. If you are new in the word of online slots, we highly recommend trying the Wish Master. It is one of the best titles to play as a beginner. Lastly, we see how Play4Win plunders the Money Train. Not much we can say about this game, as most of you know how you can win on it. As always, it is the free spins that make the difference. Here, Play4Win got plenty of multiplier symbols and a bunch of bandits, to help him reach his €3580 prize.
Darius_weeda & ShaneTSGTV
The best win of the day comes from a relatively new streamer on an equally new slot machine. Hence, we have Darius_weeda who owns a really fun and entertaining gambling channel, which you should really check out. The streamer got an amazing win of 3027x the stake on Riches of Robin. This too is a recent release from Play'N Go, that you can try at Unibet. Moreover, the game seems like it possesses a lot of volatility. Thus, we are certain, we will see more of it in the upcoming weeks. Finally, we have to mention ShaneTSGTV and his Hot Mode on the Terminator 2 slot. It's not every day we see this feature. So a big shout out to Shane for sharing with us this unusual win. Tell us which win on Casino Streamers Biggest Wins – Week 14 of 2020 was your favorite. Also, make sure to check our other videos on CasinoGround's YouTube channel.
Share with friends on
Email