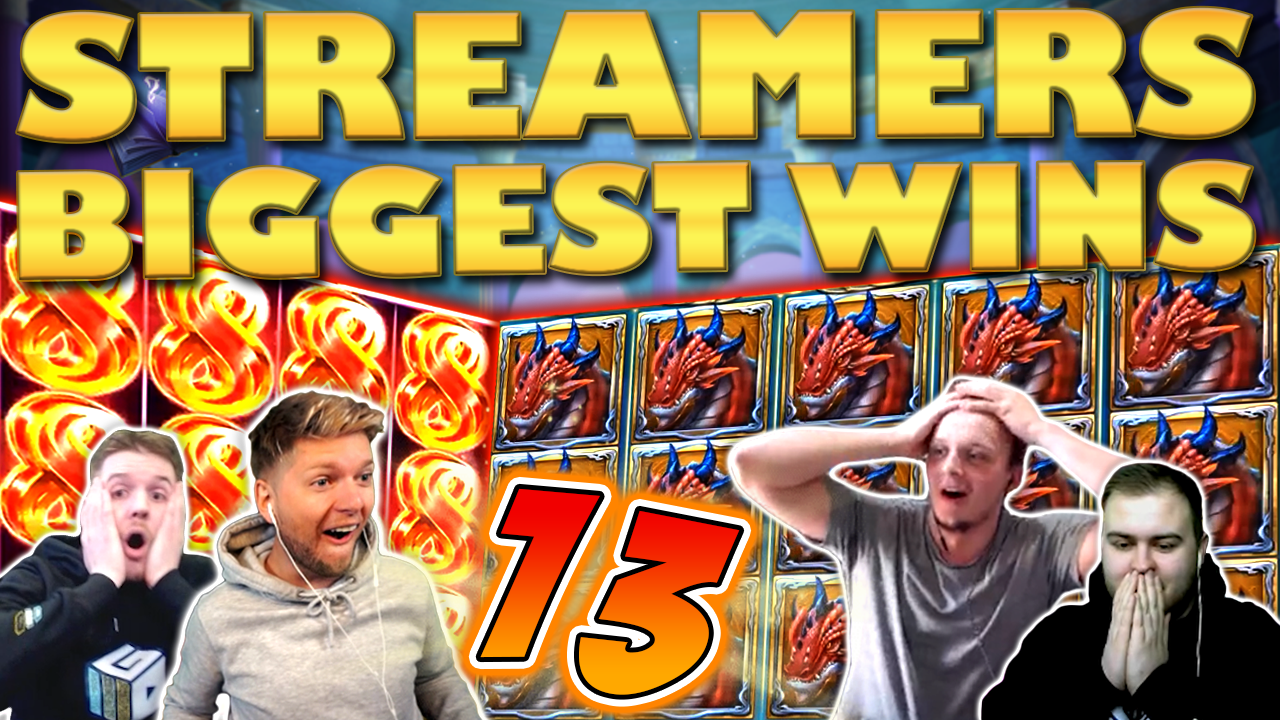 Casino Streamers Biggest Wins Compilation Video #13/2020
Today we feature the last streamers big win video for March. Now we know this last month has not been easy. - With having to stay home and all. Thus, we hope these compilations have made your social distancing a bit more bearable. On that note, today we have collected the absolute best slot hits from last week. Moreover, we have a nice and diverse blend of slot machines, as well as, casino streamers included. Therefore, let's check them all and see which ones were the luckiest.
Casino Streamers Biggest Wins Video Montage
JacksSlots & Rex Borgersen
We start with Dark Vortex, a Lovecraftian themed slot machine from Yggdrasil. This game has a very unique bonus feature. First the player needs to collect pink orbs. Each one of them will increase, by 1, the wild stacks on the 3 middle reels. Moreover there are the blue skulls as well, which determine the number of free spins. JacksSlots used these to get a 1646x the stake hit, on the slot. Now, I could not tell what the streamer was saying during the gameplay. - But I wonder if he was praying to Cthulhu for a big win. If that's correct, then he certainly got what he asked for. On the other hand, we have the return of Rex Borgersen, who is back in our compilations after a long absence. He was playing Legacy of Ra on Casumo, when a free spin bonus rewarded him with 1396x the stake. Unsurprisingly really, since Legacy of Ra is an amazing slot that combines perfectly the expanding symbols with numerous winning ways. I can only think of one manner to make it better - Have multiple expanding symbols. Imagine Legacy of Dead but with megawways.
Daskelelele, NickSlots & Casinolandstreaming
If we had to mention one provider, for this video, that would be Push Gaming. In fact, three of the wins featured are on Push Gaming titles. Hence, there is Daske getting a nice €9k payout on the new Joker Troupe slot, which you can find at Party Casino. The hit is so fast. - Blink and you'll miss it. Moreover, there are two additional wins on good old Jammin Jars. One is from NickSlots who was playing on a huge £10 bet. Consequently, two jumping wilds helped the streamer get plenty of winning combos, for a total reward of £7k. What makes this even more special is that it all happened outside the bonus. In similar fashion, did Casinolands get his win as well. I guess Jamming Jar's base game was hot last week. - Here too, there were two wilds that did the trick. Granted, the bet size was smaller, but I wouldn't say no to a 649x the stake, regardless.
Slotspinner, Kongebonus & Play4Win
Another popular casino streamer making a return is Slotspinner. His game of choice was Secret of the Stones Max. This is a new take on the old classic slot with the same name. It is true, the old Stones title was pretty good, however it was lacking volatility. Well this new version definitely does not, as you will see from Slotspinner's 1132x the stake win on it. Elseways, Kongebonus is an upcoming streamer who is showing a lot of potential. Thus today we bring him on our compilation, in the hopes that you will find him entertaining as well. - If you do, make sure to check out his channel, it's really worth it. Now as for his win, it was on Red Tiger's Mystery Reels. Lastly, the second best win for the day comes from Play4Win. The streamer got lucky on Rise of Merlin from Play'N Go. First he activated the bonus and then got a quick re-trigger. Hence, he doubled the free spins and got two expanding symbols. - One of them a premium and the other low value. However, two was all Play4Win needed to get a massive 1759x the stake win.
Gamble_gangsta & The Bandit
On the pedestal, for today, sits GambleGangsta who shows us the best hit of the video. - A bonus round on 300 Shields Extreme. Here, the streamer managed to get all the way to the top, and reach the 300x multiplier feature. Moreover, on the final stage, he got an almost full line of high paying symbols and wilds. Thus, the end result was a gigantic 1849x the bet reward. Finally, we also include the Bandit on the compilation. He joins us thanks to a nice hit on Danger High Voltage. - So make sure not to miss that one either. Tell us which win on Casino Streamers Biggest Wins – Week 13 of 2020 was your favorite. Also, make sure to check our other videos on CasinoGround's YouTube channel.
Share with friends on
Email