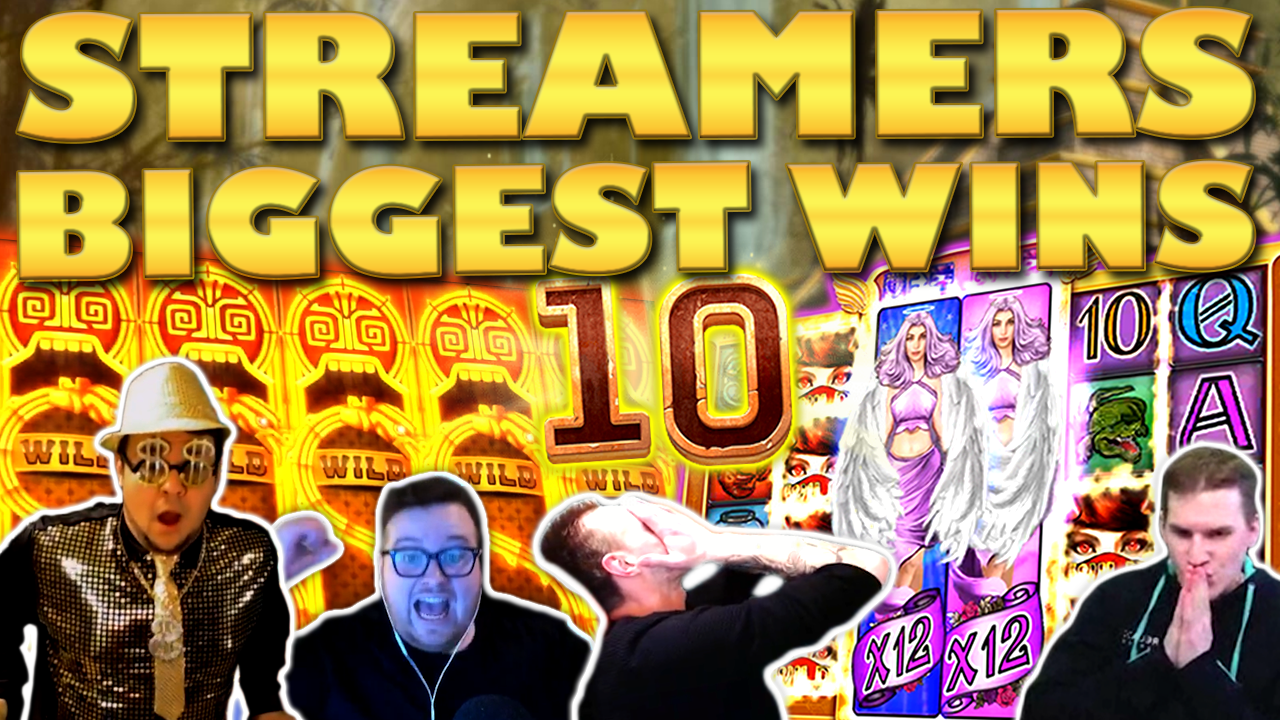 Casino Streamers Biggest Wins Compilation Video #10/2020
The tenth iteration of our big win clips, for this year, is here. Hence, yet again, we share the best and most entertaining slot streamer hits from the previous week. There are nine of them in total, and they feature games of all types. – New, old, popular and lesser known slot machines. Thus, without further ado, let's jump in and take a quick look at each and every single one of them.
Casino Streamers Biggest Wins Video Montage
SkottyTV & SuperSmask
We begin with a new face. SkottyTV is a new streamer who we feature for the first time in our compilations. His German speaking stream is pretty entertaining, not just for those who understand the language. That's mostly due to the charisma SkottyTV has. Hence, the game play and reactions, to big wins, are pretty funny. So we highly recommend you check out his channel. As for today's win! Skotty got it while playing Rise of Maya at MrGreen casino. Here, he landed five wild reels, which in turn gave him a mega hit of more than 5000x the stake. We hope and expect him to be part of many more future videos.
For the second win of the day, we have an old steamer but a new slot. Specifically, SuperSmask trying out the brand new Rick and Morty slot. As we correctly predicted, this Blueprint title is getting more popular by the day. Hence, since its release, the game has been part of each of our video compilations. Now Smask triggered the "Federation Wildsnurr" feature. – One of the best ones in the bonus. Moreover, it only took the streamer one spin to get his win. All thanks to a nice combination of premium symbols and random wilds. So far, the hits on Rick and Morty have been pretty great. However, the slot has much more to give. Thus, we can not wait for a player to unlock its full potential.
JJCasino, Casinovaz & DeluxeCasinoBonus
Next we will talk books. – But don't worry, you won't have to read them. Book of Cleopatra and Book of Dead are both part of our video. First, JJCasino was trying out Cleopatra on Wildz casino, when he activated the free spin feature. Here, as in all book games, it is all about the expanding symbols. The German managed to get the queen herself as the special symbol. Thus, thanks to the highest paying premium, he walked out of the bonus with a nice 1069x the bet.
The second win, this time on Book of Dead, comes from Casinovaz. Similarly to the first hit, he too got the free spins. However, this time it was the bird symbol as the special expanding one. Granted, Casinovaz did not get a full screen of them. – But, thanks to an overall good bonus, he got a nice reward at the end.
From Egyptian myths to fairy tales. DeluxeCasinoBonus gives us the biggest surprise of the video. It was years since we had Jack And The Beanstalk as part of our compilations. Thus, we are glad to see it make a comeback, and with an amazing win nonetheless. If you are an experienced player, then this clip will bring back memories. – If you are a new one, then you might consider giving a try to older slot machines.
Chipmonkz, NickSlots & Miikapekka
Next we see two English streamers winning big on the same game, and on the same online casino. Both Nickslots and Chipmonkz were trying their luck on Jammin Jars, while playing at CasinoEuro. Moreover, they even had the same £4 bet size. The only thing that was slightly different was the amount they got. Thus, the jumping wilds helped Chip land a huge 1824x the stake. While, on the other hand, Nicks's win amounted to almost 1600x the bet.
On to Miikapekka and the second best hit we feature on this compilation. Like the two streamers above, Mikka was also playing on a Push Gaming powered slot. However, his lucky game was Razor Shark. We have talked extensively about Razor Shark on our compilations. Especially about its unique coin feature, and the high volatility of the free spins. It was on this second one that Miikapekka got his prize. Here, due to a high multiplier and staked mystery symbols, he walked out of the bonus with an epic 5011x the stake win.
Aynamax
Finally, we reach the end of our video for this week. As always, we save the best for last, and in this case that comes from Aynamax and his win on Lil Devil. As usual, it's the "Be my Angel" free spin feature that brings home the bacon. Thanks to it, Aynamax gets a super mag win of 23569x the stake. – Can't get any better than that, I would say. Tell us which win on Casino Streamers Biggest Wins – Week 10 of 2020 was your favorite. Also, make sure to check our other videos on CasinoGround's YouTube channel.
Share with friends on
Email