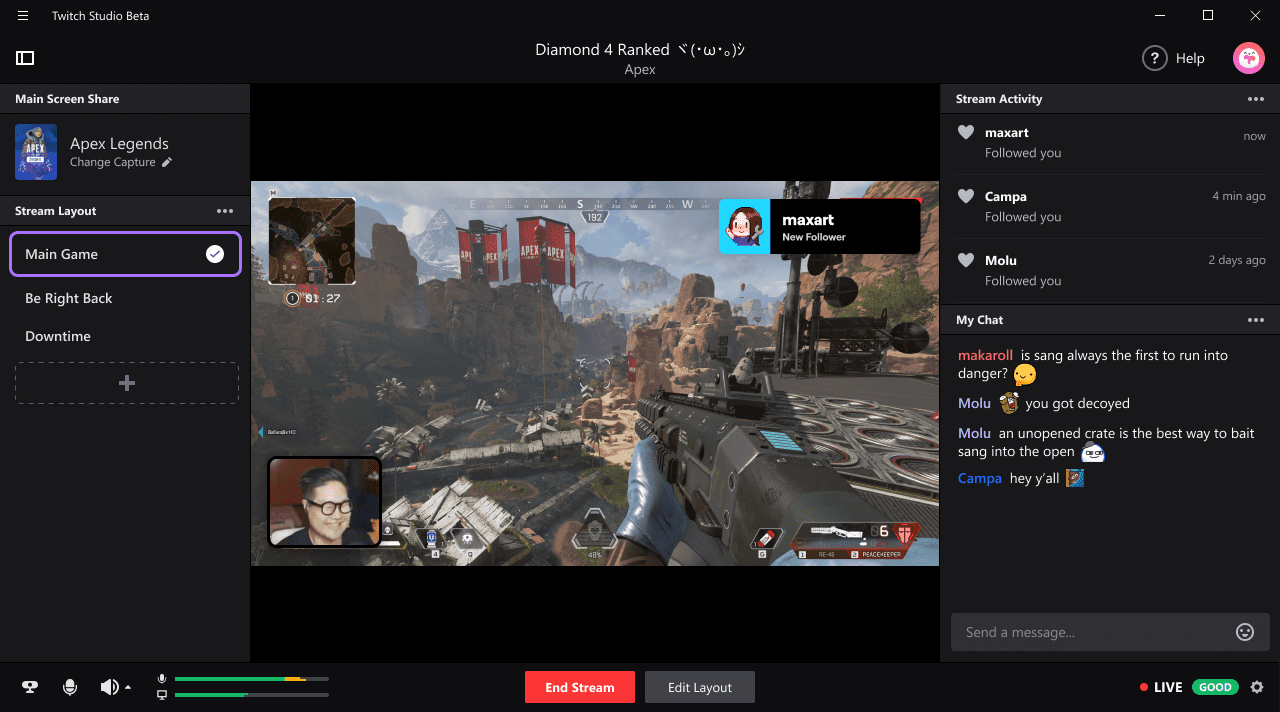 Twitch Studio : Twitch's Own Streaming Software.
cont. Sahil Rais
Twitch is the #1 choice for streamers and viewers around the world. Since their inception, they are untouched at the top spot when it comes to regular streamers, viewers and revenue being generated by them as a company every year. Due to the plethora of features and tools that they offer, Twitch did not have any disadvantages compared to other competitors. But there was a feature missing, which has been long awaited.
From the most well-known streamers across the globe to newer ones, all rely on third-party streaming software like OBS or XSplit to broadcast content on Twitch.
Not to mention having to learn the software, watch video guides and figure out how to connect and sync everything up with your microphone, audio, headset, graphics card and any other hardware or software that you would use for your stream. Having a software or tool which would solve all these problems and simplify the entire process, would be a boon to the streaming community.
Recently, a representative from Twitch claimed that they have been listening to everyone's feedback, their journey of getting started on twitch and all the other bumps on the road to becoming a full-time and successful streamer.
Twitch have come up with a solution.
Twitch Studio Beta, Twitch's very own streaming and broadcasting tool.
The goal with Twitch Studio Beta is to potentially eliminate the need to download and learn an entirely different software to be able to get started as a streamer. This feature is mainly aligned towards new streamers for whom, getting started on twitch will be much more efficient and easier to do. Twitch Studio Beta is an all-in-one streaming app that has features to guide you through your stream setup and help you establish tools that will make streaming much easier.
This software, claims Twitch, took them months to build simply because of the research they had to do with various software and hardware across geographies around the world. We also learned that a high percentage of the team who worked on Twitch Studio, either have been or are streamers themselves which almost guarantees that most of the challenges met by streamers these days, will be minimal in Twitch Studio
They believe that maybe setting up streaming with various software and hundreds of things to do, makes it difficult for someone to make the choice of starting a streaming career. Their goal is not to compete with Streamlabs or OBS or XSplit, but to potentially open doors to many people who would most likely join Twitch and become streamers.
Twitch's main agenda is to open up streaming as a full-time career and hobby because communities mix, discussions are had. We all enjoy watching our favourite streamers across the globe, if not streaming ourselves. We take out a couple of hours of our time, interact with the streamers, enjoy their content and maybe learn a thing or two.
Streaming has also immensely helped so many people. It helps people interact with people of different races/cultures/religions/geographies, build a fanbase and community but mostly to emit positivity and good knowledge to the rest of the world through their informative and entertaining content. All of this will be much more possible now, with this all-in-one streaming application. But, all good things in life come with a catch, here it is.
Still In Early Stages
Twitch Studio is currently in Beta mode which means, the software is not available publicly, yet. They are currently running a beta version to a select group of streamers to test out the features, use it real-time and provide feedback. This way, Twitch can fix any bugs/errors they find in the software and are completely ready when it will be announced to the world. But not to worry, they are slowly opening up slots for more and more people to get their hands on this wonderful creation, over time. To register yourself to be invited to Beta, simply Sign Up. And don't forget to share your thoughts on your experience in our forums
Share with friends on
Email