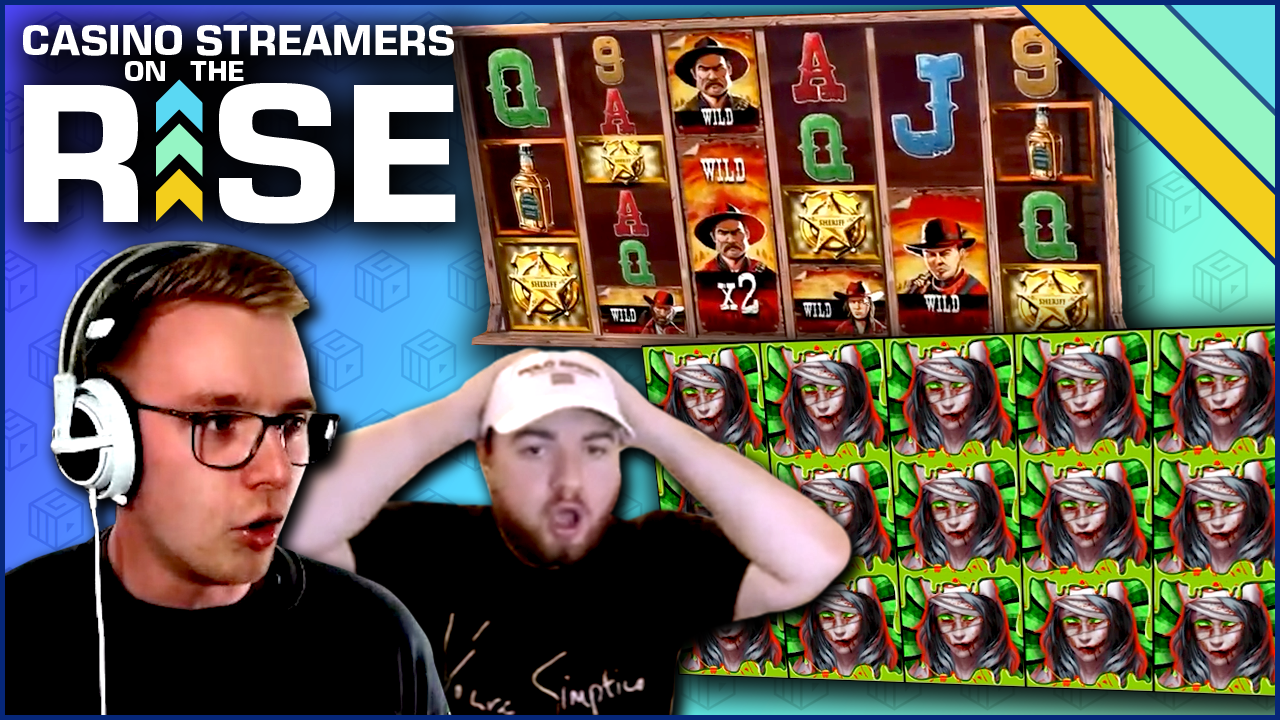 Top Up and Coming Streamers – Volume 8
Up and Coming Streamers #8
Every now and again we like to shine a light on some new faces in the slot streaming world. Check out our latest pick of the current crop of up and coming streamers who are starting to build up a following among the community.
1. daFrou playing Desperados Wild Megaways (Inspired Gaming)
Our first clip comes from daFROU, a Greek team of streamers from the holiday island of Kos. With just over 1.2k followers on twitch, this new team are certainly ones to watch. In this stream they are playing Inspired Gaming's December 2019 release, Desperados Wilds Megaways at NetBet casino.
We join the action at the start of a round of 12 Jailhouse Free Spins. Unlike most other Megaways free spins rounds (including the alternative one for this game, 'Sunset Free Spins'), Jailhouse Free Spins do not operate a cascade mechanic with reaction wins. Instead the reels spin normally, but with a powerful wild feature. Any wilds landing remain sticky for the duration of the round and fall to the bottom of the reel after the spin. Also, any additional wild(s) landing on the same reel as an existing wild falls to join the initial wild and adds 1x to the win multiplier. If the reel fills with wilds, then 5 more spins are awarded.
daFROU, playing at €0.60 a spin, land 5 wilds in the first 6 spins with at least one on reels 2-5 in this 6 reel slot. It's the 7th spin, however, which changes everything. Reel 2, the only reel with a 2x wild hits a 3rd which fills the reel to add 5 more free spins. Even better than that, the game's most valuable symbol, the sheriff's badge lands either side of the wild reels (plus another 2 on the middle reels) for a huge win of €370.80 (618x). Just three spins later (with another wild now on the board giving a 3x 2nd reel and a 2x 3rd reel) the reels with wilds are once again bookended with sheriff's badges for another €219.42 (366x win). One more wild joins reel three to give reels 2 & 3 both 3x win multipliers and the remainder of the lads spins all bring in decent wins of between 50-100x. Their final winning total of €952.05 equates to 1,587x the bet size.
2. MajorConcerns playing Jammin' Jars (Push Gaming)
Up and coming Uk streamer MajorConcerns is up next with a huge base game win on Push Gaming's 2018 classic, Jammin' Jars where he is playing for £0.60 a spin.
MajorConcerns already has two jars in view when the clip starts, and he spends much of the early part of this clip encouraging the arrival of a third to start a free spins round. However, it doesn't seem to matter how many drops the jars survive, the third just will not come into view. By the time he finally runs out of winning drops, the jars are both up at 7x wild multipliers, and his winnings have reached nearly £22. Just as it looks all over, the Rainbow Feature randomly triggers. The Rainbow Feature always results in one or more mega-sized fruits being left on the screen and in this instance three huge plums are left in the rainbow's wake. As the plums also coincide with the jars presence, the £15 win turns into a £735 win. A couple of smaller wins follow with the jars on x8 and x9 multipliers before the base game run ends at +£829.80 for a 1,383x win.
3. LiveTCK playing Oktoberfest (Nolimit City)
LiveTCK is an American streamer who only came to our attention recently after posting some of his big wins on our forum. With over 5.8k Twitch subscribers and over 52,000 YouTube subscribers, LiveTCK is not exactly a noob at this, but his star is on the rise.
We join LiveTCK as he is about to start a free spins round on Nolimit City's fun Bavarian beer-based slot, Oktoberfest, playing at €10 a spin. On just his 2nd spin he lands both Hans and Helga symbols either side of the reels who then drink ale to add free spins and win multipliers, with 5 more spins and a 6x multiplier added. His first semi-decent win comes 2 spins later with a €360 barrels score. The next spin is even better as beer symbols land on the first and last reel to trigger a Prost which fills a random number of reels either fully or part full of beer which changes the symbols underneath to the same symbol. Only the first three reels start to fill to eventually reveal 8 accordions for a €504 win. With one good spin after another he then proceeds to land Hans and Helga again to add yet more spins and multipliers, leaving the guzzling duo after adding a further 7 spins and pushing the win multiplier up to 13x.
From here the wins get bigger and bigger. Straight off the bat a row of barrels adds €650. 3 spins later another Prost results in a €442 clubs win, added to with another Prost win 5 spins later worth €624. A third Prost win in 8 spins almost fills the board with spades for a €2,028 windfall. With just 1 spin left to play a bier symbol on reel 1 and Helga on reel 6 sees Helga drinking for yet more spins, and this time she adds 5. Just a couple of spins later brings the biggest win of all as the Prost feature is once again activated, this time filling all but one symbol spaces with high paying accordions for a €6,630 win. The bonus round wraps up a short while later leaving LiveTCK with a win of €11,533. In TCK's own words, this was a 'Nutty Win' worth 1,153x his bet size.
4. Aynamax playing Danger! High Voltage (Big Time Gaming)
Polish Twitch streamer Aynamax has already appeared in one of our monthly compilations after a big win on Big Time Gaming's Lil' Devil back in March. This time he's back playing another BGT classic, Danger! High Voltage at £4 a spin.
We join just in time to see Aynamax trigger the bonus round where he opts to take 7 Gates of Hell Free Spins. In Gates of Hell Free Spins, a random regular symbol is chosen to transform into a sticky wild whenever one lands between reels 2-5 of this 6 reel game. The key to big wins here is to get plenty of wilds nice and early, as not only will that bring in regular wins, but a reel filled with wilds adds another 3 free spins.
Aynamax does just that, adding 7 sticky wilds, including filling reel 3 for 3 extra spins, in his first 3 spins. The next spin adds a wild to reel 4, connecting all 4 of the middle rows with wilds. From here on in every win is big. Spins of £278, £124, £358, £184, £219, £470 and £392 add up to a final free spins total of £2,110, or 527.5x the bet size.
5. Conrad264 playing Honey Rush (Play'n GO)
Conrad264 introduced himself to the CasinoGrounds forum at the end of March as a new streamer who has been gaining a bit of traction on Twitch. In this clip, Conrad264 is playing Play'n GO's October 2019 release, Honey Rush at £0.40 a spin.
Honey Rush is a honeycomb-shaped grid with cluster pays slot where a 'colony' (a winning cluster starting at the centre symbol) in earned at 20, 40, 80, and 160 consecutive symbols from consecutive cluster wins. The colonies only appear once the current cluster cascade win streak comes to an end. The first three colonies also each throw out a honey jar with a win multiplier of 2x or 3x, and they work very similarly to the jars in Push Gaming's Jammin' Jars. The earned colony for 160 consecutive symbols is called the 'Queen Colony' which, unlike the other colonies which only produce 7-15 matching symbols, can fill the entire grid. Having already won £116 (290x) when the clusters finally stop paying for the final time the Queen Colony is activated and brings with it 27 silver coins which connect with all three multiplier wilds for a £288 (720x) win. The final winning score of £403.76 is equal to 1,009x his initial stake.
6. SirLancerGaming playing Snake Arena (Relax Gaming)
SirLancerGaming is another streamer from across the Atlantic who is starting to attract some attention with 454 followers on Twitch at the time of writing. In this clip we join him playing Relax Gaming's Snake Arena for $1 a spin. SirLancerGaming has already triggered the game's unique free spins round in which a large snake slithers around a medieval courtyard gobbling up Knights while trying not to run into his ever-increasing tail. If the snake manages to follow the Knights, eat them all up, and fill the last four reels with snake body, a jackpot of 1,000x is awarded. Along the way, the snake's body acts as a wild for every symbol space it covers, so wins occur throughout the round as long as the snake is alive.
As you may have already guessed, SirLancerGaming manages to fill the whole courtyard with snake to earn the 1,000x which is then added to the $348 he won during the free spins for a 1,348x score.
7. SvensOmat playing Book of Madness (Gamomat)
Our final streamer today is the charismatic German streamer SvensOmat, a German Twitch slots player with 6.7k followers. This is probably my favourite clip of the day due to the sheer enthusiasm and passion in SvensOmat's commentary when he hits his big win, despite the fact that I do not understand a word of German!
SvensOmat is playing Gamomat's Halloween themed Book of Ra clone, Book of Madness at VideoSlots casino for €0.50 a spin. We join him at the start of a free spins round where the random symbol chosen to be the special expanding symbol is the game's highest paying symbol, the zombie nurse. SvensOmat is calm, one would say almost sedate, until the 5th spin of 10 when a zombie nurse lands on every reel. Worth 500x a line, when the symbols all expand to cover the reels the resulting win of €2,500 is worth 5,000x the bet size. By the end of the free spins round, SvensOmat's winnings have reached €2,517.75 (5,035x), causing him to correctly predict the future as he sings (in English thankfully!) 'Hel-lo CasinoGrounds!'.
Share with friends on
Email