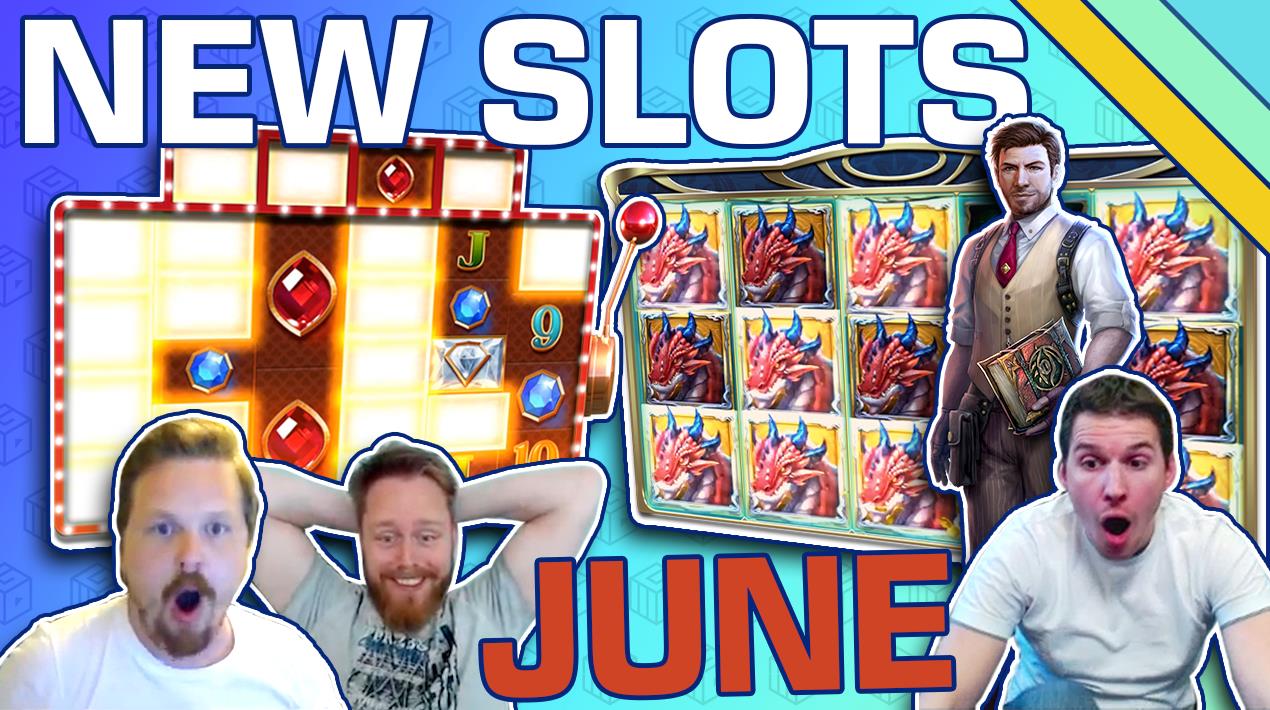 Top New Slots To Try out from June
Now we're well into July it's about time we took a quick look back at some big streamed or recorded wins from our pick of June's best new slots.
Curious to try out the games? Check out our brand new Casino index and find your favourite slot!
Clip 1: Fruity Slots – Tahiti Gold (ELK Studios)
Tahiti Gold is ELK Studios follow up to their popular high variance slot from earlier in 2019, Ecuador Gold. Big wins tend to come from the Free Drops (free spins) feature, but with plenty of base game features and up to 262,144 ways to win, big wins can come at any time, as we see in our first clip. FruitySlots takes advantage of two base game features to clean up on this £4 base game spin. Firstly the Eye of Tiki feature comes into play, clearing a huge swathe of symbols between four Eye of Tiki symbols. This in turns creates spaces underneath a Wild Forge symbol (if any spaces appear underneath a Wild Forge symbol they also become wild). Furthermore, after any cascade win in Tahiti Gold an extra row is added to the gameboard (up to 8 rows) thus increasing the number of ways to win. When a second Wild Forge symbol appears adjacent to the first one, even more wilds are created, all the while win after win after win start to pour in with the fully extended gameboard with 262,144 ways to win. In total FruitySlots racks up 16 consecutive wins with plenty of wilds, with many of the wins in excess of £100. His total win for one single base game spin ends up at £1,472.80 for a 368x haul.
Clip 2: Slot Professor – Ignite the Night (Relax Gaming)
A short but sweet clip here as Slot Professor wins big from one of the randomly activated features on Relax Gaming's June release, Ignite the Night. The Fire Multiplier can multiply any base game win by 5x, but it also has the ability to multiply a base game win consisting of high value symbols by up to 50x. In this single spin a full payline of drums lands and gets the 50x treatment, resulting in Slot Professor's £1 spin bringing in a £375 (375x) win.
Clip 3: Slotspinner – LeoVegas Megaways™ (Blueprint Gaming)
June saw the release of LeoVegas latest bespoke slot as Blueprint Gaming gave LV a Megaways™ makeover. CasinoGrounds favourite Slotspinner is at the controls playing at €2 a spin. We join the action as Slotspinner triggers the bonus wheel where he lands 5 free spins with 20,000 guaranteed Megaways™. Before the end of his first free spin Slotspinner had already retriggered the bonus, earning a further 7 spins with a 10x multiplier. Just two spins into the multiplier spins three wilds on the top bonus reel spark a very nice €522 win. By the end the multiplier had reached 19x and when the free spins finally concluded Slotspinner had earned a tidy €980 – 490x his bet size.
Clip 4: Spintwix – Raven's Eye (Thunderkick)
With over 9,000 twitch followers, Spintwix always makes for a good stream, and on this occasion he is trying out Thunderkick's latest slot release, the medium variance fantasy themed Raven's Eye. Playing €5 a spin Spintwix triggers the free spins bonus round, starting with 13 free spins. During the free spins the object is to collect Raven Orbs to fill the meter, which will in turn grant 3 more free spins, and also transform one of the lower value symbols into mystery symbols for the remainder of the round. Spintwix manages to collect a whole lot of orbs, eventually turning all 10's, J's, Q's, and K's into mystery symbols. Mystery symbols will then all randomly transform into the same regular symbol. Not only does Spintwix create a lot of mystery symbols, but on several occasions they all turn into premium symbols, thus earning him some big wins. By the end of the bonus round Spintwix has turned his €5 stake into a €1,568 (313x) win.
Clip 5: SpaM – Vicky Ventura (Red Tiger Gaming)
Vicky Ventura is one of our favourite slots from June so it's nice to see it make the list here. In this clip streamer SpaM is playing at just €0.60 a spin when he triggers 10 free spins. Normally a 243 ways to win game, during free spins additional rows of locked symbols are added which can increase the ways to win significantly with each unlocked symbol. Via the Mystic Totem feature SpaM manages to unlock plenty of additional symbols and even retriggers the entire bonus round. Retriggering earns 10 more free spins and also unlocks yet another reel, increasing the potential ways to win up to 16,807. All of the above combine on one particular spin when wilds and the additional symbols all add up to a big win with binoculars, one of the game's premium symbols, for a €324 score. In total SpaM takes away €367.74, a 613x win.
Clip 6: Jamjarboy – Tome of Madness (Play 'n GO)
Tome of Madness, a June 2019 release from Play 'n GO operates a cascading reels mechanic where each and every win charges a special portal. When full the portal releases special wilds which in turn trigger additional portal effects such as clearing full rows of symbols, or clearing all instances of a certain symbol. It might sound a little confusing at first but essentially all you need to know is that the longer your winning streak, the bigger the wins and the better the potential becomes. Jamjarboy, playing at €1 a spin gets to witness all of this and more as he portal powers his way to a €256 (256x) win.
Clip 7: LetsGiveItASpin – Rise of Merlin (Play 'n GO)
It's back to back Play 'n GO slots here with another of their June releases, Rise of Merlin featuring in our next clip. Also featuring is everybody's favourite excitable streamer, our very own LetsGiveItASpin playing for €6 a spin. Rise of Merlin plays very much like any other "Book" clone, with 10 paylines, high variance, and a free spins round with an expanding symbol (where one regular symbol is randomly picked before the free spins begin which will expand to cover the entire reel if this will result in a win). Inevitably this big win comes from LetsGiveItASpin triggering the free spins round. His chances of a large score are further improved as he manages to retrigger the 8 free spins on two further occasions within his first 6 spins, giving him a total of 24 free spins. Also, with every retrigger another random symbol is chosen as an expanding symbol, so for 18 of the 24 spins three expanding symbols are in play. Kim's biggest win comes when one of his expanding symbols (the dragon) lands on 4 of the 5 reels. When all four reels fill with dragons the resulting win reaches €1,800. With some other fairly decent wins thrown into the mix, LetsGiveItASpin exits the bonus round with a total haul of €2,841 (473.5x). It must have been a tough round for our mighty leader prior to this win as his relief is made evident by his cries of, "Finally! Finally!"
Clip 8: David Labowsky – Beavis and Butthead (Blueprint Gaming)
Beavis and Butthead is yet another branded slot from Blueprint Gaming to feature a bucketload of base game and bonus game features. In this clip the game is being played at €5 a spin by one of our compilation favourites, David Labowsky. After triggering the bonus round David is content to play the randomly selected bonus game "To B or not to B free spins" rather than gamble for a better feature. At the completion of his 8 free spins with Beavis wilds David had won €233 (46x), but more importantly he had collected the 6 star tokens necessary to progress to another bonus game; this time "Just Deserts Big Money". This bonus round sees Beavis and Butthead staggering through the desert, propelled along by the number of steps revealed every time the player picks from 3 skulls. Along the way are different sized win multipliers, and whichever one the boys land on determines the win. David is lucky enough to land on enough multipliers to earn a total 190x of €950. When added to the free spins wins Mr Labowsky's total haul reached €1,179 for a236x win, enough for him to issue his big win catchphrase, "Get Paaiiid!"
Clip 9: Blackcatseven – Mystery Spin Deluxe Megaways™ (Blueprint Gaming)
This clip may be short, but it's very, very sweet for twitch streamer Blackcatseven. Playing one of Blueprint's June Megaways™ releases, Mystery Spin Deluxe Blackcatseven hits an almighty base game spin when lands a whole bunch of 10's on a potential 15,625 Megaways™ board playing at £5 a spin. In total 3,072 lines paid totalling £6,144, or in other words a 1,229x win!
Clip 10: Nickslots – Raging Rhino Megaways™ (WMS)
Raging Rhino Megaways™ is WMS's first foray into the ever-popular gaming engine developed by Big Time Gaming, and it's CG favourite Nickslots who is the star of our final clip today. Playing at a relatively low (certainly by Nick's standards) £0.60 a spin we join Mr Slots as he starts a free spins round. Things are going ok but certainly not spectacularly as Nick gets towards the end of the round with just 2 free spins left and just £85 banked. So frustrated is our streamer that he appeals to the slots gods "Where are the wilds?" Wouldn't you just know it? On the very next free spin, with a 7x win multiplier wilds cover the middle reels completing full lines of high-value cheetahs, as well a ton of Jacks and Queens for a single spin win of almost £1,000. In total Nick's free spins round ends up earning him £1,073.58 – equivalent to 1,789x his bet size.
Share with friends on
Email