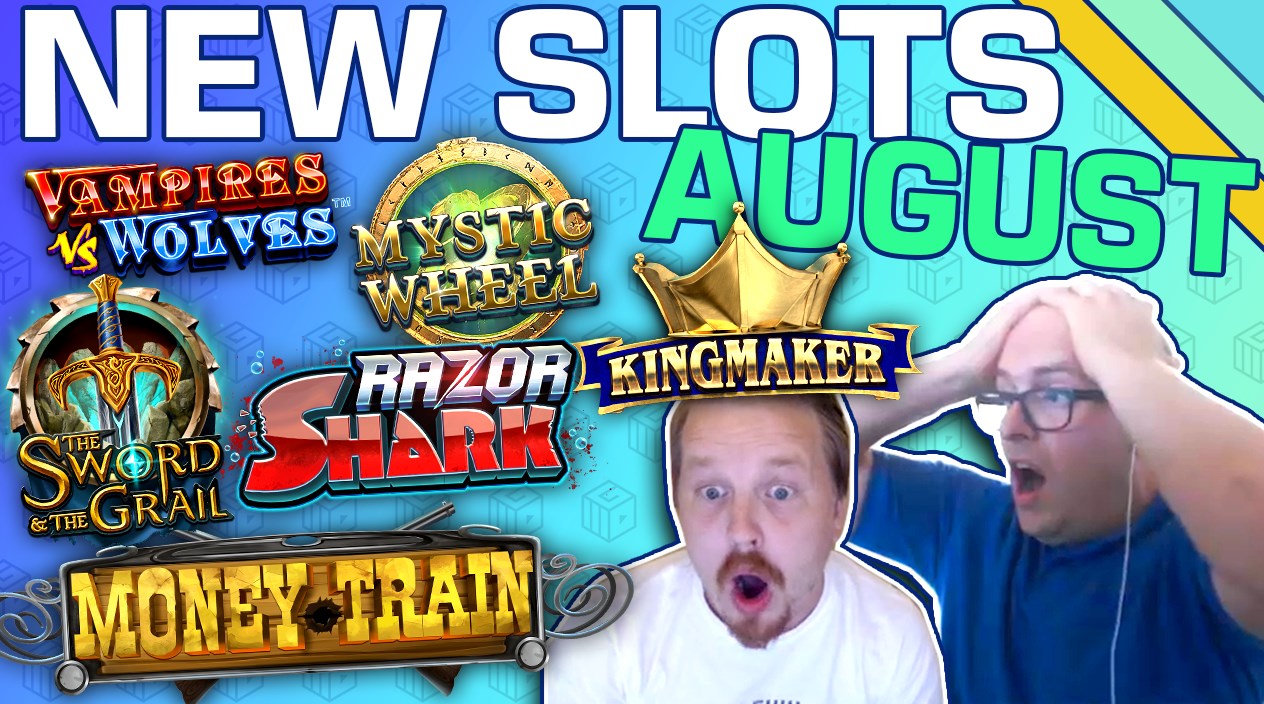 August was yet another great month for online slot fans with dozens more superb releases. We've picked a few of our favourite streamers getting lucky playing some of our favourite August slots. As ever we hope you enjoy the compilation as much as we enjoyed making it…
1. Slotspinner – Money Train (Relax Gaming)
CasinoGrounds favourite Slotspinner is first up as he takes a ride on Relax Gaming's Wild West themed slot, Money Train. It's not going so well for Slotspinner when we join the action as he is €640 in the hole. All that changes, however, when he triggers Money Train's bonus round, the Money Cart Bonus Game. Played on a 5×4 expanding board, the aim is to land as many win multipliers (or special symbols) as possible in the number of spins you have. All the multipliers are added together at the end of the round for your total win. You start with 3 spins which reset to 3 each time a winning symbol lands.
By the time Slotspinner finally runs out of spins not only has he landed winning symbols on all but 3 of the 20 spaces, but he has also landed three special symbols which dramatically increase his win total. He lands 2 collector symbols (collector symbols reveal a random multiplier then collect all visible win multipliers and add them to its own value) and persistent collector symbol (a persistent collector collects all visible win multipliers and adds them to its own value on EVERY spin). As well as a selection of win multipliers of between 1x and 4x, the collectors add 24x and 195x, while the persistent collector adds 1,121x for a total win on a €1 stake of €1,365 (1,365x the bet size).
As Slotspinner says as he finally comes good after a poor start to the session, "I'm telling you, collectors collecting collectors is the only way" Well, quite…
2. Jarrtu84 – Vampires vs Wolves (Pragmatic Play)
Popular Finnish streamer Jarrtu84 makes the first of two appearances in this month's list as he makes a very big score on Pragmatic Play's Vampires vs Wolves slot playing at €20 a spin. Opting for the more volatile of the two free spin options, 'Vampire Free Spins' Jarrtu84 manages to land 12 sticky wilds on the 15 symbol board in his 8 spins. The wins start to increase exponentially in value towards the end, with his final two spins awarding, €3,170 and €11,050 respectively. Jarrtu greets both wins with his usual celebration call of "Hello YouTube". His total win of €15,634 equates to 782x his original bet size. Not bad on a slot with a maximum win of 1,000x
3. JJCasino – The Sword and the Grail (Play 'n GO)
Play 'n GO's August release, 'The Sword and the Grail' is a highly volatile medieval fantasy slot played here by German CasinoGrounds streamer JJCasino. The free spins round, which is reminiscent of the NextGen classic 300 Shields, awards 5 spins with a 2x win multiplier. The objective is to land enough Excalibur scatters to progress to the next level (5x win multiplier with 5 more spins) and so on and so forth. The final level awards 5 free spins with a 100x multiplier and this is where JJCasino hits paydirt. On his 3rd spin with the 100x multiplier JJ hits a full line of Kings. This would normally award 3x his €5 stake for €15 but pays a huge €1,500 with the 100x win multiplier. Including earlier and subsequent wins, JJCasino's bonus round ends with a €1,952.50 win, worth 391x his original stake.
4. Mitaaspins – Kingmaker (BTG)
Clip number 4 is yet another CasinoGrounds streamer, Mitaaspins, playing Big Time Gaming's Kingmaker Megaways™ slot. We join the action in the free spins round with the win multiplier already up at 41x and the win already over 600x. Soon after, Mitaaspins hits a retrigger for more spins and soon after that he hits (among other wins) a full line of the highest paying symbol. This win alone with a 43x multiplier reaches over 1,000x causing much celebration from a slightly disbelieving CasinoGrounds streamer. The total win of €594.94 is equal to 1,487x his bet size.
5. Jarttu84 – Mystic Wheel (Red Tiger)
For our next offering its back to Jarrtu84 playing an August slot release for €20 a spin. This time the high stakes streamer is playing Red Tiger's fantasy slot Mystic wheel. It would appear Jarrtu84 isn't a huge fan of the game at first as he wonders aloud in the bonus game "So you pretty much can't get anything from here?" after noticing that the largest value on the mystic wheel is a mere 10x and 3 spins are all you are granted. He soon changes his tune however as he accrues more and more free spins from the wheel, as well as mystery symbols which keep adding win multipliers to all values on the reels. Soon enough Jarrtu's win is over 150x and he breaks out the cries of "Hello YouTube". The extra spins and win multipliers keep coming, and with the average multiplier on the wheel now worth around 50x Jarttu hits a series of big wins to post a final bonus round win of €11,700 or 585x – "Hello YouTube!"
6. LetsGiveItASpin – Razor Shark (Push Gaming)
We thought we'd save the best for last here as we hand over to the mighty LetsGiveItASpin to show us all how it's done on Push Gaming's latest high variance beast, Razor Shark at €10 a spin. As soon as he enters the bonus round LGIAS starts piling on the wins. During Razor Shark's bonus round stacked reels of seaweed move down one row every spin but also convert into matching symbols or Golden Sharks at the conclusion of every spin. When the seaweeds drops out of view the bonus round ends, unless more seaweed appears etc. etc. Furthermore after every bonus round spin the win multiplier meter to the right of the gameboard increases by 1x whether a win lands or not.
Pretty soon LGIAS's winning total is up over €3,000 with all wins multiplied by 15x – and this is where the real magic happens. The first huge win takes place when four seaweed symbols transform into Golden Sharks and award win multipliers of 1x, 2x, 10x, and 50x. These are added together for a 63x win which is then multiplied by the main 15x multiplier. When all this is then multiplied by LGIAS's €10 stake it comes to a €9,450 win. As soon as the 50x multiplier landed Kim shoots out of his chair, mouth agape and temporarily speechless until he eventually offers up a few cries of "Whoooah" followed by "What the f**k just happened" and then the inevitable "DING DING!"
These cries come back just a few spins later with the multiplier now up at 18x when a similar win occurs with three seaweeds transforming into win multipliers of 1x, 10x, and 50x which results in a win of €10,980. LGIAS's total free spins winnings end up at €23,731 for a 2,373x score – more than deserving of the triple "DING DING!" offered up by Kim and his two friends at the end of the clip.
Bonus Clip – Slotspinner tries out Side Bet City
In our bonus clip it's back to Slotspinner playing Evolution Gaming's live card game Side Bet City. Unfamiliar with the game, Slotspinner appears highly sceptical of Side Bet City saying "It actually seems pretty bad; it actually seems terrible this game" before conceding, "but I don't know I haven't seen enough of this game to judge."
Slotspinner is soon gladly eating his words, however, when his very first hand delivers a huge win. In Side Bet City 7 cards are dealt and you bet on the outcome of the first 3 cards, the first 5 cards and the whole 7 cards. Slotspinner bets €35 on the 3 card hand, €25 on the 5 and €15 on the 7 card hand. The first 3 cards are all 6's paying out 35x the stake, the next two cards are both 8's giving Slotspinner a full house for the 5 card hand which pays 50x the stake. The full house also pays 7x for the 7 card hand. In total Slotspinner's €75 stake nets him €2,655 prompting Slotspinner to change his opinion somewhat as he exclaims, "This is the best game, three of a kind and a full house on the first spin!"
Share with friends on
Email